A £100bn red alert over green energy gap
Investors are still pouring money into gas and oil companies as politicians fail to summon up the courage to tackle climate change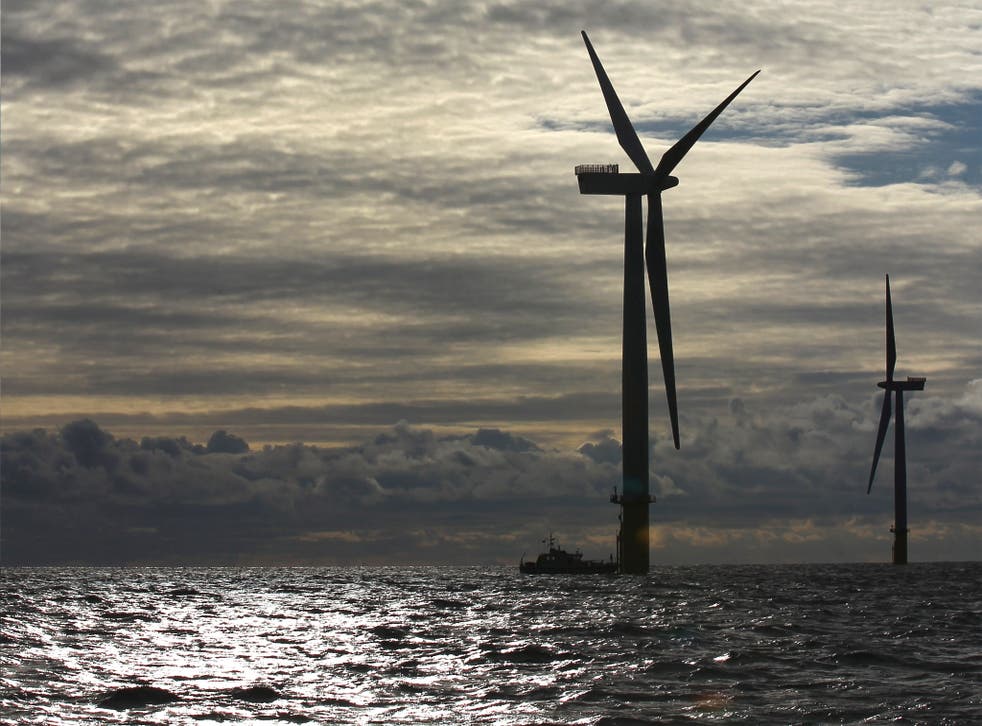 The political will to tackle climate change is so low that investors are happy to plough huge amounts of money into fossil fuel projects but fearful to back green energy initiatives – even though the reverse needs to happen if the world is to have any chance of meeting its agreed objective to limit global warming to 2C.
That is the conclusion of a new parliamentary report, which finds that a £100bn hole has opened up in Britain's green energy finances, with investment in renewable power generation such as wind turbines and solar panels running at less than half the level required this decade.
The Environmental Audit Committee report blames the Government's inconsistent approach to supporting green energy for the lack of financial backing. And it warns that investment in low-carbon energy generation is running at "less than half" of the £200bn needed between 2010 and 2020 if Britain is to reduce its carbon emissions sufficiently to enable the country to meet legally binding environmental targets and play its part in cutting global warming to 2C.
The report also blames a global political effort which it says is so weak that it has allowed investors to create a "carbon bubble" – estimated to be well in excess of $1trn (£600bn) – by significantly overvaluing producers and heavy users of fossil fuels. This is because if the world is to limit climate change, more than half of the world's fossil fuel reserves will have to remain in the ground, the report says.
Joan Walley, who chairs the committee, called on the Bank of England to closely monitor the "systemic risk to financial stability associated with a carbon bubble" and urged the Government to force companies to inform their investors about their "carbon exposure".
She added: "The UK Government and Bank of England must not be complacent about the risks of carbon exposure in the world economy. Financial stability could be threatened if shares in fossil fuel companies turn out to be over-valued because the bulk of their oil, coal and gas reserves cannot be burnt without destabilising the climate."
The report did not put a figure on how much money was at risk from the carbon bubble and it is clearly extremely difficult to estimate. However, HSBC warned last year that between 40 and 60 per cent of the market capitalisation of oil and gas companies was at risk because of the bubble, with the world's biggest 200 coal, oil and gas companies alone having a combined value of about $4trn.
Robert Gross, the director of the Centre for Energy and Technology at Imperial College London, said: "The 'carbon bubble' and the 'finance gap' for low carbon power are two sides of the same coin: investors don't yet believe that politicians are serious about climate change.
"The financial community overvalues oil and gas companies and is yet to get serious enough about low carbon power.
"For several years the Government has undermined low carbon investment and UK jobs by sending mixed messages about its commitment to low carbon. It has an ambitious package designed to de-risk investment, but then it creates risk by sounding as if it's changed its mind, or that the Treasury doesn't believe in it. This is classic political foot-shooting."
The new report comes a month after the UK successfully prevented Europe from introducing country-specific targets for renewable energy generation and blocked a push for heavier shale gas regulation. The committee said an imminent government review of carbon emissions targets posed the greatest threat to green investment.
"To address the green finance gap, the Government must provide a joined-up, stable and certain policy framework that maintains investor confidence. It should abandon its review of the fourth carbon budget," Ms Walley said.
To meet its legally binding commitment to reduce emissions by 80 per cent by 2050, compared to 1990 levels, the Government has set a series of five-year targets, or budgets, to ensure the country stays on track.
The fourth carbon budget covers the period 2023-27 and, as it stands, would see emissions reach half their 1990 levels. But the Chancellor, George Osborne, is reviewing whether to water down the short-term target as currently dictated by the fourth budget in the hope of making it up further down the line.
The Government denies that its policies are deterring green investors.
A spokesman said: "Record investments of around £40bn are expected in renewable energy generation projects up to 2020, building on substantial investment announced since 2010. These reforms will help to support up to £110bn of total investment and up to 200,000 jobs across the electricity sector by 2020."
Will Straw, of the Institute of Public Policy Research think-tank, says it is "deeply worrying" that the world is going in the wrong direction – with a carbon bubble growing alongside a green financing gap.
However, he believes that it could be possible to reduce both by targeting investors and getting them to change their behaviour.
"These findings are deeply worrying but also contain within them part of the solution. Britain's pension funds and other institutional investors must begin divesting their fossil fuel assets and instead start focusing on low-carbon investments," he said.
That – and the green shoots of political will being engendered by increasingly extreme weather events, such as flooding – gives cause for hope. If so, the fossil fuel companies are in for a rocky ride.
Join our new commenting forum
Join thought-provoking conversations, follow other Independent readers and see their replies