Sanjeev Gupta interview: Putting the steel back into British industry
After all the depressing headlines about closing steel plants, along came Sanjeev Gupta with an open wallet. He tells Margareta Pagano why he thinks the industry can survive and thrive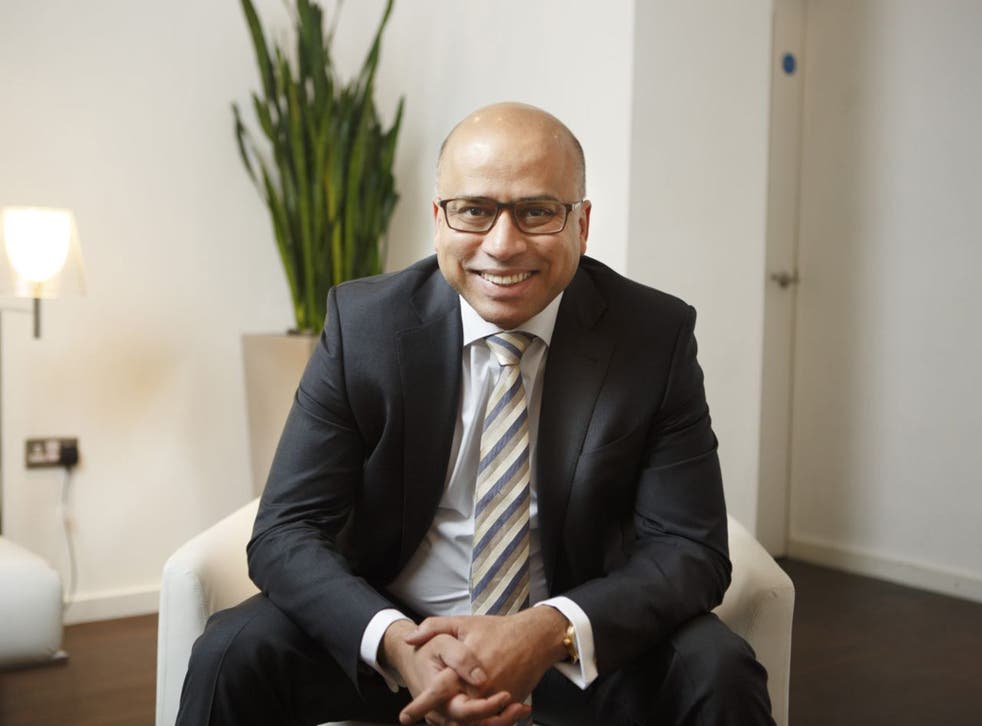 Just as Sanjeev Gupta sits down to explain why he is spending hundreds of millions of pounds buying up Britain's steel industry and investing in tidal lagoon power in Wales, his mobile rings.
"Yes" he says, speaking into the phone at the speed of light. " Yes. Yes. Well, what do you want to bid? See what we can recover. Offer them a nominal price."
"Sorry, he says, ending the call. "That was my man who is negotiating to buy equipment from a closed down steel plant on the Isle of Sheppey." It's one of a dozen or so deals that Mr Gupta and his Liberty House Group are cooking up right now: yesterday he announced a significant stake in the Tidal Lagoon Power company which is building its first tidal power project in Swansea and has plans for further plants in Cardiff and Newport, and in India.
Any day now he hopes to hear whether he's been successful at rescuing two of the steel plants being closed by Tata in Scotland, where 270 jobs are at risk. He's already saved more than 1,200 jobs in the steel industry over the past few months, having bought the high-end engineering companies owned by Caparo after it collapsed last autumn, rescuing 1,000 jobs, and re-opened the mothballed rolled coil steel mill at Newport, saving 150 jobs.
There's more to come. Mr Gupta is looking at a steel plant in the Middle East, talking to Tata Land Rover Jaguar about joint ventures in India, and recently bought the Tungsten Bank, which he wants to reshape into a challenger bank championing investment in industry, energy and commodities "because UK banking needs to be improved for SMEs in manufacturing".
Truth be told, it's thrilling here in his Mayfair office. There's a buzz of raw energy that you don't find in many corporate HQs. Sitting close-by are his lieutenants, waiting to catch him to talk through the various deals. An assistant from Ermenegildo Zegna, who has brought suits for him to try, is waiting too.
So who is Sanjeev Gupta, or SKG as he's known (his 72-year-old father is PK), who is helping save the UK's steel industry? First some facts: he is 44, born in Punjab, came to board at St Edmunds College in Canterbury in his teens after visiting his brother at school there, fell in love with the UK and refused to go back.
After A levels, Gupta took two gap years, selling bicycles in Turkey for his father's company (his father, who left school at 11, owned Victor cycles among other businesses), then studied economics at Trinity College, Cambridge.
It was from his room in halls that his trading career took-off in 1992, first by selling ICI's chemicals products to Nigeria, where his father had big interests through his international trading group Simec. "The Nigerians loved British products and paid a big premium for them," he recalls.
Business was going so well that relatives helped out. "They were heady days – we were trading £1m a day." But the university wasn't so happy. "They threw me out of halls because you can't have a business registered at college. I wanted to use the college address – it was a charity – because it meant the telex machine was exempt from VAT.
"I really wasn't doing any work at all. What saved me in my last year was switching to management – which was a doddle – alongside economics. I worked just hard enough to get a 2.1. I was deaned five times in all," he says, with a chuckle.
He has not looked back. Since then, Mr Gupta has grown Liberty into a $6bn turnover company with five arms – steel, power and energy, industrials, banking and property – hubs in Britain, Dubai, Hong Kong and Singapore and offices in 30 countries. Last year, the group's global steel production capacity was four million tonnes.
A couple of hours in his company and you can see why. He's a walking, talking time machine and clearly operates on a different principal to most mortals. Does he ever stop? He laughs: "No I don't. It's an addiction and there isn't a logical explanation; the year before last I took 300 flights, two thirds at night so I slept more in the air than on the ground.
Business news: In pictures

Show all 13
"I never take holidays. Well, two that I can remember. One holiday after A levels – which I also nearly failed, but that's another story – in Lanzarote, then my honeymoon. People had been told not to email me. By the second week I was throwing my phone down to see why it wasn't working. But I do plan to take another holiday soon.
"Luckily my wife, Nicola, knows the business so she gives me a lot of rope. She used to look after my money – she was the treasurer of one of my businesses – and now she spends it," he says, laughing again. "She's from Essex, Canvey Island." They kept their relationship secret for eight years before marrying. "Now she's the most popular one in the family."
Back to making money: why is he investing in steel when everyone else is closing down? "It's complex. Fundamentally, it's about flexibility. There are many reasons why plants are closing – high electricity costs and cheaper imports are just two. Existing producers have a lot of baggage. Many have had too much debt. Many haven't been able to adapt quickly.
"Perhaps the most important fact is that the industry has not been vertical. What we plan is vertical integration – making the steel, the steel coils and then making automotive products for Nissan and other customers at the other end. We can be light on our feet. We hope to make the UK steel industry competitive again."
In a nutshell, Britain consumes 12 million tonnes of steel a year; nine million tonnes of that is made here and is loss-making. The rest is imported. At the same time, five million tonnes of steel is recycled each year; most of which is sent to Turkey to be melted down.
"The industry divides into three: upstream, midstream and downstream," he says. "Basically, upstream, which is making the molten steel, is not economic because of power costs under current conditions and we don't have the raw resources here.
"But midstream is viable; we have the rolling mills at Liberty Steel in Newport [LSN] producing steel coil. Downstream, we now have the Caparo manufacturing businesses which are fantastic but maybe suffered from some neglect and need nourishing and more investment. We will be concentrating our efforts, for now, on midstream and downstream."
Liberty has many advantages, he says. It has steel traders around the world, it owns its own port at Newport, and now has its own power plant – its sister company Simec recently bought the 393 MW Uskmouth coal-fired power station close by the plant. This has slashed energy prices by 25 per cent. In the longer term, he hopes that LSN will be producing up to two million tonnes of rolled coil a year – that's one sixth of the UK market; an expansion which could see up to 1,000 people employed at the plant.
The constant search for new sources of cheaper power is why the Gupta family is now investing in Tidal Lagoon Power. "Its a raw source that potentially lasts forever, and its a no-brainer for us to invest in such a renewable source which could, in time, provide 8 per cent of the UK's electricity for 120 years."
Mr Gupta has even greater ambitions. He wants to make steel in this country again from recycling scrap metal– if energy prices come down as the Government has promised. "It is ridiculous that the United Kingdom exports scrap that is melted in other countries, which then supply steel made from this scrap back here; that carbon footprint is even worse than using coal," he says.
He moved his young family back from Dubai last year – he's now a "non-dom" – to allow him to oversee the restart of production at the Newport mill, which had been mothballed for two years, during which time he kept its workers on half-pay.
A mansion at Chepstow, on the English-Welsh border, is his new base from where he can be driven around the triangle between Newport, the West Midlands and London. "It's important for the family to have a proper base," he explains. "I feel Indian and British and want our children to have strong roots in both cultures. It's a great mixture; we celebrated the Hindu Diwali festival last year at the Newport plant and everyone loved it."
What is it about Indians and British steel? The roll call of Indian investors here is long; from Caparo's Lord Paul to the Tata family and now the Guptas. For the first time, he looks slightly non-plussed. "Hmm. I hadn't thought about that. Let me think."
Against the odds:
A shrinking industry
More than 6,000 jobs have been put at risk in the UK steel industry in the past year – a fifth of the remaining 30,000 workers in a sector that in the 1970s employed 200,000 people.
The jobs have been lost against a background of a plummeting global steel price, which recently fell 45 per cent in a year, from $500 a tonne to about $280 a tonne in the 12 months to September 2015.
The global price has been hit by cheap exports from China, which climbed 20 per cent last year while others struggled. Experts believe China needs to cut production by up to 30 per cent to reduce the global excess capacity, which was about 645 million tonnes above demand at the end of last year.
Join our new commenting forum
Join thought-provoking conversations, follow other Independent readers and see their replies