Up for shale: the auction that will open half the country to fracking
As developers get set to bid in the UK's biggest sale of onshore gas licences, the commercial benefits of drilling remain far from clear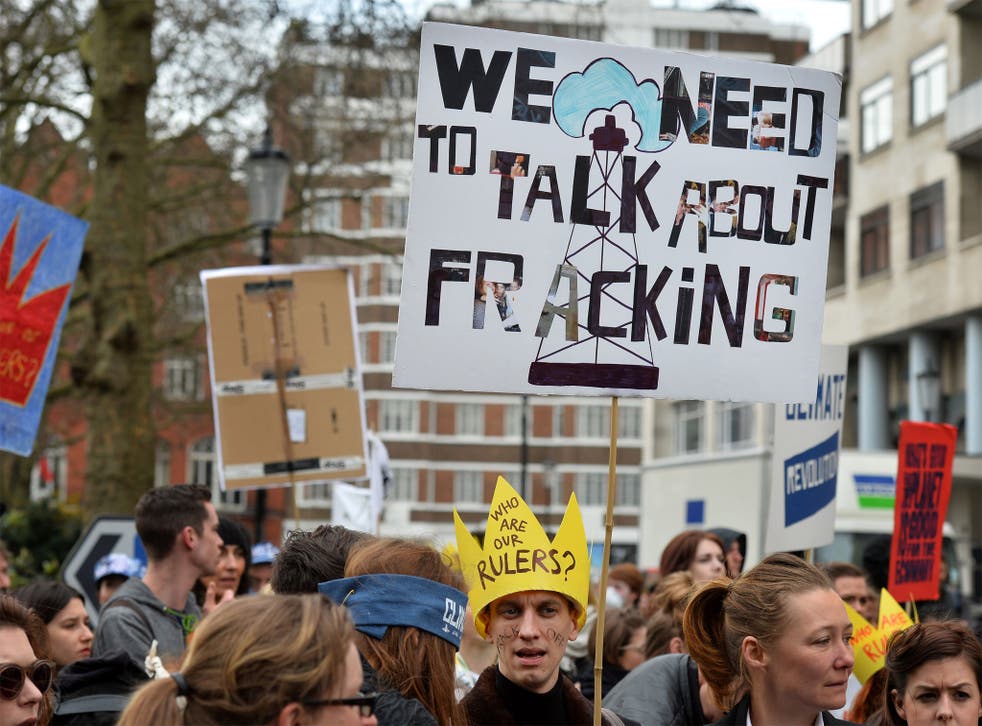 With the Government kicking off a massive auction of fracking licences covering nearly half the country, it is clear that the shale oil and gas industry has come a long way – but it remains far from certain that a single molecule of hydrocarbon will ever be produced commercially.
Ministers have been preparing for the UK's nascent shale industry for the past 18 months, offering generous tax breaks for would-be developers and changing the trespass laws to allow producers to drill horizontally below houses without their owners' permission.
The Government promises financial benefits to communities living near fracking sites, insists shale can cut energy bills and has commissioned surveys to assess potential reserves.
It has placed gas at the centre of Britain's electricity generating system for the coming decades, arguing that it is more environmentally friendly than coal and more reliable than wind or solar.
And yesterday, after months of waiting, it launched by far the biggest auction of onshore oil and gas licences the UK has ever seen. This came with a sweetener for green-minded opponents of fracking, as tougher planning guidance will make it harder for developers to drill wells in national parks and areas of outstanding beauty – except in "exceptional circumstances".
But no one knows yet whether the industry will be viable. "The Government has galvanised the Whitehall machinery to try to push forward the industry and remove some of the existing barriers. But until we have drilled 100 wells, we won't have a clue about the commercial potential of shale. At the moment we have drilled one well only," Peter Atherton, an analyst at Liberum Capital, said.
"We need to see if [the gas] is commercially viable to extract. It may be that the industry has significant commercial potential but it is also perfectly feasible that the gas will too expensive to make it worthwhile," Mr Atherton added.
Given the lengthy planning and permitting process, he expects it will take four or five years to drill the 100 wells. In the best case scenario, the shale gas industry will be in full flow by the middle of next decade, employing tens of thousands of people and producing around £20bn of gas a year, or about 40 per cent of the country's gas consumption, he said.
In the worst case, the industry may not produce a single molecule of oil or gas, Mr Atherton said. But even drilling the 100 wells to establish the potential won't be easy: last week West Sussex County Council rejected an application by Celtique Energie to drill for shale gas saying there were "simply too many highways issues and other issues of concern".
Analysts say the Government has become slightly less bullish about the prospects for shale gas and oil following the release of surveys estimating modest potential reserves in the South of England, Wales and Scotland. However, the potential in the North-west, especially around Lancashire, is still enormous, they say.
"At present it looks as though any shale gas industry is likely to be broadly focused on the North of England and Scotland. But it's extremely early days. We don't yet know if it's commercial – that will be determined by a combination of the gas price, tax rates, how much it costs to drill and develop and the flow rates," said Charlie Sharp, an analyst at Canaccord Genuity.
Calculations by Bloomberg New Energy Finance show how hard it is to assess the commercial viability of extracting shale gas in the UK, even if there is plenty down there.
It estimates that the unit costs for extraction are likely to lie between $7.10 (£4.20) and $12.20 per thousand cubic feet of gas. This is close to the $8-$11 range in which spot UK gas prices have traded over the past two years. It is these costs that will determine whether shale can be profitably extracted.
These considerations aside, Robert Gross, the director of the Centre for Energy and Technology at Imperial College London, says the Government appears to have become less optimistic recently about the industry's potential.
"I think the rhetoric softened when the evidence mounted that the impact on UK gas prices would be moderated by our geography," he said.
"The US, where prices have come down dramatically, has large shale production and no capabilities for export.
"But the UK has much more modest production potential and is integrated into the European gas grid. This means that UK shale would be sold into an EU market and any impact on price would be far more marginal," Mr Gross added.
However, if the Conservative Party is extolling the virtues of fracking slightly less enthusiastically these days, there is nonetheless a growing political consensus that if the UK has sizeable shale reserves, they should be exploited.
This consensus stems from a growing acceptance among politicians that, if the industry is properly regulated and supervised, Britain can avoid the well-publicised cases of water pollution for which fracking has been blamed in the US.
"There has been a political shift from all main parties to support fracking, but the industry still has to work hard to earn its 'social licence to drill'," said Mr Sharp.
The latest government figures show that public attitudes to fracking have been fairly static in recent months, with 29 per cent supporting shale development, 22 per cent opposed and the remainder not concerned either way.
Fracking is controversial because it releases oil and gas from shale by blasting a mixture of chemicals, water and sand into the rock. Opponents remain concerned about the potential for earth tremors, methane emissions and water pollution. Many think we shouldn't be hunting for new supplies of fossil fuels at all as we switch to renewable sources.
Environmental concerns aside, two big questions hang over the industry's ability to achieve its potential, analysts say. The first is whether the physically obstructive and reputation-damaging protests staged last year at potential fracking sites were primarily the work of local communities or of a hard core of national campaigners. If the answer is the latter, it would suggest that local communities may be amenable to development.
The second question is how much potential the shale companies themselves believe there is, because without their investment the industry cannot be assessed and developed.
Corporate activity suggests a modest level of interest. Centrica, which owns British Gas, became the first major company to back the search for shale a year ago when it bought a 25 per cent stake in licences owned by Cuadrilla, a fracking company chaired by the former BP chief executive Lord Browne. However, Centrica said recently it did not want to bet any more money on shale until the potential had been proved.
This year the French company Total became the first big oil company to invest in the industry, committing £30m to drilling for shale gas in Lincolnshire in a joint venture with Dart Energy of Australia, Egdon Resources and iGas. Separately, iGas has acquired Dart, combining a portfolio that covers 1 million acres of potential fracking land.
Just how prepared companies such as these are to invest in the UK's shale gas industry should become much clearer in the coming weeks. Would-be prospectors will bid for licences by submitting investment plans detailing how much they would invest, how they would develop the site and how they would work with local communities.
Analysts see this – the so-called 14th licensing round – as a barometer for industry sentiment. "The 14th licensing round should be very interesting because it will show us who is interested, how serious they are and how confident they are that there is gas down there," Mr Atherton said.
Join our new commenting forum
Join thought-provoking conversations, follow other Independent readers and see their replies