The Independent's journalism is supported by our readers. When you purchase through links on our site, we may earn commission.
A View from the Top: Paul Krugman, Nobel prize-winner and America's most influential liberal commentator
The New York Times columnist talks Donald Trump, George Osborne, Greece and why economists might have been getting something rather important wrong for 30 years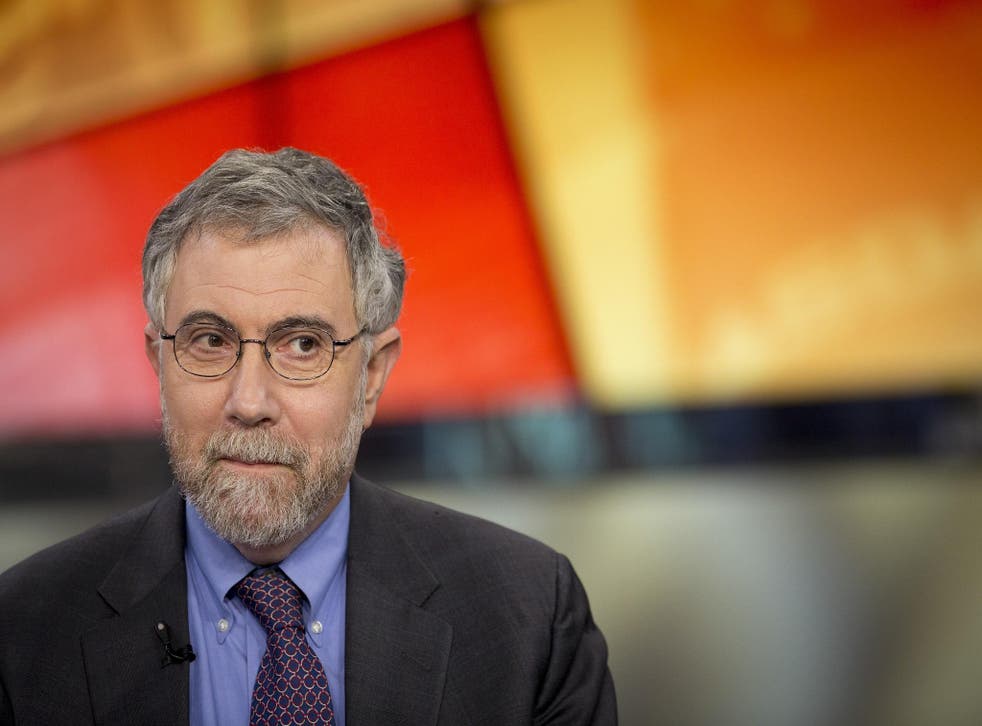 As you would expect, Paul Krugman, the Nobel laureate economist and possibly America's most influential liberal commentator, gets inundated with emails from the general public.
But one seems to have lodged in his mind. It came in August after Krugman had savaged Donald Trump for pardoning the notorious immigrant-brutalising Nevada sheriff, Joe Arpaio. In his regular New York Times column Krugman claimed that Trump's pardon amounted to an endorsement of American-style fascism.
An email from a correspondent shot back: "It's all very well for you to criticise Arpaio but how would you feel if New York was full of immigrants?"
Krugman, who won the Nobel Prize in Economics in 2008 for his work on trade, chuckles as he recalls the message, amused at this vision of the Big Apple as some kind of whites-only, immigrant-free, heartland town. Isn't it supposed to be the coastal liberal elite who are out of touch?
Multicultural New York is Krugman's home now. His academic berth is the City University of New York (CUNY), having moved from nearby Princeton in 2015.
He writes for The New York Times, although his superhuman blogging output has slowed down a bit in recent years. Krugman, 64, now spends more time with his 3.5 million Twitter followers. My news editor informs me the Independent's web traffic notably spikes whenever he retweets one of our articles.
Krugman, who is married to the African-American economist Robin Wells, has made it clear he regards Trump as a white supremacist and an existential threat to the future of the American republic.
So when we meet on a grey September day in London's docklands, at a conference looking back at the financial crisis 10 years on, organised by the Centre for Economic Policy Research, I'm interested to know how Krugman copes with what, by his own description, is a national emergency? Does it feel like he's involved in a kind of war for the very survival of US democracy? Does he wake up and put a metaphorical tin helmet on?
"It doesn't affect my daily life. I belong to a class of people who don't get beaten up by the police," he says, referring to the upsurge in protests against US police brutality and shootings.
"The closest I've got is that CUNY has a lot of students, including a fair number who were affected by the [Trump] Muslim ban – so I get all of that as part of the community, trying to defend these people's rights."
Speaking of university communities, one of the arguments deployed by the demagogues of US talk radio is that Trump's rise represents a popular backlash against so-called campus illiberalism: the phenomenon of left-wing students at American education institutions, like CUNY, protesting against speaking invitations extended to right-wingers and demanding politically correct 'safe spaces'.
Krugman doesn't buy it. "On the one hand it's stupid to play into right-wing caricatures of who you are. On the other hand the idea that that's responsible for [Trump] is crazy," he says. "The overwhelming example of identity politics in America is white Christian identity politics – that's far more important."
Krugman's name is anathema in the land of the intellectual right, where he is regarded as unspeakably arrogant for his "shrill" denunciations of their economic error.
Yet arrogance isn't the impression he conveys when we meet. In fact there's a definite note of humility in his voice when I remind him of his predictions five years ago that Greece would leave the eurozone. Greece is still there. And now activity in the single currency is picking up.
"The political durability of the euro has been greater than I understood," he admits. "Why is Greece still in the euro? It's fundamentally because the Greek elite wants to be part of it – they fear being an outcast. They are willing to put up with almost anything to stay in. That's been a surprise."
Yet the trenchantly Keynesian author of End this Depression Now! has certainly not changed his mind over the damaging impact of austerity in the Western world over the past seven years.
And that goes for the UK, where Krugman was a major critic of the coalition government's 2010 cuts. "In the end there was quite a lot less of it than the rhetoric would have suggested but it was certainly a bad thing," he says. "UK performance over the [former Chancellor George] Osborne years is nothing to write home about. There is nothing that vindicates the policy."
But humility returns when he discusses the puzzle of why, both in the US and the UK, average wages are not rising strongly despite the fact the unemployment rate in both countries has fallen to pre-crisis levels. Weak wages and inflation at a time of low unemployment is something that contradicts the fundamental model that has been used by macroeconomists for decades.
"Something has gone very wrong," he concedes. "I'm not sure what the answer is. In effect everything we've done in macroeconomics since the 1970s is looking like it was wrong!" he says.
Krugman is fond of noting that "no one ever admits they're wrong about anything". Yet he's not finding it too much of a struggle. In fact he seems remarkably relaxed about the possibility of error. But that might be because he's just spent the past five days walking in the Cotswolds. "I've been before but not for a long time," he says. "It was perfect!"
A brief holiday before flying back to the Big Apple to rejoin the battle to save American democracy.
Join our new commenting forum
Join thought-provoking conversations, follow other Independent readers and see their replies