A View from the Top: How Salesforce's Tony Prophet is championing equality in Silicon Valley
Prophet, a former high-flying Microsoft executive, was last year appointed chief equality officer for San Francisco-based Salesforce, one of the biggest cloud computing companies in the world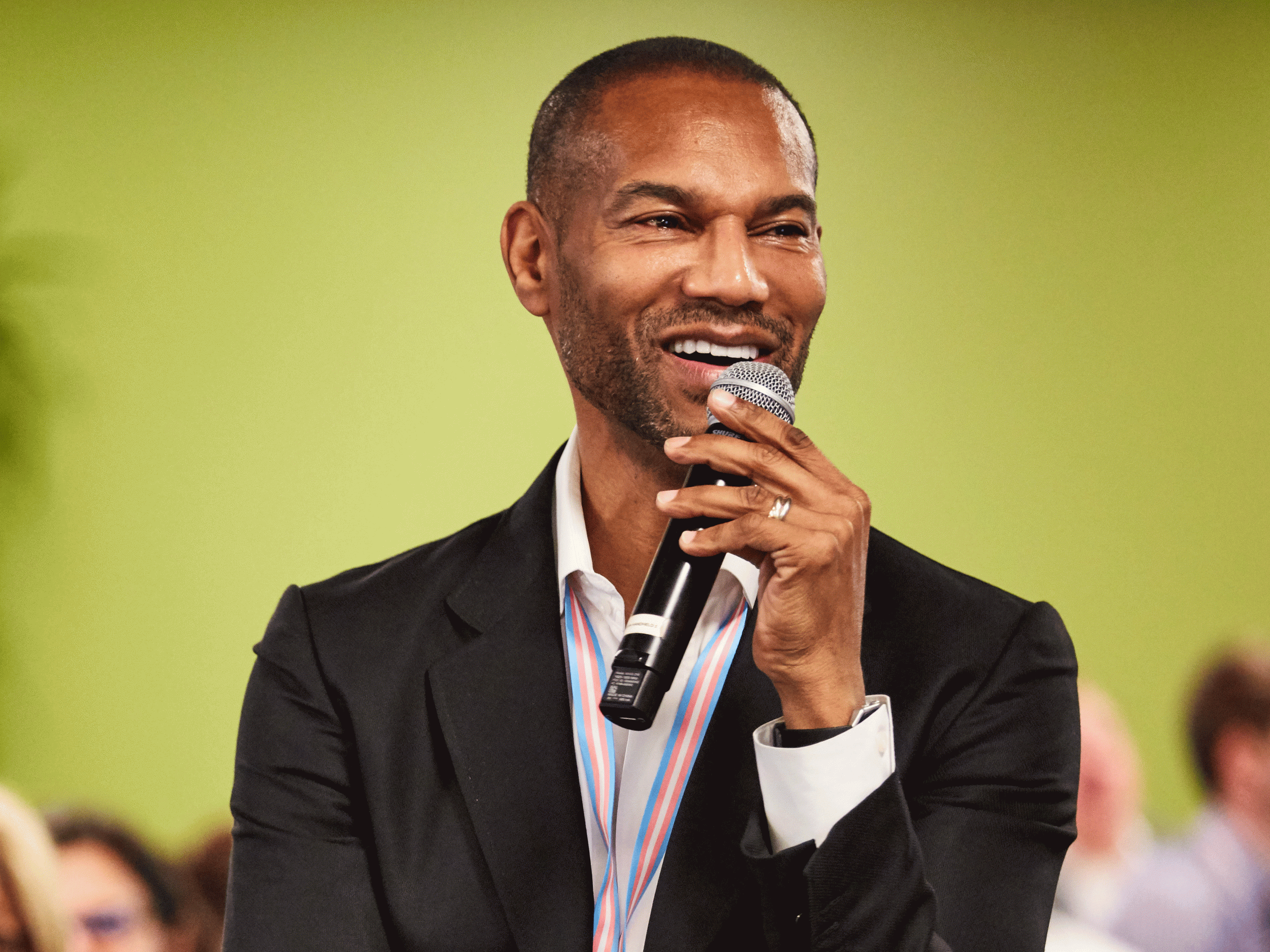 He's a CEO by title and character, but not the kind you probably think. Amid a sea of white, alpha males dominating the c-suites of Silicon Valley's biggest companies, Tony Prophet stands out. For one thing he's black. He's also softly-spoken, sharply dressed and speaks in a way that's almost poetically rhythmic. He's got a chiselled face, which makes him look at least a decade and a half younger than his 58 years, and perhaps, most unusually, he jumps at the opportunity to talk about issues that are still tragically considered a taboo in many corporate circles: sexuality, gender and the ugly face of discrimination in all its guises, across an industry proudly claiming to be achingly progressive.
Prophet, a former high-flying Microsoft executive, was last year appointed chief equality officer for San Francisco-based Salesforce, one of the biggest cloud computing companies in the world and one of the fastest growing too. Other businesses have chief diversity officers but Salesforce is the first major public company to appoint someone with exactly Prophet's title – the other CEO, if you will, and arguably one that's just as important as its namesake.
Prophet has repeatedly stressed that the difference between diversity and equality may be subtle but it's also imperative. Yes, diversity is essential, but equality goes further – it extends beyond the workforce into the wider communities in which businesses operate. As tech companies continue to expand at a breakneck pace, hiring young, talented and pliable minds, and exerting immeasurable global influence, there's a case to be made that Prophet's appointment happened not a minute too soon.
And he certainly has his work cut out for him. Globally, Salesforce employs almost 70 per cent men and in leadership positions that proportion shoots up to over 80 per cent. Data for the US shows that over 64 per cent of the workforce is white and only 2.4 per cent black, putting Salesforce on par with the likes of Google, Facebook, Apple and Twitter.
But Prophet maintains that even beyond Salesforce – a company that to some has become an industry poster child for promoting equality – progress is happening, even if it's far from swift.
Last year, Salesforce increased the number of women or people from underrepresented groups that it hired as interns or college graduates by 40 per cent. It also saw a 27 per cent increase in the overall number of women in leadership positions. A total of 32 per cent of global promotions were awarded to women. Salesforce also operates an online learning system called Trailhead, which is free to use and open to all. Primarily the system is used by people to master business skills, but several of the units on offer are designed to educate about equality too.
"The first step towards achieving progress is transparency," Prophet says, speaking on the sidelines of a London conference in May, noting that dozens of companies have already committed to publishing data on diversity.
"Anyone who is transparent is making themselves accountable. The next step is taking that accountability and pushing it through the system."
Prophet would be the last person to deny that there's still a vast amount of work to be done, but advancement is just that, and with his optimistic demeanour the father of three sons is not one to let the shortcomings of the past mar the opportunities of the future.
So what's his strategy?
Firstly, the Oklahoma-native places a great emphasis on hiring and believes that creating a sustainable culture of diversity and equality is all about making sure that people feel like they're part of a community – a family even.
"People go where they are invited but stay where they are welcome," he says.
In many multinational corporations staff retention proves to be one of the stumbling blocks towards greater diversity, especially once women start leaving the workforce to have children.
One of the pillars of Salesforce's ethos is "Ohana", a concept taken from the Hawaiian culture, that represents the idea that families – biological, adopted or "intentional" – are connected and responsible for each other's spiritual and physical wellbeing. Salesforce employees all consider themselves part of one big Ohana, that also includes their partners, customers, and members of the communities in which the company operates. Employees are encouraged to share their experiences on social media using the hashtag #SalesforceOhana and many do so, communicating a sense of belonging and exceptional workplace pride.
Prophet himself is also very active on social media, not shying away from tweeting about everything from President Donald Trump's withdrawal from the Paris Agreement – which Salesforce labelled as "disappointing" – to gun violence among women, and Ireland's first gay Prime Minister.
He's undoubtedly advanced the drive towards equality at Salesforce, but the spirit and essence of his mission predates him by far.
Chief executive Marc Benioff founded Salesforce in 1999 at the height of the dot-com boom and from the outset he had philanthropic intentions. He established a "1-1-1" model under which the firm gives 1 per cent of product, 1 per cent of its equity, and 1 per cent of employee hours back to the community. That's a huge commitment compared with other companies' philanthropic missions.
The system is still in place and to date Salesforce has provided over $160m (£126m) in grants, employees have volunteered a collective 2.1 million hours of their time and the company has powered more than 31,000 non-profits with their technology.
Benioff also champions individual causes close to his heart. Together with his wife he's gifted millions of dollars to a network of children's hospitals in California and in 2015 he announced he had spent around $3m in that year alone to align women's and men's pay. He told a Fortune conference that he had "looked at every single salary" to be able to say "we pay women the same that we pay men".
On the back of these rock solid philanthropic and charitable foundations, relative newcomer Prophet's brief might be described in equal parts as highly complex and marvellously straightforward.
Yes, his job is to champion Salesforce as a platform for inclusion, respect and empathy – something that if you've met him you might say comes naturally to him – but he also has to support it as a rapidly growing competitor in a dog-eat-dog sector where profits usually still rule and where a few isolated tales of discrimination have the potential to sully the whole industry.
So what is it that keeps Prophet going when he does encounter a setback or obstruction? There are several things.
First of all, he says, it's the people. He's known Benioff – to whom he reports directly – for a decade and particularly praises his courage to speak out on issues that are frequently still hushed in the stiff, upper echelons of corporate America.
He says that he admires the way Benioff takes a stand and demonstrates that issues of sexuality and gender discrimination should not just be addressed by people who are gay, transsexual, female, black or belong to another minority, but by everyone. Like when Prophet dresses in pink and marches in San Francisco's Pride festival. Or when Benioff enthusiastically joined January's women's march.
And secondly – maybe predominantly – it's that Prophet barely considers what he's doing to be work. "To have a job where I actually think that I'm changing the world every day is incredibly special," he says. "I would literally do it for free."
Granted, Prophet's probably yet to convince everyone that he is indeed changing the world every single day: the CE(quality)O is still a rare breed and most of the headlines around equality tend to bemoan the lack of progress rather than celebrate hard-fought headway.
But the world certainly has been changed by one man from Silicon Valley before. Who's to say that Prophet and Benioff can't be the people to do it again?
Join our new commenting forum
Join thought-provoking conversations, follow other Independent readers and see their replies