A View from the Top: Torsten Müller-Ötvös, CEO of Rolls-Royce and guiding spirit behind the new Phantom
The new Phantom will set you back half a million pounds. But Müller-Ötvös says for many of his clients that still leaves spare change for a second Rolls-Royce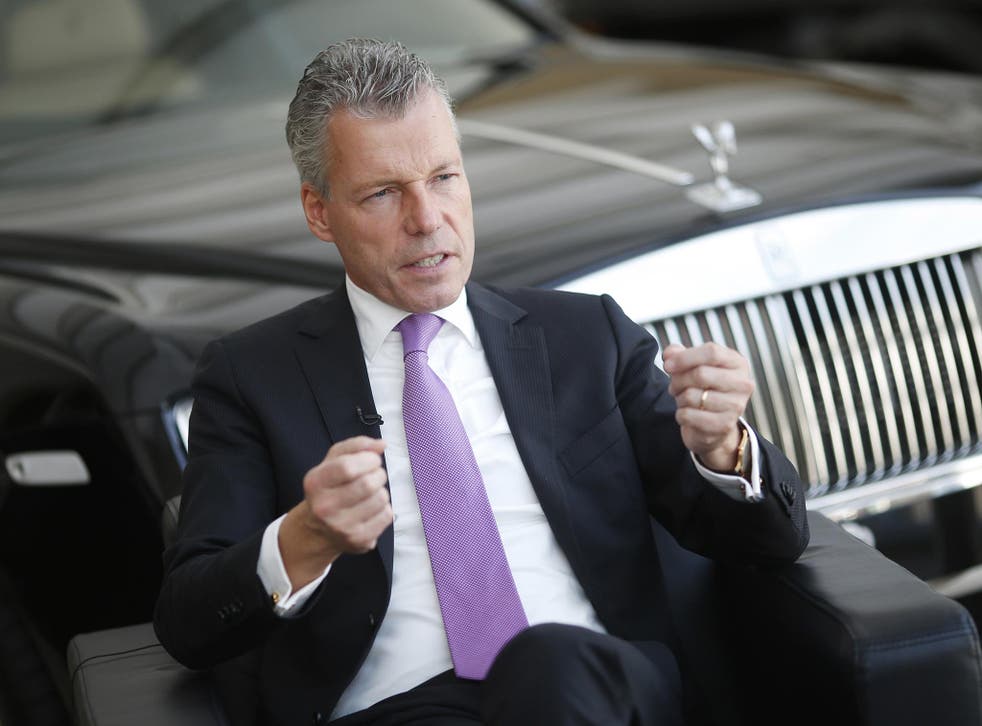 His Mum and Dad are "quite proud" of their son, he said. And so they should be, since Torsten Müller-Ötvös is chief executive officer of Rolls-Royce and guiding spirit behind the new Phantom.
I met him in a conference room at auction house Bonhams on New Bond Street looking down on a majestic array of historic Phantoms (including ones that belonged to John Lennon, Field Marshal Montgomery, Malcolm Campbell, Fred Astaire and the Queen) in the exhibition room below us.
The young Müller-Ötvös has been a "car nut" since childhood. Growing up in Munich, he would see the towers of the main BMW plant and come across a Series 3 on the road and say to himself: "That is the dream".
His kindly parents rewarded him with a car when he graduated, at 18, from the Gymnasium (grammar school). It was an old red mini, an 850. He still remembers it fondly. "You could call it vintage. It taught me intensively what it means to repair your own car."
Müller-Ötvös studied economics in Munich, took an MBA at Augsberg and applied for jobs to a lot of German companies after his 18 months military service. But when BMW offered him a contract, he dumped Philip Morris, Unilever and Ferrero-Rocher. "It was an immediate no-brainer," he says. They let him do a bit of everything, like a junior doctor, before he had to specialise. It must have seemed like fate when the vehicle he was finally given to work on in 1999 was the Mini.
"It was an emotional brand," he says. "It had quirkiness, but it lacked technology." From personal experience, he knew it needed a lot of repairing. So just as the revised Beetle was a Golf with a Beetle body, so the updated Mini was a small BMW on the inside. The notion of having a "Mini adventure" was born, permissive, young, fast, liberating, but robust and durable. "We needed to keep the 'go-kart' feeling, so we put aircraft switches in the middle, all middle instrument panels, for authenticity."
BMW took over Rolls-Royce in 1998 and Müller-Ötvös was given the top job in 2010. As a result, he's overseen the emergence of the eighth generation of the Phantom. It's more than just another commodity to him, not just soap powder or chocolates, and he is more than just a figurehead. There is a real bond between man and machine. And he gets to drive around the Riviera in a Roller convertible with the hood down. So he speaks with passion. "It's an honour to work for the brand," he says. "I feel that every day. It's the pinnacle. Wherever I go in the world, everyone knows Rolls-Royce."
Müller-Ötvös sees himself as a kind of guardian of the brand name. It's 100 per cent BMW but it's still 100 per cent Rolls-Royce. "There are no fake Rolls-Royces," he says. It's not like a Rolex, where you may not be quite sure. Every single vehicle gets over 800 man-hours of sustained personal attention. Done by hand. No shortcuts. And it gets the "piano polish" at the end so you can see your face in it. That's before bespoking. John Lennon had a black one, but now it's yellow with flower power motifs, from the Sgt Pepper era.
The new Phantom will set you back half a million pounds. You can still get an entry-level Ghost for a quarter of a million though. My rebel son wanted to know why you would bother to buy a Roller when you could have "365 cool holidays a year or fly to the moon". Müller-Ötvös, leaning back in his chair, relaxed and smiling, is unfazed. "Our customers are ultra high-net-worth individuals. Which means they have at least $30m available. They don't have to choose. They can fly to the moon as well."
I was reminded of a mining magnate I once had dinner with at the Grosvenor Hotel. We were hesitating over which dessert to choose, so when the trolley came around he said, "We'll take it." "But which one?" said the waiter, in his innocence. "All of it," came the firm, gravelly-voiced answer. A grand gesture, worthy of a Sultan or Potentate.
Müller-Ötvös has an aesthetic that verges on the sublime. "Our customers want the best that money can buy," he says. "Our philosophy is to strive for perfection. There are no compromises." But he also initiated the Ghost and the Wraith to appeal to a younger generation. The average age of the Rolls owner used to be fifty-something; now it's thirty-something. Youthful entrepreneurs of Silicon Valley and Asia are going out and buying a Rolls or two.
Business news: In pictures

Show all 13
It was the John Lennon Phantom that made me ask about Müller-Ötvös' musical preferences. He is into Daft Punk but is a Pink Floyd fan of old and had been to the exhibition at the Victoria and Albert Museum. He used to play bass guitar. And there is still something of the rock star about him, a highly polished, well-groomed rock star in a silk tie.
For over a century the Phantom has been the flagship of the RR marque. It has been stately (the Queen), a tank (Montgomery), dashing (Astaire), streamlined (Campbell). But perhaps the new avatar has acquired some measure of Victoria and Albert Museum -inspired grooviness too.
I consulted the only guy I can text who is capable of buying a Phantom. He was unpersuaded by the seventh generation. What about having an eighth? "I haven't seen one yet," he texted back. "Maybe."
Personally, I might be torn between a Ghost, a Wraith, and a Phantom. But if I were an ultra high-net-worth individual, I'd probably take the whole trolley. The Phantom would come in handy for special occasions, I reckon.
Join our new commenting forum
Join thought-provoking conversations, follow other Independent readers and see their replies