Waze: Putting Silicon Wadi on the map
This week's $1.15bn sale of GPS app Waze to Google is a major milestone on Israel's road to hi-tech success. By Alistair Dawber
Alistair Dawber
Saturday 15 June 2013 00:59 Comments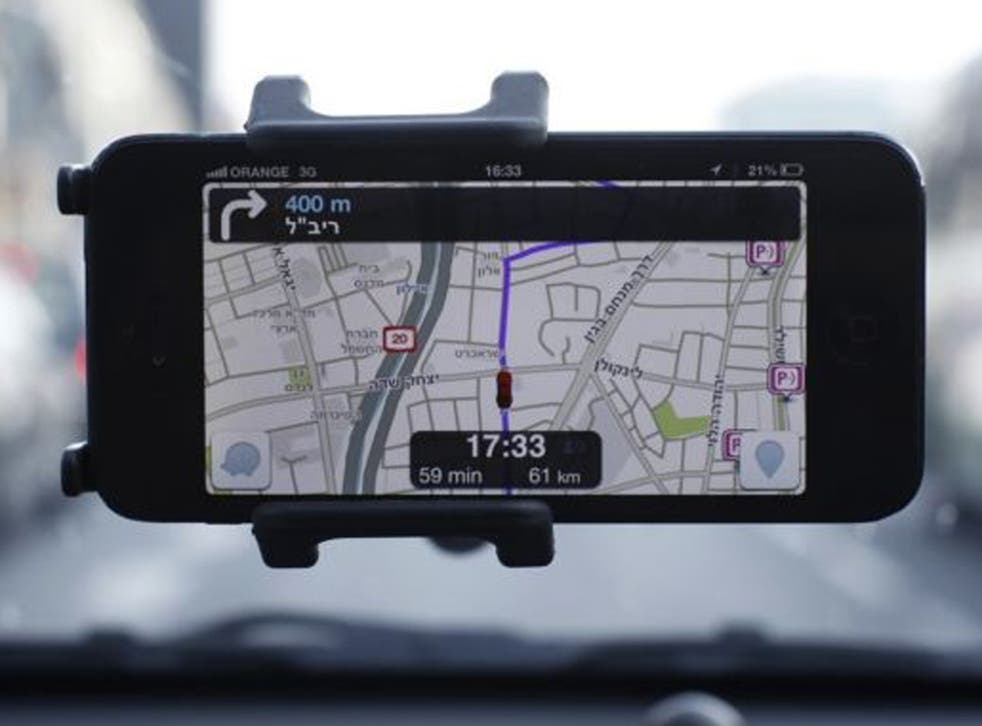 Among the many phone calls received by Noam Bardin on Tuesday night was one from Israel's Prime Minister, Benjamin Netanyahu. "Congratulations," he said. "You reached the goal! You put Israeli technology on the global map! You are also contributing to state coffers, which is welcome at this time. I am waiting for your next start-up! You have done exceptional work."
Mr Bardin deserved the congratulations. Earlier that day, he had become a billionaire by selling Waze, his handy iPhone app , to the US search engine giant Google for $1.15bn (£733m). Waze is a GPS-like navigational tool – but, as well as providing drivers with directions, it acts as a social networking site, with 50 million members telling other users about traffic jams, accidents and the presence of the police. The five-year-old company has refused to say whether there were other suitors, but media reports have said that Facebook, Amazon, Samsung, Apple and Microsoft were all ready to pay top dollar.
Google has said the service will operate separately "for now", but Waze is expected eventually to be integrated into its own navigation tools.
The deal is the most lucrative of a growing number of buyouts of Israeli hi-tech start-ups. Indeed, the country already has a solid reputation as a technology hub. Its Silicon Wadi is beginning to attract millions of dollars of inward investment, and hopes one day to rival Silicon Valley in California.
Waze is so far the blue-riband deal for the sector, but it is by no means the first significant transaction. Until Waze, the biggest buyout of a start-up was Cisco Systems' $475m purchase of Intucell, a software company, which was finalised in January.
Tel Aviv, Israel's commercial centre, already has as many as 700 start-up companies in the technology sector. Bloomberg data reports that venture capitalists invested $900m last year, a jump of 41 per cent on 2011.
"This entrepreneurialism is a cultural phenomenon – this is not something being taught in schools, universities or the army," says Yossi Vardi, who is described in Israel as the country's "godfather of hi tech" after selling the instant messaging system ICQ to AOL for $407m in 1998. "It is related to our history. When Israel was first founded, we had the kibbutz movement and people had to discover new agricultural techniques, and then we needed new military developments – the country is one big start-up. We are a people that is prepared to take a risk, and that is now manifesting itself in the hi-tech sector."
Mr Vardi also highlights the significance of events after the 1967 war, when the French government placed an arms embargo on the Middle East. "The two real fathers of Israeli hi-tech are the Arab boycott and Charles de Gaulle, because they forced on us the need to go and develop a defence industry," he says.
The link between today's vibrant hi-tech sector and Israel's early days is one that is often made. In their book Start-up Nation, Dan Senor and Saul Singer claim that despite having "only 7.1 million people, no natural resources, enemies on every border, and in a constant state of war," Israel has more start-ups than Japan, South Korea, India, Canada and the UK. Shimon Peres, Israel's President, who wrote the foreword to the book, says this stems from Israel's initial need to "create ourselves anew".
Mr Vardi says that since his company, Mirabilis, decided to sell ICQ, others in Israel have sought to follow in his footsteps. More students are now studying computer science in Israel's universities than tradition courses like law, he says, and the government has also played its part by providing tax breaks and initial capital.
"In the future, [the Waze deal] will not look like an outlier," Yoav Leitersdorf, the managing partner at YL Ventures, told Bloomberg News. "We are seeing a new wave of companies that follow that direction, the direction of content and digital media, application-based companies that build significant value."
The interest in hi tech and young people's ambition to be the next Noam Bardin has other benefits. For 20 years, big American and European companies have sought to take advantage of Israel's well-educated population and begun setting up here. Intel, the chip maker, has two plants in Israel while Microsoft and Cisco Systems also have extensive operations in the Jewish state. Oddly, though, the large multi-nationals appear to be unwilling to discuss why they find Israel so attractive.
Because most of Israel's hi-tech sector is based around Tel Aviv, there is comparatively little participation by Israel's Arab population, which lives largely in the north and south, and of the Palestinian population in East Jerusalem. Companies such as Microsoft do, however, offer schemes that allow Arab and Palestinian participation.
Indeed, the conflict has at times depressed the Tel Aviv stock market, and some argue that for this reason buyouts, rather than flotations, are the most attractive option for those with bright ideas – and that in turn attracts the funds.
Michael Eisenberg, a partner at Benchmark Capital, has been a key player in investing in Israeli hi tech for almost 20 years. He argues that in fact the exchange in New York has always been where Israeli business people look for an exit, and that they are as common as buyouts, but that it is the big-money buyouts that attract the most attention.
"Companies are more and more going public, but not in Tel Aviv, which lacks the liquidity and the analysts' coverage," he says. "Over the next six to nine months, I think we'll see four or five companies going to [the US exchange] Nasdaq, but once they are trading, that's it. It is the buyouts that attract much more media noise."
Mr Eisenberg believes that the Google buyout of Waze heralds a new wave of big deals. "What Waze does is augur a transition – we've gone from the age of ICQ to the age of Waze, which points the way to the billion-dollar global exits for Israeli hi tech."
Whether it continues as Waze, or whether the marketing brains at Google decide to change the branding remains to be seen, but Israel's billion-dollar iPhone app has certainly put its hi-tech industry on the map, in more ways than one.
Register for free to continue reading
Registration is a free and easy way to support our truly independent journalism
By registering, you will also enjoy limited access to Premium articles, exclusive newsletters, commenting, and virtual events with our leading journalists
Already have an account? sign in
Join our new commenting forum
Join thought-provoking conversations, follow other Independent readers and see their replies