Contractor Carillion part of a £1.4bn HS2 contract win despite the mess the company's in
Just days after a horrible profit warning, the Government has handed the company a vital role in a hugely expensive prestige project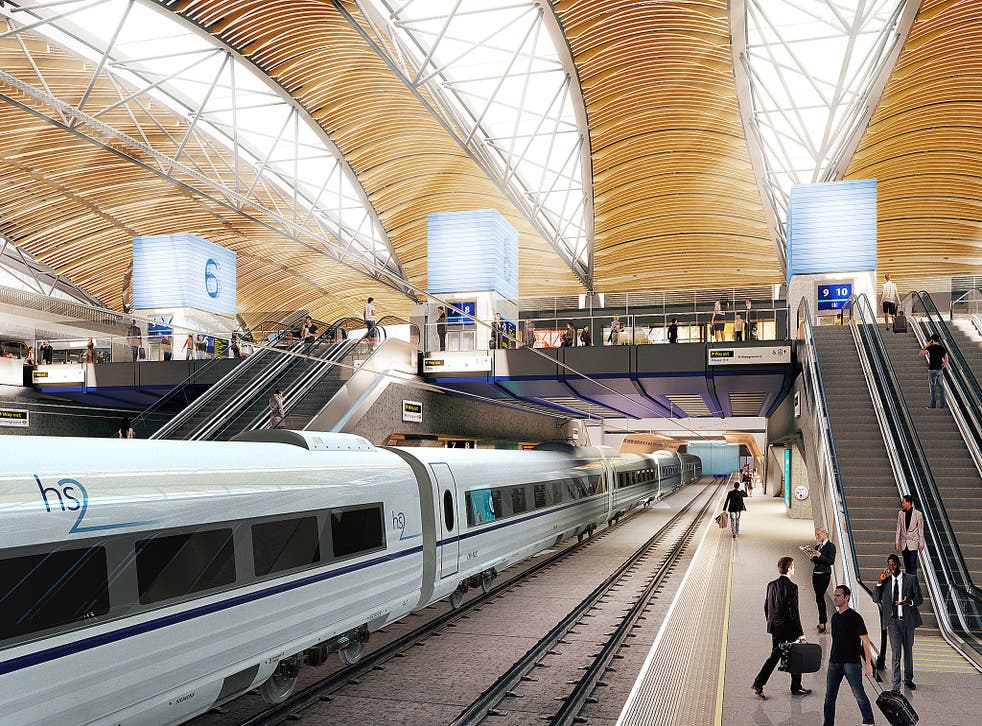 It takes a lot to shock me, but the decision to award embattled contractor Carillion two pieces of one of the most important and prestigious infrastructure projects in Britain did the trick.
The beleaguered company is part of a joint venture that has won two of the nine lots for the HS2 high speed rail line linking London and Birmingham.
Lot C2 consists of North Portal Chiltern Tunnels to Brackley and is worth £724m. Lot C3 involves Brackley to Long Itchington Wood Green Tunnel South Portal and is worth £616m.
That's a total of £1.4bn in taxpayers' money going the way of a joint venture involving a company that just last week parted with its chief executive, suspended its dividend and announced a "thorough review" off the business and its capital structure.
Promises to cut debt have not been kept, contracts have gone bad, and the company looks a mess.
The Government has made a huge fuss about HS2. By cutting travel time between London and Birmingham by an hour, HS2 is supposed to light a fire under the country's currently struggling economy.
So Transport Secretary Chris Grayling had better hope Carillon can work through its problems and that they don't slop over onto the work.
The project is supposed to be up and running by 2026. If it is I'll cheerfully attend the opening ceremony in a shocking pink tutu and a football shirt in the colours of a team of Mr Grayling's choice.
Thanks to Carillon's appointment, I feel quite comfortable in making that offer. If only taxpayers could feel similarly blasé.
The Transport Secretary – fresh from handing Southern Rail operator GTR what amounted to a slap on the wrist for the misery it has inflicted upon commuters – has sought to reassure the public by pointing out on Sky News that it isn't on its own with this contract. It's part of a team.
Thing is, I'm not sure how that mitigates the risk. If one part of a joint venture trips up, it wouldn't surprise anyone to see the whole thing tripping up.
Apparently, however, the Government has also had "secure undertakings" from the contractors that all will be well and that they will deliver.
But, as a politician, Mr Grayling really ought to understand how much a promise like that is actually worth in practice.
Undertakings can be as secure as you like, until circumstances make them less so.
Investors in Carillion will have had good reason to feel secure after reading through the trading statements it issued prior to its profit warning. They said that all was well, trading was in line, the company's debt pile would be reduced. Until that changed.
How secure will Mr Grayling's undertakings be if the actions the company is taking fail to fix its problems? Is he absolutely certain that such an occurrence won't affect the performance of this contract?
If I were on the Transport Committee, I'd want him in front of me answering questions like that in even more of a hurry than one of the shiny new HS2 trains when they finally hit the tracks.
The maddening thing about watching the British Government's dealings with companies that rely on the taxpayer's coin is that it doesn't seem to matter how often they muck things up. There's always another contract to be won, always another minister to sign on the dotted line, always a ready supply of excuses if and when things don't turn out as planned.
Business news: In pictures

Show all 13
Perhaps I'll be proved wrong about this one. Perhaps Mr Grayling will get a good laugh at my expense when he sees me in the tutu and his team's colours at HS2 the opening ceremony in 2026. Perhaps Donald Trump will manage to stay off Twitter for longer than 24 hours and England will win a penalty shoot out against Germany. We do live in strange times, after all.
However, by 2026 Mr Grayling will almost certainly be in a different job, if he even has one. So it will be for someone else to pick up the pieces if HS2 does all fall apart.
In the meantime, Carillion's shares shot up by 8 per cent as news of its big win broke. So at least someone out there is happy about all this.
Join our new commenting forum
Join thought-provoking conversations, follow other Independent readers and see their replies