Deutsche Bank's $14bn mega fine – America's revenge for Apple's tax bill or another example of flawed regulation
The bank is talking tough, but it will ultimately settle. The individual bankers responsible for the alleged misdeeds? They're gone. Here's why that's a problem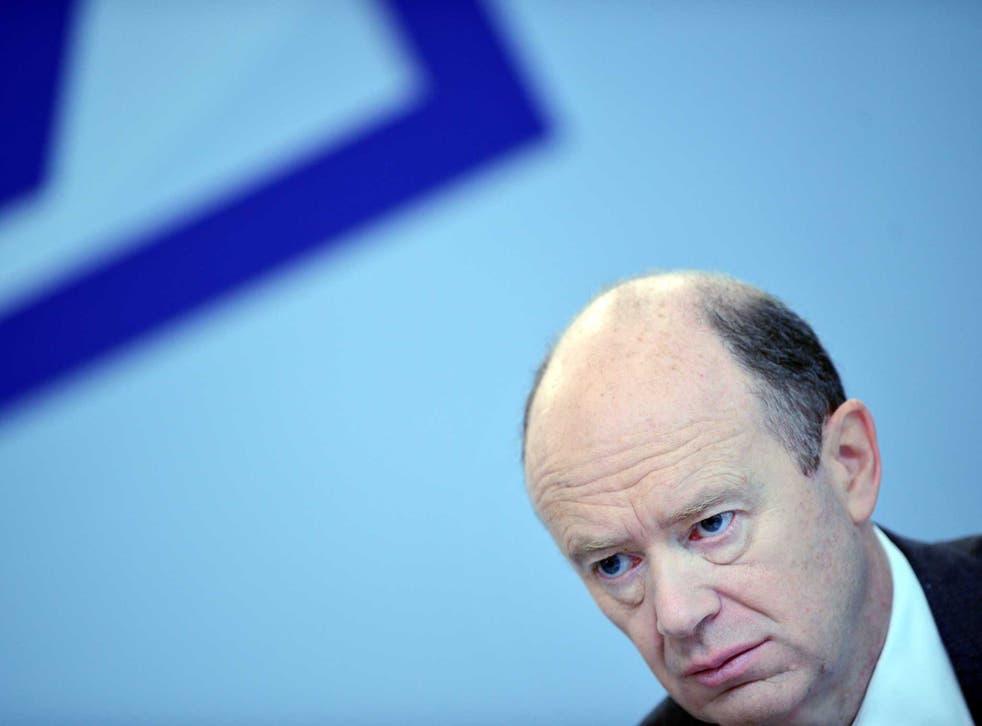 With US regulators asking for $14bn (£10.6bn) to settle claims of packaging up and selling off dodgy mortgages, the world's riskiest bank just got a whole lot riskier.
Deutsche Bank – given that title by no less than the International Monetary Fund – says it has "no intention" of paying such a gargantuan sum for alleged misdeeds committed in the run-up to the financial crisis nearly a decade ago.
It has a shade above $6bn set aside to deal with legal issues but that's not nearly enough. Given its current difficulties, it's not a big surprise that hard-as-nails British chief executive John Cryan wants to be seen talking tough.
It will be fascinating to see how long that stance lasts.
It's actually hard to sympathise with either side in this case. What banks were doing prior to the 2008 collapse was disgusting. We are still dealing with the fallout.
At the same time, US regulators sometimes seem to pluck figures out of the air because they can and because, when all is said and done, no bank has yet dared to actually take a case to court.
Moreover, there is a certain suspicion that this particular figure is not unrelated to the €13bn (£11bn) the EU wants Apple to pay in back taxes.
The smart money is still on the case settling at some point. Banks and their executives wail and gnash their teeth when hit with mega fines. But they still pay them.
Partly it is because of how bad their businesses could be made to look during extended and very public trails. Letting a judge decide things is also very risky when set against the benefits of certainty that working out a deal yourself brings.
It has proved possible for some banks to negotiate. Figures of $15bn were being bandied around for Goldman Sachs to settle allegations similar to the ones facing Deutsche. It ultimately paid $5bn.
Of course, Goldman Sachs is an American bank, run by an American CEO, with deep ties to the American establishment. Deutsche is a German bank run by a Brit. Good luck with trying to explain to a judge why they should let your institution off lightly, Mr Cryan. But he'll settle at some point.
Regardless of all the issues floating around this proposed fine – and, more to the point, the question of whether Deutsche can pay – the problem with penalties of this nature remains.
It is true that they have had the effect of making banks think very carefully about how they manage conduct risk.
However, they remain a deeply unsatisfactory way of dealing with wrongdoing.
They are ultimately paid by banks' diffuse groups of institutional shareholders, whose portfolios might tick down a couple of cents each as a result.
Meanwhile the individuals who were at fault for punting all those dodgy mortgages around the world? They're now largely out and sitting on beaches, having banked their bonuses. That is, if they're not adding to them by working in private equity or at hedge funds.
The American public might cheer their regulators for giving it back to those pesky Europeans after their attempt to soak Apple. But it doesn't change the fact that they have been denied justice for the financial crisis, just as the public of every other country that suffered from its impact have been denied justice.
Part of the reason for the rise of populist demagogues like the odious Donald Trump and his mini-me, Nigel Farage, is the widespread anger and disillusion created by the crisis and the austerity that followed.
Biggest business scandals in pictures

Show all 20
The siren call of the outsider promising to tear it all down in the name of "the people" has proved seductive to many, even if it is a con.
The problem is the elites these people attack did not suffer in the way ordinary people suffered. There is also a feeling that they have been unwilling to bring bankers, who might be their mates, or at least their funders, to book for wrongdoing when authorities are all too willing to stamp on the little man or woman for petty misdemeanours.
Deutsche's fine, wherever it ends up, will be a big number. But ultimately it's just a number. The bank hands it over, the shares wobble a bit, and then everyone moves on to the next bonus round. Is it any wonder that people feel the system is rigged and get taken in by people promising to rip it apart?
Join our new commenting forum
Join thought-provoking conversations, follow other Independent readers and see their replies