Martin Shkreli's arrest is an indictment of Wall Street too
US Outlook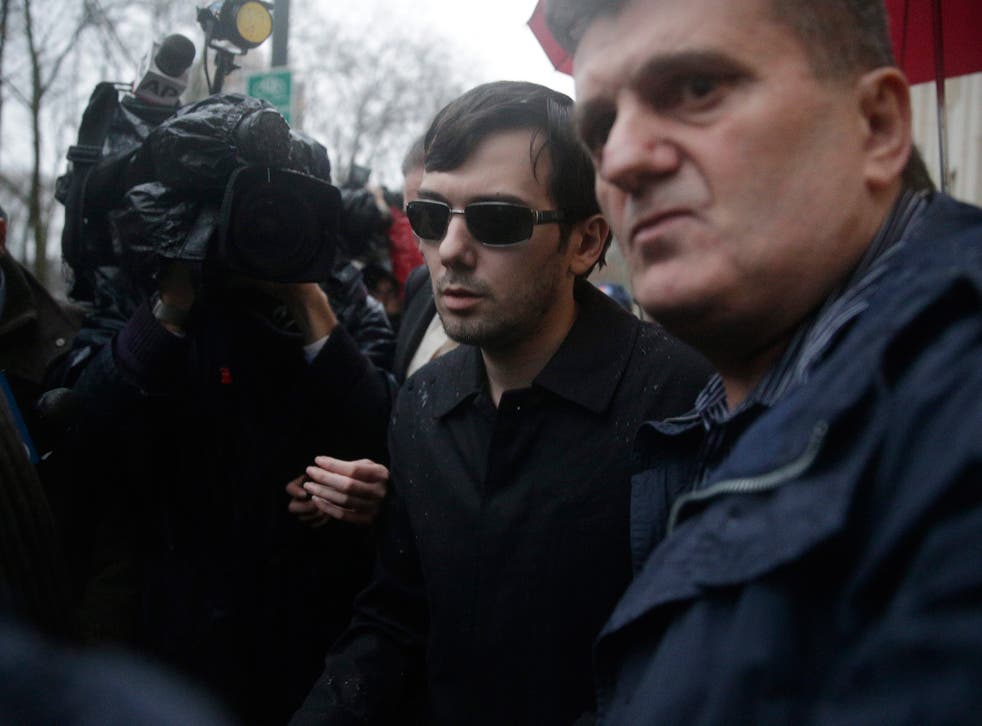 I learnt a new and fabulous German word this week – Backpfeifengesicht. It loosely translates as someone who has a face that needs to be slapped. Nobody on earth personifies Backpfeifengesicht better than Martin Shkreli.
Reading the 51-page FBI indictment of Mr Shkreli, the internet's most hated man, actually leaves part of me wanting to give him a round of applause too; there is no denying that he has brass balls. There is also no denying that at some point his career was going to unravel, as it now has in a mass of fraud allegations and a raging torrent of Schadenfreude.
It's safe to say that his career is over, even if right now he is a long way from a guilty verdict. On Wall Street, incompetence and greed are never barriers to promotion and success. Getting caught cheating is much worse. That ruins it for everyone else.
Mr Shkreli's trail of alleged fraudulent trading and outright theft – for which, if convicted, he will surely face a long prison sentence as the rest of the world bays for blood – is nothing short of stunning. The serious question, one that cannot be explained simply by those brass balls, is who kept on giving him money? Whoever it was needs more than justice – they need their heads examined too.
The trail starts in 2006 when he launched his first hedge fund, Elea Capital. He was just 23, which displays the kind of ambition Wall Street applauds but which anyone with an ounce of sense should find nauseating and darkly comic. Of course, age is no barrier to reckless money management; Bernie Madoff wasn't in the first flush of youth when he was stealing billions from gullible investors.
The basics of the indictment are that Mr Shkreli used shares in Retrophin, a biotech company he founded in March 2011, to pay off debts he incurred while trading at MSMB Capital Management, another hedge fund he founded in March 2009. He set up MSMB after Elea went belly up. According to the indictment, Mr Shkreli managed to lose every penny at Elea and then somehow forgot to tell his new investors at MSMB.
Retrophin, established to find treatments for muscular dystrophy in children, managed to get a listing on Nasdaq within months of its foundation. Another farcical event. It is claimed that Mr Shkreli, along with a lawyer called Evan Greebel, defrauded investors of Retrophin and MSMB Capital, in essence entering into a Ponzi scheme using Retrophin stock to inflate returns and pay off investors and debts at MSMB. They are also alleged to have misrepresented how much cash MSMB had – claiming it had $35m in cash when in fact it had $700 in the bank.
MSMB Capital, just like Elea, ended up with zero in capital and cash despite charging Retrophin more than $7m in, according to the FBI, "sham consulting agreements". This hardly scratches the surface either: the FBI managed to compile an impressive 34-point list of misdemeanours that make Del Boy look like Warren Buffett.
That Mr Shkreli was able to rise to infamy long after most of these events took place (his dealings at MSMB were known well before he started price gouging Aids patients via Turing Pharmaceuticals) proves a couple of things. First, fighting fraud is an incredibly difficult and complex business. Second, so long as you are convincing enough, anything is possible on Wall Street as long as you can find stupid, greedy and wealthy investors. A hedge fund at 23 years of age? A second hedge fund after the first has lost every penny? List a new biotech company that has done precisely nothing? Where do we sign up?
This sorry tale has no happy ending, even if Mr Shkreli is found guilty. It's a damning indictment not just of him and his idiotic investors. It's a damning indictment of Wall Street and an environment that puts greed first and everything else a very distant second. When Turing fails, as it most certainly will, investors who will lose everything have nobody to blame but their own greed and stupidity.
Backpfeifengesichts, all of them.
Razor blades at dawn for Gillette
The general rule in running a small business is that if a competitor many times larger comes after you through the courts, you must be doing something right. Not that getting sued by a giant corporation is much fun, but they don't bother taking companies to court unless they feel suitably threatened.
On that basis, it's not exactly shocking that Gillette, the men's grooming giant owned by Procter & Gamble, has finally got around to suing the Dollar Shave Club, the online razor and shaving products subscription service.
Dollar Shave Club subscribers pay a few bucks a month and, rather than having to remember to buy more razors next time they're in Walgreens, the club sends them automatically in the post.
The Dollar Shave Club is a disruptive business model, complete with a customer agreement that runs to more than 12,000 words, and Gillette isn't digging the disruption.
Gillette controls 60 per cent of store-bought blades, but only 20 per cent of online sales. Nobody gets a prize for guessing which market is growing faster – so much faster that Gillette recently launched its own "Gillette Shave Club", so if ideas are being stolen – see below – then everyone's at it.
The Dollar Shave Club has been going for nearly five years. It has three subscription levels – two, four or a monstrous six-bladed razor for Wookies. Gillette claims the blades use its patented technology, and on top of damages it is seeking to prevent the Dollar Shave Club from selling or importing its blades. So basically Gillette wants it out of business (and probably wouldn't mind its customers too).
These kinds of lawsuits rarely work out well for anyone, although given that the Dollar Shave Club has been going since 2011 and Gillette is seeking in effect to put it out of business, the sensible money is on some sort of settlement.
What's curious, and perhaps most telling, is that Gillette isn't suing Dorco, the company that actually makes Dollar Shave Club razors. If it was all about the patent infringement, and not the market threat, surely it would be in the dock too? As it happens, Dorco will sell direct to consumers at around one third the price of Dollar Shave Club or Gillette. So with any luck, it will end up the only winner.
Join our new commenting forum
Join thought-provoking conversations, follow other Independent readers and see their replies