Microsoft's chief executive Satya Nadella ushers in new strategy of 'mobile first, cloud first'
Microsoft must arrive where it began and know the place for the first time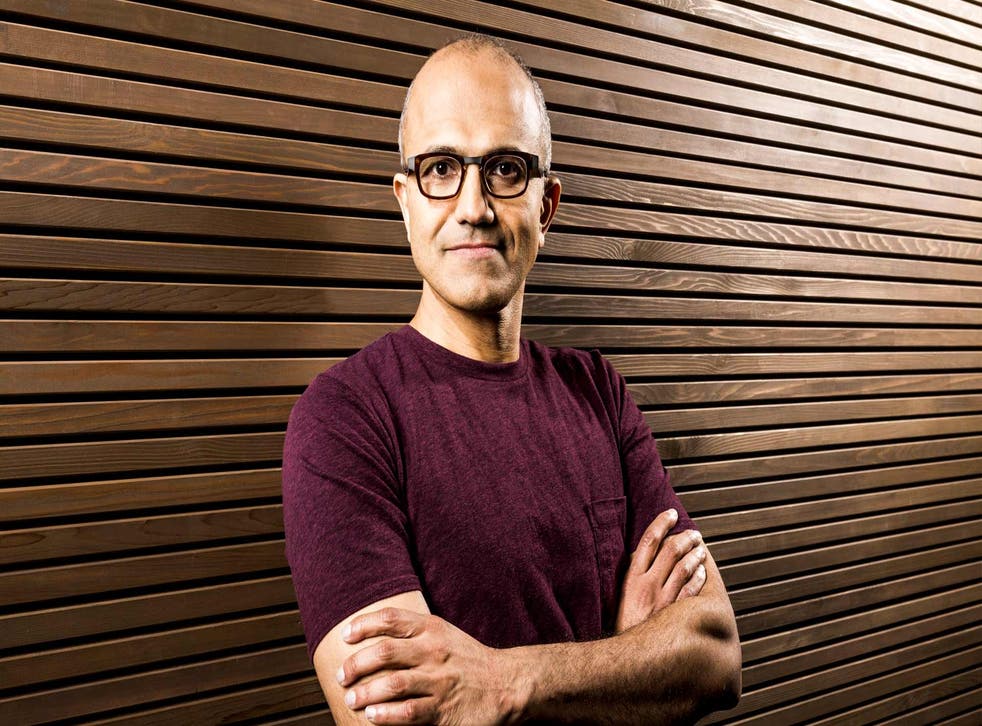 He quoted the poet TS Eliot within 45 seconds and spoke of a "complexity that needs to be tamed".
He spoke of "ambient intelligence" and of a "canvas for innovation".
But this was no philosophy lecturer – this was the new Microsoft chief executive, Satya Nadella, giving his first public performance on Thursday night as he ushered in the company's new strategy of "mobile first, cloud first".
Mr Nadella delivered the much-anticipated news that Microsoft was making its Office software available on the Apple iPad, and he outlined a future in which Microsoft and its products will follow customers to their mobile devices and their remote "cloud" computers.
Some would say Microsoft is a bit late with this particular epiphany, but that was not going to spoil Mr Nadella's big day.
Exuding a cool Silicon Valley vibe in his casual jeans and polo shirt, he looked and sounded a lot different from his aggressive predecessor, Steve Ballmer, and the company's famously geekish co-founder, Bill Gates.
The new chief executive shared the stage with Microsoft's general manager, Julia White, who wore a designer motorbike jacket. Riding on their performance was the roughly $330bn (£200bn) stock market value of what is still one of the world's biggest public companies.
Mr Nadella's performance was well received, with the technology news website Mashable proclaiming: "Nadella's Microsoft: Enter the Renaissance Man."
Mashable gushed: "He projected an air of quiet confidence, discipline and intelligence … the new CEO has an infectious enthusiasm about his big-picture vision that eluded his predecessors.
"He truly seems to get that the old days of Apple-Microsoft rivalry are long gone, that more of his customers are going to be touting iPads than [Microsoft] Surfaces, and that it doesn't matter anyway: it's all the cloud and all its devices."
It's hard to disagree with Mashable's praise, although Mr Nadella and Ms White did occasionally lapse into technical jargon and grossly overestimate the public's curiosity about how clever computer technology actually works inside the box.
These, though, are minor complaints. Mr Nadella is no Steve Jobs, but compared to Messrs Gates and Ballmer, he is a rock star.
Not many chief executives, in the first minute of an important corporate presentation, could or would paraphrase this section of TS Eliot's Little Gidding without sounding pretentious:
"We shall not cease from exploration And the end of all our exploring Will be to arrive where we started
And know the place for the first time."
Beat that. Or, for the cricket-loving and Indian-born Mr Nadella, maybe it should be Howzat!
He was at his best when he kept the technical jargon to a minimum and cut to the chase. His admission that Microsoft has to be where its customers are was his best moment. The world of the personal computer and Microsoft Windows has been replaced to a large degree by mobile devices and cloud computing – and the company, under Mr Nadella, appears finally to have embraced this new world.
"We are absolutely committed to making our applications run what most people describe as cross-platform," he enthused. "There's no holding back of anything. It is about being able to excel everywhere our customers are.
"One of the questions is, is this a massive trade-off for you? There is no trade-off. It's reality for us."
Mr Nadella gives the impression of being that rare combination of the brainy engineer who is also able to communicate well. Near the start of his presentation, he spoke about "the magical coming together of the cloud and the mobile" and kept his language accessible, for the most part. He could be accused, perhaps, of being a bit lofty, but at least he speaks mostly in plain English.
"We're not bound, in fact, to one device, one place or one time," he said rather poetically. "And the real goal for us is to step up to provide the applications and services that empower every user across all of these devices and all of these experiences."
He perhaps tested the limits of a public audience when he spoke about how Microsoft provides "a road map to build a comprehensive enterprise architecture for IT professionals to be able to bring together their identity management, access management, device management and data protection into one suite and one enterprise architecture that works across all devices, Android, iOS, Windows".
However, he came back down to earth when he addressed how people need "to be able to do things in your life and want to use the same applications for your work".
And he was right on the money when he said: "Our customers want to know where we are going, what is our innovation agenda – and our team is really ready for it … you will see what the new core for Microsoft is and what our innovation agenda is."
Silicon Valley observers have been at pains to point out that Mr Nadella's collegial style is at odds with the reputation of Microsoft as a place where internal fiefdoms compete against each other in a hard-driven corporate environment.
Is this really a new dawn?
Microsoft remains a giant of a company that made revenues of about $24.5bn in its most recent quarter, but Mr Nadella still faces the task of convincing investors that it has not been left behind by more innovative competitors.
Some analysts have estimated that the company could make as much as $6.7bn a year in revenue from Office via the iPad, but others fear it may have moved too late.The sceptics will have to be proved wrong.
Mr Nadella certainly did a good job in his first public outing and the test will now be to show that Microsoft is once again leading, and not following.
To quote, once again, Mr Nadella's beloved TS Eliot:
"For last year's words belong to last year's language
And next year's words await another voice."
Satya Nadella needs to be next year's voice.
Join our new commenting forum
Join thought-provoking conversations, follow other Independent readers and see their replies