Sports Direct suffers historic shareholder revolt, but will anything really change?
Independent shareholders voted against the chairman's re-election and backed a union motion calling for an independent probe into working practices. Boss Mike Ashley still doesn't seem inclined to change tack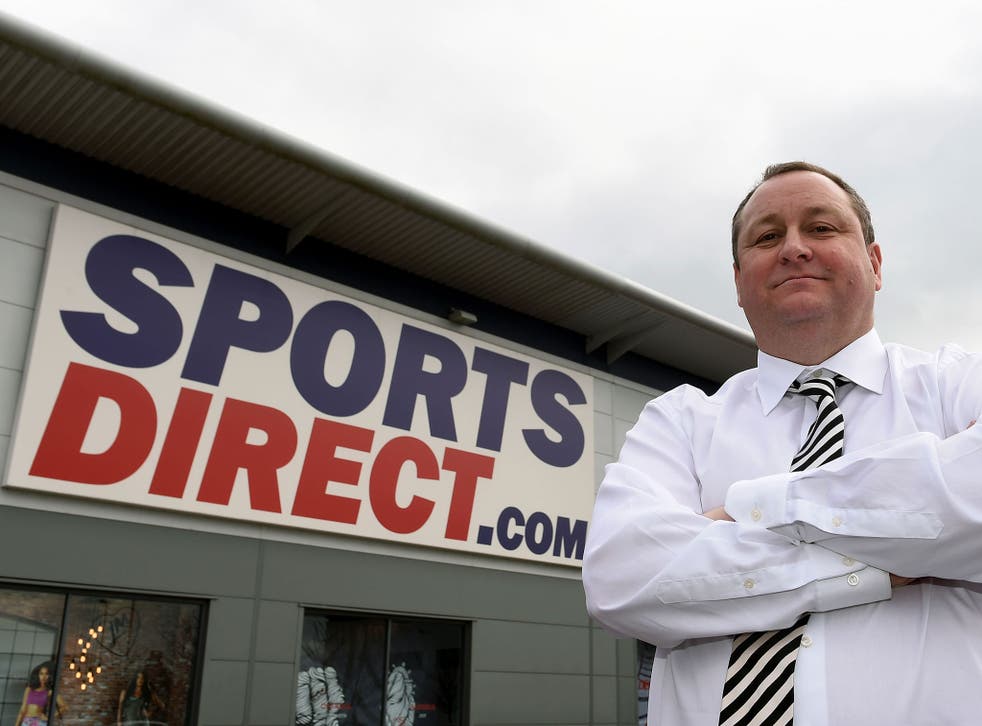 Finally, the City has attempted to exact a price from a company that has thumbed its nose at investors while pouring their money down the toilet.
In what is an historic event, a majority of independent shareholders in Sports Direct voted against the re-election of chairman Keith Hellawell, who has served as a lightning rod for the torrent of criticism received by the company over everything from the treatment of workers to top level appointments. "Independent" in this case meaning anyone not named Mike Ashley.
Perhaps even more important is the fact that 53 per cent of the independents also voted in favour of a resolution tabled by trade union shareowners. It called for an independent investigation into how Sports Direct treats its workers.
​Given that Sports Direct on Tuesday published a report from the company's lawyers into that very issue, I'd say that represents an equally big slap in the face to Mr Ashley, the company's founder, executive deputy chairman and majoirty shareholder. As I wrote at the time, there were flaws in that report. Sports Direct's independent shareholders appear to agree, even though Mr Ashley was able to use his 55 per cent stake to torpedo the union call.
But I wouldn't be celebrating too hard, and not just as a result of that last fact.
Consider, if you will, the case against Mr Ashley and Sports Direct. The retailer has been in the dumpster for paying some workers less than the minimum wage, and operating conditions likened to a "Victorian Warehouse" at its Shirebrook warehouse by MPs.
The boyfriend of the founder's daughter was handed oversight of the retailer's huge property portfolio on a consultancy contract that could pay him millions, his brother's company helps with overseas deliveries.
The shares have lost more than half their value, profits are on the slide, and the board has faced repeated and valid criticism. Just that list would give any corporate governance expert a headache, but there's more besides.
Despite all this, Mr Hellawell, who offered to resign only to be rebuffed by the board, still received the backing of 47 per cent of independent shareholders.
You do rather wonder if those in charge of casting those votes had enjoyed too many glasses of claret at old school City lunches before doing so. What would a company have to do to get them to vote a director out?
Moreover, Mr Hellawell was the only director to be so treated. Simon Bentley, Dave Singleton and Claire Jenkins were each opposed by more than a third of independent shareholders. That is sizeable dissent, given that the directors of public companies usually receive the sort of backing that Kim Jong Un likes to claim from the North Korean people. But again, consider the state of the company. Mr Hellawell shouldn't have been alone.
Even he only got dumped upon thanks to the hard work of people like Sacha Sadan, the director of corporate governance at Legal & General, and his counterparts at Royal London, Standard Life, Hermes et al.
Pension funds and others who control big blocks of money might like to take note. You may be able to find cheaper money managers out there, but isn't it worth paying a bit more to put your money with people who will actually work to improve the companies it is being invested in?
Business news: In pictures

Show all 13
As for Mr Hellawell, he's technically in purdah now, as a result of the increased power over director elections handed to independent shareholders by the Financial Conduct Authority. These were designed to prevent the likes of Mr Ashley riding roughshod over their fellow shareholders.
Unfortunately, he'll still be able to use his majority vote to get Mr Hellawell back in at a future general meeting promised in three months time.
The guided tour around the Shirebrook premises? The lawyers' worker treatment report? The pledge to put a (no doubt carefully selected) workers' representative on the board? It's all just fluff. Mr Ashley has no real intention of changing. If he did, Mr Hellawell would be gone. And that would be just the start of it.
Join our new commenting forum
Join thought-provoking conversations, follow other Independent readers and see their replies