Customers should support the Uber drivers' strike ahead of Wall Street float because the gig economy is stalking us all
The contrast between what drivers make the millions being paid to executives could hardly be more stark as insecure Uber type work becomes more and more common in Britain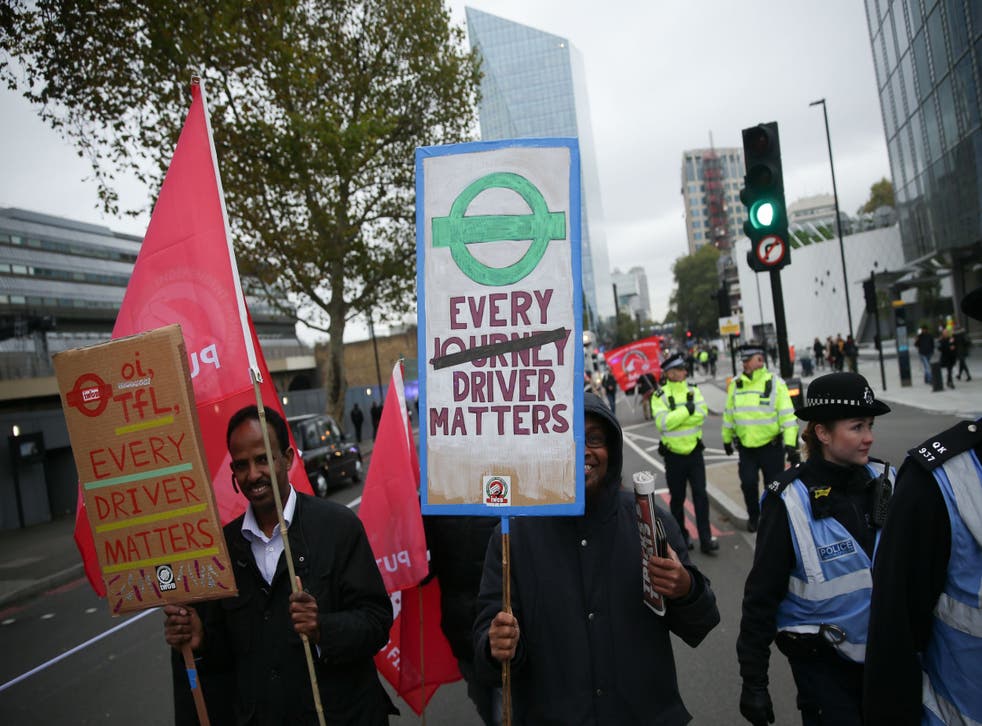 With Wall Street and the financial media slobbering all over Uber - the taxi firm is in the midst of the biggest float of the year so far - its drivers on both side of the Atlantic have taken to industrial action to highlight the plight of those on whose backs its success has been built.
These are unusual strikes because, of course, the drivers involved are not considered by the firm to be employees. As a part of the gig economy, they are deemed to be independent contractors.
It's a status of questionable legality that is currently being tested through the courts and Uber has mostly been losing.
The tactic that the United Private Hire Drivers of the Independent Workers Union of Great Britain has settled upon is that of a boycott of the ride sharing app between 7am and 4pm. Similar actions are planned in several US cities.
All the drivers involved want Uber to charge more and take less of a cut. Perhaps the most high profile gig economy court case in Britain was taken out in an attempt to secure drivers the minimum wage. So they have a point.
The contrast between the relative pittance that drivers make and the obscene riches the firm's bosses are sharing in could hardly be more stark. CEO Dara Khosrowshahi and four other top executives stand to cash in on close to $400m worth of stock options if Uber's shares perform well after its IPO.
Travis Kalanick, who founded the firm, will see his 8.6 per cent stake valued at nearly $8bn if the company gets as close to the $90bn market capitalisation it is seeking as it hopes. ​
The problem Uber drivers face is that the firm has warned its new investors that it may never turn a profit. It wants to become a kind of Amazon of transport, with ambitious plans to move into and expand in a host of different areas.
Business news: In pictures

Show all 13
With a view to realising its ambitions and keeping its investors sweet in the meantime, while attempting to justify its executives' unjustifiable share options packages, it will likely continue to ruthlessly exploit its workers unless and until someone forces it to stop.
Uber's drivers may thus have to resign themselves to a long and bitter struggle. The legal system may yet prove to be their best ally, at least on this side of the Atlantic.
In the meantime, however, their customers should support them by refusing to cross the digital picket line. It wouldn't hurt for them to raise the issue of gig economy workers on the doorstep when politicians come knocking with elections to the European Parliament looming. Given the way the world of work is changing, more and more people are being pushed into Uber style jobs. The gig economy is stalking all of us and that makes it an issue for all of us.
Join our new commenting forum
Join thought-provoking conversations, follow other Independent readers and see their replies