IMF chief gloomy over prospects for 2016 but hints at UK rate rise
Christine Lagarde has spoken of 'disappointing and uneven' global growth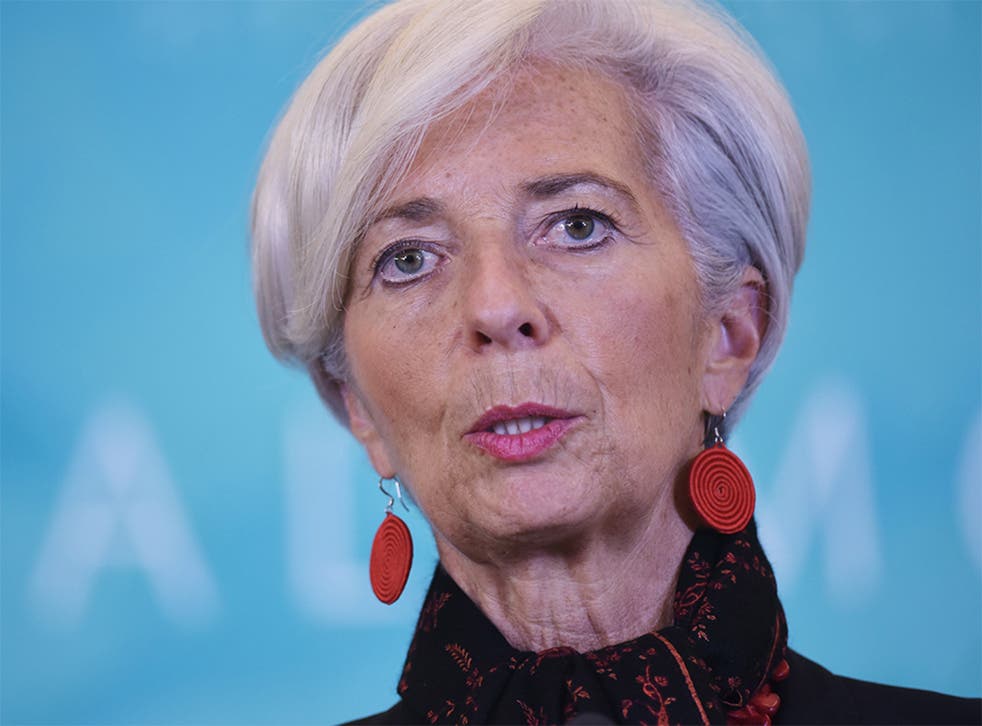 The UK could still face higher interest rates next year despite the risk of "disappointing and uneven" global growth, the head of the International Monetary Fund, Christine Lagarde has said.
In a downbeat assessment of the world's economic prospects in 2016, Ms Lagarde underlined threats from a slowdown in global trade, the impact of slumping oil and metal prices on commodity-producing nations, and financial vulnerability among emerging nations. "All of that means global growth will be disappointing and uneven in 2016," she wrote in Germany's Handelsblatt.
But she hinted that the Bank of England could still follow the example set by the US Federal Reserve, which raised interest rates for the first time since 2006 this month.
She said: "Most highly developed economies except the United States and possibly Britain will continue to need loose monetary policy, but all countries in this category should comprehensively factor spillover effects into their decision-making."
Her latest comments strike a more hawkish note than the IMF's assessment of the UK earlier this month, which flagged up risks over a possible "Brexit" vote to leave the European Union, as well as worries over levels of household debt and a "strikingly large" current account deficit.
Business news: In pictures

Show all 13
The City is pricing in a first interest rate hike from the Bank of England in November 2016, with the Monetary Policy Committee (MPC) judged more likely than not to move in August, despite downgrades to the UK's 2015 growth performance in data revisions last week. Public finance data has also disappointed, with the Chancellor, George Osborne, deemed all but certain to miss borrowing targets for the financial year set by the Office for Budget Responsibility.
David Tinsley, UK economist at the investment bank UBS, who is forecasting a May move, said the MPC may yet be swayed by an improving jobs market in hiking rates before traders anticipated. He said: "The labour market figures are looking firm and we could have an unemployment rate below 5 per cent at the turn of the year." But he added: "Brexit has clearly got the potential to curb growth, and the changes to buy-to-let [the 3 per cent stamp duty surcharge on buy-to-let properties beginning in April] will bring a lot of transactions forward to the first quarter of the year, so there is a chance of soggy growth in the middle quarters."
Ms Lagarde wrote yesterday that a rise in US interest rates as well as a shift in China's economy towards consumption as a driver were "necessary and healthy" changes, but the "spillover effects" could be felt in emerging countries laden with dollar-denominated debts but tax revenues in sinking local currencies.
Join our new commenting forum
Join thought-provoking conversations, follow other Independent readers and see their replies