Detox Kitchen: The healthy food delivery service that wants to be the new Pret a Manger
Fans of the guilt-free grub include Elle McPherson and Gwyneth Paltrow and there's nothing humble about Ms Simpson's latest ambition: to take on high street rivals Pret a Manger, EAT and Itsu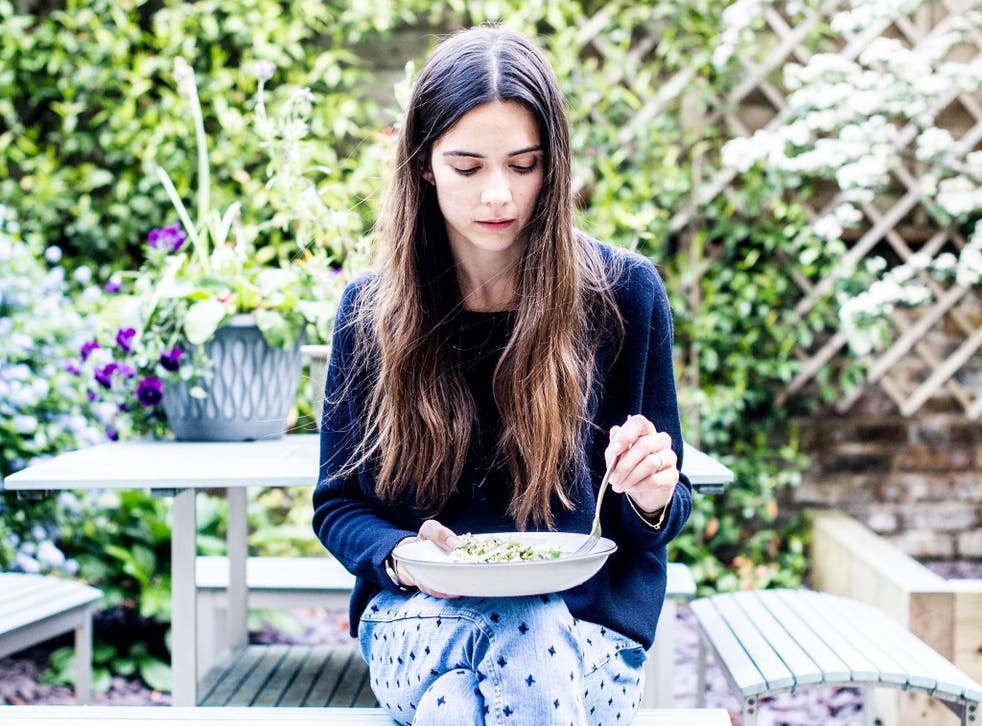 Lily Simpson, the chef and co-founder of Detox Kitchen, started her business with the simple and humble idea of making healthy food "really delicious".
In a City of wheatgrass-loving, chia seed-devouring gym rats, she was far from the only one with that goal, but her strategy paid off and her success since launching in 2012, has been commendable.
Every day her and her London-based team make hundreds of nutrient-rich meals, either delivering them to clients' doors or serving them up in their delis. Fans of the guilt-free grub include Elle McPherson and Gwyneth Paltrow and there's nothing humble about Ms Simpson's latest ambition: to take on high street rivals Pret a Manger.
If the group's balance sheet is anything to go by, competitors might want to watch their backs.
The business is projected to grow by 50 per cent this year chalking up a turnover of £4.5m this year.
The businesses started as a delivery business, but it now operates two delis in Soho and Fitzrovia and a third is opening in Russell Square this week. Ms Simpson says she plans to open seven more in the next three years and is currently examining locations in busy central areas of the capital, like Victoria, Shoreditch and the Square Mile.
"From the delivery side of the business, we created a premium product," the 32-year-old says, adding that the idea of the delis "was to get a much bigger audience and compete with the likes of Pret, EAT and Itsu".
"I want people to come to us and have really wholesome food," she says.
The former caterer admits that London is far from short of "healthy" food outlets these days, but she says that in 2012 she spotted and took advantage of a gap in the market.
"At the time healthy was all about Weight Watchers and calorie control. It wasn't about flavour," Ms Simpson explains.
"You were either on a diet and not enjoying your food or you were eating really delicious food that wasn't healthy."
Detox Kitchen is designed to prove that health-conscious Londoner's don't have to make the choice between indulging and sacrificing.
The group uses only fresh ingredients – free from dairy, wheat and sugar. Customers subscribing to the home delivery service can chose between five different packages including one for vegans starting at £28.90 a day and one called "active protein" at £39.95 a day for customers who exercises regularly to align their diet with their activities.
"I knew that if people would eat this food for three days or five days they would notice the benefits, whether it's weight loss or feeling re-energised, in that short space of time. I wanted people to understand that connection between what they were eating and how they felt."
Similarly to the delivery business, the delis aim to bridge the gap between healthy and tasty food, offering a range of salads, curries, smoothies and even cakes and coffees – albeit with a much smaller price tag.
So what's the secret to Ms Simpson's success? Quite simply, she says it's "the best out there" on offer.
"When you are out there to market your product, you need to know it's the best. I think women often suffer from this imposter syndrome but you have to go past your doubts and questions in your head."
The mother of two says that one of the fundamental ways of ensuring your startup is a success is to be fully committed to your idea.
"I am a huge advocate for women in business but it's really hard work. There's a lot of compromises to be made and there might be days when it's difficult for you, physically and mentally."
Food and drink news

Show all 35
She says that there is an unhelpful focus on social media in business at the moment, which leads some budding entrepreneurs into thinking that they can make money easily by starting a blog.
"But it just isn't like that," she says. "You need to believe in what you do and give it your everything."
Join our new commenting forum
Join thought-provoking conversations, follow other Independent readers and see their replies