AAA rating will take at least 10 years to regain
As the Chancellor tries to make light of Moody's downgrade, Mark Leftly assesses the fallout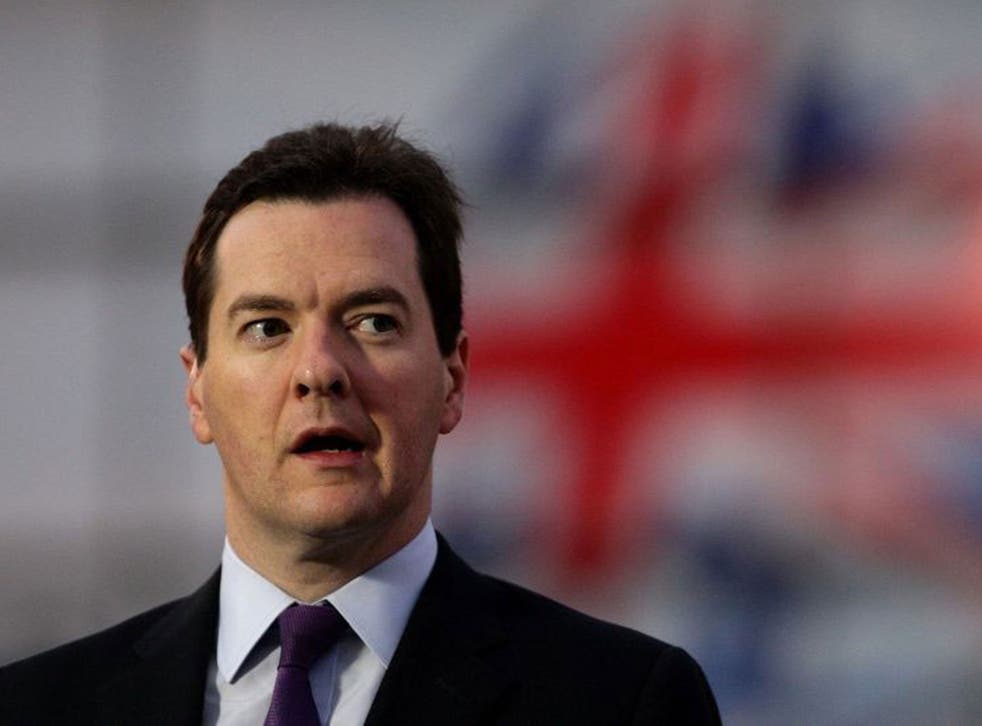 Confronted by rising debt and sluggish economic growth, George Osborne is licking his wounds this weekend after the humiliating loss of the UK's AAA credit rating.
The Chancellor has long pointed to the fact that the world's biggest credit-rating agencies maintained their top-notch assessment of the British economy as an endorsement of his austerity programme.
That all changed late on Friday. Moody's reduced the country's credit-worthiness for the first time since its ratings began in 1978.
The agency said that Britain's economic recovery is proving slower than recessions in the 1980s and 1990s, and that tax revenue projections have been over-optimistic. Standard & Poor's, which is normally considered the most likely credit-rating agency to downgrade a nation, is expected to follow suit soon.
It is almost certain to take Britain at least 10 years to regain its status as an AAA nation, alongside the likes of Canada and Germany.
The Shadow Chancellor, Ed Balls, described the downgrade as "a catastrophic failure of economic policy", while Mr Osborne insisted that this only "redoubles" the coalition's intention to follow through with its deficit-cutting programme.
The downgrade comes at a difficult time for Mr Osborne, as he finalises details of next month's Budget and prepares for the arrival of the Bank of England's new governor, Mark Carney, this summer.
Losing the top credit rating is widely considered more of a blow to prestige than the economy, although it will make it slightly more expensive for the Government to borrow money. On the upside, sterling should weaken against the dollar and an increasingly stable euro, which would help exporters such as Rolls-Royce and AstraZeneca.
Thought to be more important is the reasoning behind Moody's decision, such as its judement that "the mounting debt levels in a low-growth environment have impaired the sovereign's ability to contain and quickly reverse the impact of adverse economic or financial shocks".
In other words, the cuts are not yet working, and a credit crunch that officially started in August 2007 has years still to run.
Yannick Naud, who invests in government bonds at Glendevon King Asset Management, said: "If you look, by every economic indicator, the UK should not have been rated AAA anyway. Usually, if you lose a rating from one agency, you lose another one and it can take 10 to 18 years to get them back."
Canada lost its perfect rating with Standard and Poor's in 1992 and Moody's two years later, failing to regain its status with the agencies until 2002. That's the quickest that any country has lost and regained AAA ratings from both agencies. Australia took 17 years, from 1986 to 2003.
Even if Standard & Poor's resists a downgrade, history suggests that the UK won't regain Moody's full trust before 2021. Agencies are notoriously cautious in changing credit ratings, so as poorly as the economy needs to be performing to lose the AAA rating, it needs to grow just as exceptionally to get back on top.
This weekend, forecasters at the Office for Budget Responsibility, the body formed by Mr Osborne in 2010 to provide independent analysis of the UK's public finances, were accused of getting even their most basic numbers wrong.
Gerard Lane, investment strategist at Shore Capital, said: "I'm critical of the OBR for a lot of this. There was an assumption around consumers releveraging [borrowing to spend again] that was wrong, so growth forecasts were too high, tax numbers were too high. It could be that all the numbers are wrong. Unless we adopt the Germanic economic model, based on productivity and exports, then our standard of living is going to decline."
The Chief Secretary to the Treasury, Danny Alexander, moved quickly yesterday to downplay the significance of Moody's decision, arguing that credit-rating agencies are "not the be all and end all". This is at odds with what his boss in No 11 has said over the years.
In 2009, when in opposition, Mr Osborne called on the then Prime Minister, Gordon Brown, to take the country to the polls after Standard & Poor's put the UK in "negative outlook", which is often a precursor to a downgrade. He said then: "It's now clear that Britain's economic reputation is on the line at the next general election, another reason for bringing the date forward and having that election now."
A year after taking office, the UK was taken off that negative outlook, which Mr Osborne claimed was "thanks to the policies of this coalition government" and was proof that "Britain has economic stability again". As recently as last July, he stated that the AAA rating showed that "despite the economic problems we face, the world has confidence that we are dealing with them".
Join our new commenting forum
Join thought-provoking conversations, follow other Independent readers and see their replies