Apple's Tim Cook tops CEO earnings list after pocketing $145m in 2016
Bosses in technology, health care and media industries dominate the list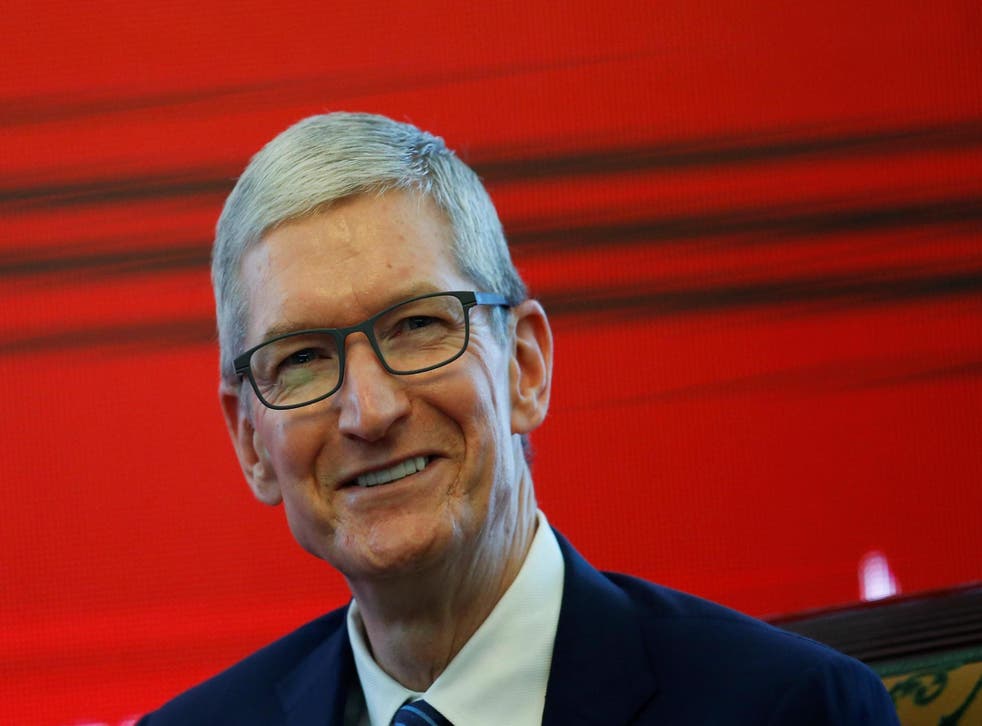 Don't be fooled by Tim Cook's 2016 reported pay of $8.75m (£6.75m), which ranked the Apple chief executive officer in the bottom third of all CEOs in the S&P 500. Mr Cook, 56, actually took home $145m, almost all of it from awards granted back in 2011.
He's not the only chief executive officer of a publicly traded US company to cross the $100m threshold for take-home pay, commonly referred to as realised pay. Reed Hastings, 56, of Netflix, reaped $106m last year.
Take-home pay for the top 25 S&P 500 CEOs who served in their positions for the last full fiscal year totaled about $1.65bn. Bosses in the technology, health care and media industries dominated the list.
Take-home pay is the sum of the values of stock vested and options exercised during the fiscal year, along with cash from salaries, bonuses and perks. Companies typically grant equity to executives as incentives each year. Those awards are reported at their target values in the summary compensation tables of annual proxy statements.
But CEOs don't necessarily take ownership of those awards in the year they're given. A better measure of earnings is the value of options that the CEOs exercised and the shares that vested during the year. Those figures can vary significantly from companies' original estimates as stock prices change.
Mr Cook's 2016 take-home pay came primarily from the vesting of 1.26 million shares, valued at $136m, which were awarded after he became Apple's CEO in 2011. About one-fifth of the shares were tied to the firm's three-year total shareholder return relative to the S&P 500 Index. Shares of the iPhone maker gained 78 per cent in the 36 months through the fiscal year ended 28 September, placing it in the top third of the index. The remaining 980,000 shares vested solely on his continued employment.
Mr Cook has now amassed more than $320m from vested shares of the 2011 award. His $145m total take-home pay for fiscal 2016 also includes a $3m salary, a $5.37m cash bonus and $377,719 in perks. In a 2015 interview with Fortune magazine, Mr Cook said he plans to donate his fortune to philanthropy.
Netflix's Mr Hastings took home $106m, the second highest in 2016 for S&P 500 chiefs, almost entirely from exercised options that were granted as early as 2006. Netflix shares have surged more than 3,000 per cent through the 10 years ended 31 December 2016.
Options, which generally can be held for up to a decade, were also given to the heads of tech and biopharmaceutical companies last year. Leonard Schleifer, 64, CEO of Regeneron Pharmaceuticals, earned $90m from exercising options. His $94m in take-home pay ranked him fourth. Oracle co-CEO Safra Catz, 55, and Salesforce.com's Marc Benioff, 52, collected $86m and $85m, respectively. Option exercises accounted for more than 90 per cent of their total.
Media chieftains got the most cash. CBS's Leslie Moonves, 67, reaped a $32m cash bonus that was the largest since he became CEO in 2006 and accounted for almost 60 per cent of his total take-home pay. Walt Disney's Bob Iger, 66, got a $20m cash bonus as an incentive in 2016. His payout was tied to financial metrics, such as operating income and returns on invested capital, and was 10 per cent lower than the previous year. Mr Iger can earn a retention cash bonus of as much as $60m in 2018 if the company posts an aggregate five-year operating income of at least $78.3bn.
Bloomberg
Join our new commenting forum
Join thought-provoking conversations, follow other Independent readers and see their replies