Sheikha Lubna Al Qassimi and Amal Clooney named most powerful Arab women in the world
Amal Clooney was honoured as the second most powerful Arab woman in the world
Hazel Sheffield
Wednesday 04 March 2015 15:02 Comments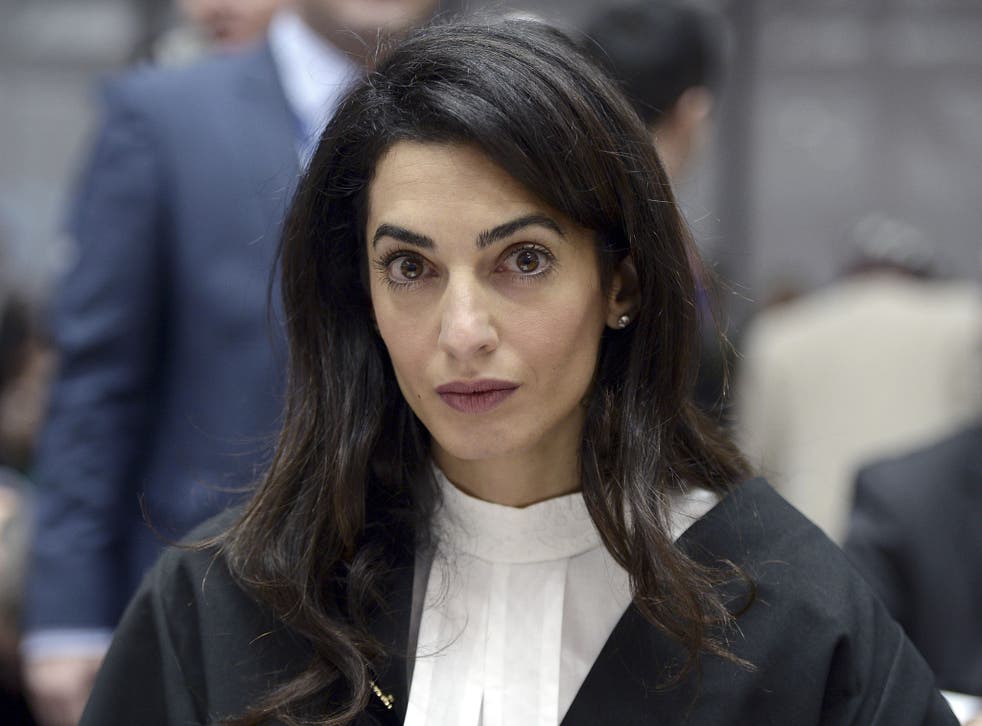 A fighter pilot, a retail tycoon and a government minister all feature in a list by Arabian Business Magazine of the most powerful Arab women in the world.
Top of the list for the fifth year running is Sheikha Lubna Al Qassimi, the United Arab Emirate's first ever female minister. She was promoted to Minister for International Development in 2013. "Sheikha Lubna has not only been an icon for women in the region, and a trailblazer for women's rights, but also a vital part of the UAE's evolution and growth in global prominence," the magazine said.
The list has a new entry this year: Amal Clooney, the Lebanese British lawyer, activist and author who found fame last year when she married George Clooney in a Venice ceremony that garnered media attention around the world.
She is honoured by the magazine for her success as a human rights lawyer with clients such as Julian Assange, the Wikileaks founder, and Yulia Tymoshenko, the prime minister of Ukraine.
In pictures: George Clooney and Amal Alamuddin's wedding

Show all 25
Many of the women are breaking boundaries in a region known for widespread discrimination against women – including a ban on driving.
Loujain Al Hathloul, at number three on the list, hit the headlines in December after she was arrested for driving across the border from the UAE to Saudi Arabia. She has now been freed from prison after reigniting the debate about women's right to drive.
Arabian Business Magazine examined the influence of Arab women across the globe in all sectors, including business, academia, science and entertainment.
Top Twenty Most Powerful Arab Women
1. Sheikha Lubna Al Qasimi
This year marks five years at the top for Sheikha Lubna Al Qasimi, the UAE's Minister of International Coorperation and Development. She has overseen foreign trade and international relations during the UAE's most prosperous period. Last year, the UAE's overseas aid donations continued to increase.
She told Arabian Business magazine: "When a society doesn't focus on female education, you see after a while that it does not provide women with enough opportunities. In the UAE today, we've seen that education for women has been a priority since the inception of the state and women were able to access many sectors because of education."
2. Amal Clooney
Amal Clooney garnered headlines for her marriage to Hollywood actor George Clooney last year. She's actually one of the most high profile human rights lawyers in the world, fighting cases on behalf of Julian Assange, the Wikileaks foundeer and Yulia Tymoshenko, the former Ukrainian prime minister.
3. Loujain Al Hathloul
Loujain Al Hathloul defied the driving ban in December when she attempted to drive between the UAE and Saudi Arabia, raising the issue of the ban in media around the world.
4. Lubna Olayan
A prominent businesswoman in Saudi Arabia, Lubna Olayan, is the CEO of Riyadh-based Olayan Financing Company, one of the kingdom's most successful conglomerates.
5. Reem Al Hashimy
As the minister of state for the UAE, Reem Al Hashimy is part of the federal government team that helped with the UAE's winning bid for Expo 2020.
6. Mariam Al Mansouri
Forget driving cars, Mariam Al Mansouri went even further as the poster child for the UAE's strikes against Islamic State last year. The 35-year-old F-16 pilot led the missions in Syria.
7. Mona Al Munajjed
Mona Al Munajjed is a sociologist with a special interest in social affairs in Saudi Arabia. She is the author of 'Saudi Women: A Celebration of Success'.
8. Salwa Idrissi Akhannouch
An heiress to a tea fortune and the wife of a prominent politician, Salwa Idrissi Akhannouch has worked tirelessly to build and impressive retail portfolio. She also holds the rights to distribute fashion brands like Zara, Banana Republic and Gap in Morocco.
9. Amina Al Rustamani
Amina Al Rustamani looks after some 4500 companies across a number of industries at TECOM Business Parks. As CEO, she is overseeing the Dubai Design District, which could boost Dubai's economy through creative sectors.
10. Zainab Mohammed
Mohammed is a driving force behind Dubai's real estate sector as CEO of property management at wasl, a property developer.
Register for free to continue reading
Registration is a free and easy way to support our truly independent journalism
By registering, you will also enjoy limited access to Premium articles, exclusive newsletters, commenting, and virtual events with our leading journalists
Already have an account? sign in
Join our new commenting forum
Join thought-provoking conversations, follow other Independent readers and see their replies