The Argos revolution begins at Sainsbury's
Grocer wants concessions in nearly all its stores after sealing £1.3bn takeover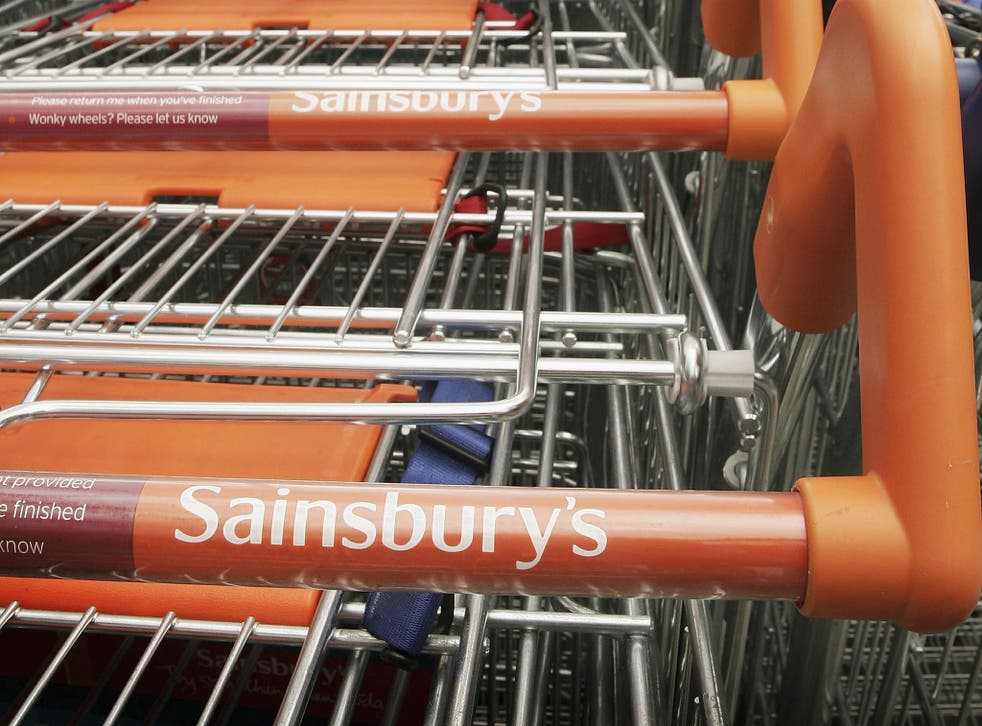 Sainsbury's has finally sealed its proposed £1.3bn takeover of the Argos owner Home Retail Group – with the grocer planning to win over shoppers in a "bricks-and-clicks" race with its rivals.
The supermarket chain wants to have Argos concessions in nearly all of its large Sainsbury's stores, as well as offering "click and collect" points on the combined 100,000 products that the two companies would sell across their 2,000 shops.
A Sainsbury's takeover of Home Retail, which is subject to approval by regulators, would create the UK's largest non-food retailer.
The planned deal took longer to arrange than bosses at Sainsbury's had hoped. The Independent understands that an initial offer of 140p a share was made back in November. This was rejected but not revealed to the stock market until January.
A second offer of 150p a share came last month, with Sainsbury's insisting that it would "not pay a penny more", according to sources. This, too, was rejected – leading to a third, failed approach of about 155p a share at the end of last week. The offer of 161.3p per share was finally accepted by Home Retail's board of directors.
Although still technically only a proposal, Sainsbury's hailed its offer as a major success for its future. The chief executive, Mike Coupe, said Sainsbury's would essentially be buying Argos for £250m because it would inherit a £600m loan book of money owed by customers, along with about £200m from the sale of Home Retail's Homebase outlets and £250m in cash in Home Retail's bank account.
Home Retail investors will receive 55p per share in cash and 0.321 new Sainsbury's shares, giving them 12 per cent of the combined business.
Mr Coupe said: "Our customers want us to offer more choice – and for that choice to be faster than ever, driven by the rise of mobile phone and digital technology. It [the takeover] will enhance both businesses. We are baking a bigger cake than either company can bake by themselves."
He said Sainsbury's would want to move Argos concessions into the majority of its larger branches, and pointed out that a trial of 10 concessions had ranged in size from 900 sq ft to 5000 sq ft, meaning that they could fit into most Sainbury's stores.
Some standalone Argos shops would close (their average lease length is five years) but Mr Coupe would not be drawn on potential job losses. He said he wanted to have a total of 2,000 stores; Sainsbury's currently has 1,300 and Argos operates 800. Of those that might close, he said only a handful could be turned into Sainsbury's Local convenience stores.
Sainsbury's suggested that it could make about £120m of extra profit within three years, including £60m from relocating Argos shops, but it would also have to pay £140m in one-off execution costs and a further £140m in capital costs to open Argos concessions.
Supermarkets have been desperate to fill excess space in their larger branches after a "space race" in the 1990s and 2000s left many grocers with superstores in out-of-town locations when shoppers were turning to convenience stores in town centres instead.
In an attempt to lure shoppers back to retail parks, Sainsbury's stores have introduced concessions for the photography specialist Jessops and the shoe repairs and key-cutting chain Timpson. Tesco and Asda have also installed extra services, such as pharmacies and dry cleaners.
The road ahead: Regulators and accountants weigh in
The road to success for the Sainsbury's and Argos tie-up is still beset with potholes and landmines, despite the supermarket's best efforts to consummate the marriage.
The news was only technically a "possible" offer, rather than a full-on bid, and means that the official deadline set by the stock market's Takeover Panel, which ended at 5pm yesterday, has now been extended by three weeks.
Sainsbury's now faces 21 days of due diligence, with Home Retail Group likely to give the supermarket's highly paid number-crunchers a decent look over the books to make sure everything adds up.
Business news: In pictures

Show all 13
Assuming that it does, a binding offer will come in and put to shareholders, who will be required to vote on it through separate general meetings. Meanwhile, the Competition and Markets Authority will also be expected to take a cursory glance at a deal that would create a £6bn business. It is hard to see why there would be major cause for concern, because both businesses operate in different sectors. Then again, the CMA thoroughly investigated Poundland's purchase of 99p Stores, when many said this was unnecessary.
Once all of that is out the way, a deal could be done in three to six months. But the process of making it all worthwhile will take at least three years.
Join our new commenting forum
Join thought-provoking conversations, follow other Independent readers and see their replies