Asda vows to keep fighting on price despite another fall in sales
Supermarket's sales fall for fifth quarter in a row while discounters build market share
Simon Neville
Wednesday 18 November 2015 10:16 Comments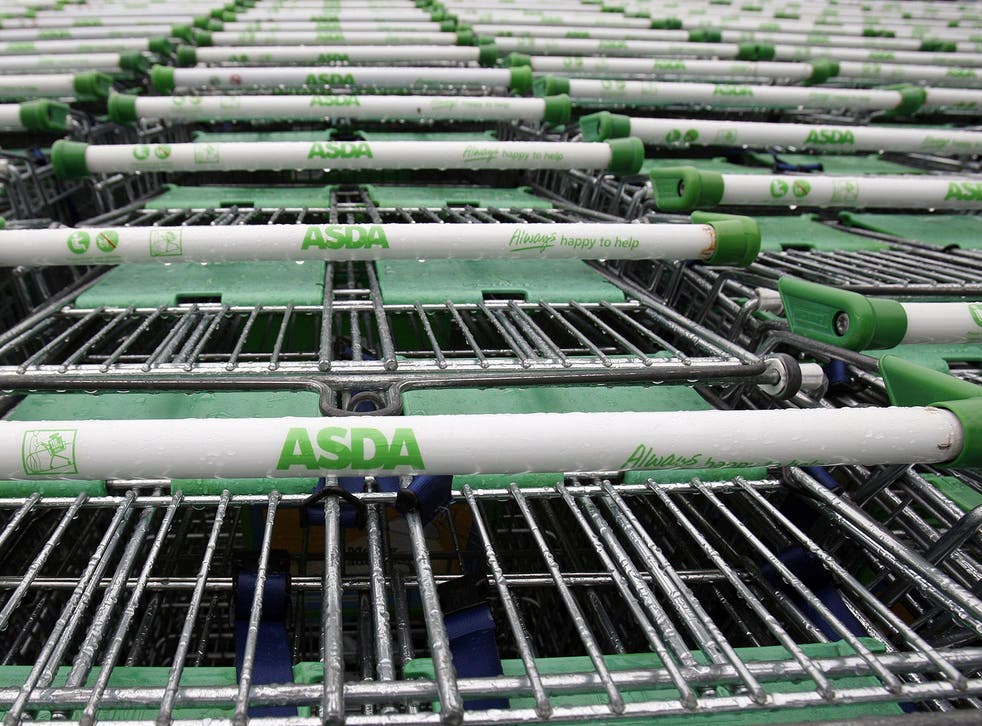 Asda yesterday reported its fifth consecutive fall in sales as the supermarket's chief executive admitted that it was still suffering at the hands of the discounters.
However, Andy Clarke said he would be increasing the £1bn initially earmarked for investing in price cuts over five years, and revealed that he wanted Asda to be no more than 5 per cent more expensive than discount rivals Aldi and Lidl. His comments came as the German rivals took a combined 10 per cent market share for the UK grocery sector for the first time, according to Kantar Worldpanel.
Sales at Asda slipped 4.5 per cent in the three months to 30 September, compared with a year ago. That was slightly better than the previous quarter, when a 4.7 per cent fall was described by Mr Clarke as the worst in the supermarket's 50-year history.
He added yesterday that Christmas was likely to be tough because even though shoppers have an extra £18 to spend each week, on average, research suggests that most are unlikely to spend it in supermarkets. "Sixty-eight per cent of shoppers said they won't be spending more than they did last year and 21 per cent said they would actually spend less," he said.
But Mr Clarke insisted that he would not be drawn into a short-term price war and suggested that the many discount vouchers offered by rivals were gimmicks that would not work in the long run.
In recent months, Sainsbury's and Morrisons have said they will scale back the amount of vouchers and coupons they issue, while Tesco has scrapped its "price match" scheme in favour of a "brand match" applied at the tills.
Mr Clarke said he was unimpressed with Tesco's move and that he was reviewing Asda's own price match with a view to ensuring shelf prices are cheaper through a new strategy that includes cutting 10 per cent of ranges and pushing suppliers to lower prices.
He said: "We are clear that investment should be in pure price on the shelf, and that gives confidence to the customer."
The new plans also involve overhauling 95 stores, cutting prices and shelving plans for click-and-collect services that are viewed as too expensive.
Black Friday has also fallen by the wayside, with Mr Clarke revealing that he had decided to scrap the event at Asda shortly after last year's promotion, which led to fighting over TVs. He said: "We think Black Friday was great two years ago because it was new and no one here had done it… But Black Friday in its current guise has gone."
Mr Clarke also suggested that fewer retailers were likely to take part next year.
The data from Kantar Worldpanel revealed that Aldi and Lidl increased their sales by 16 per cent in the three months to 8 November, thanks to rapid store openings. Asda, Tesco and Morrisons all suffered sales declines, Sainsbury's managed a slight increase in business.
Register for free to continue reading
Registration is a free and easy way to support our truly independent journalism
By registering, you will also enjoy limited access to Premium articles, exclusive newsletters, commenting, and virtual events with our leading journalists
Already have an account? sign in
Join our new commenting forum
Join thought-provoking conversations, follow other Independent readers and see their replies