How economists are reacting to the Bank of England raising its growth forecasts
The Bank upgraded its 2017 GDP growth forecast to 2 per cent, up from 1.4 per cent in November.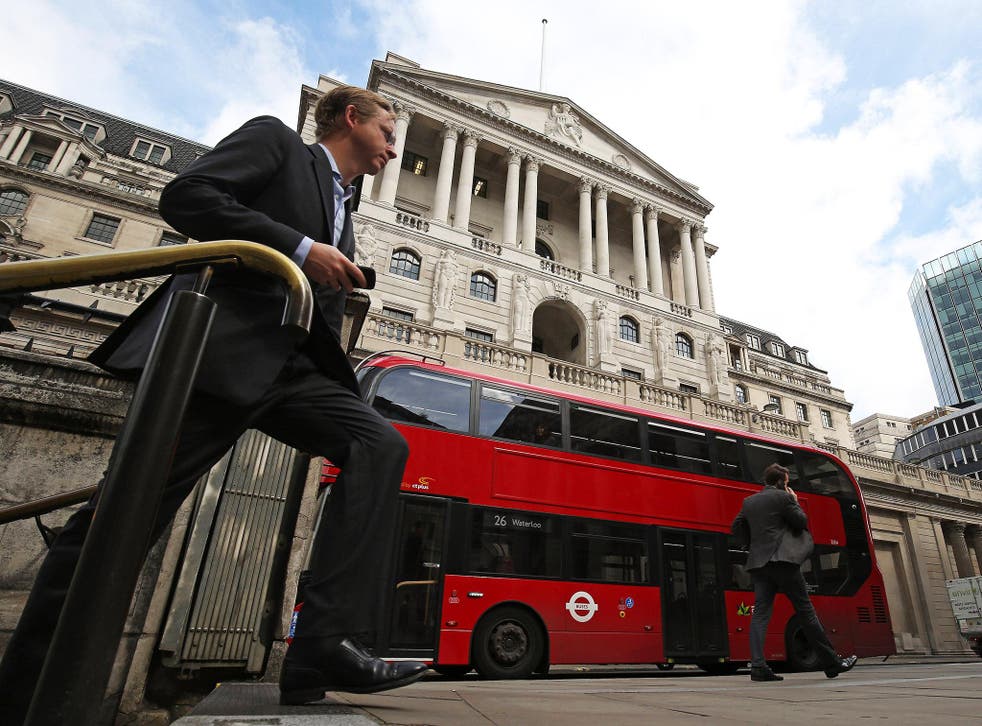 The Bank of England has dramatically upgraded its growth forecast for this year but has also warned that households will experience a major squeeze on income due to rising inflation.
Here's a look at how some economists are reacting.
Lucy O'Carroll , chief economist at Aberdeen Asset Management
"This is largely confirmation of what everyone was already thinking. The Bank has raised its short-term growth outlook, but also identified more slack in the economy than previously existed. As a result, its inflation forecasts are relatively unchanged. That should quell some calls for a rate rise, but they won't go away entirely because there's dissent on the committee about how much inflation should be tolerated. The Bank does aim to look beyond the kind of currency-driven, short-term inflation that is expected. But clearly some on the committee think it's going to stick around for longer."
Suren Thiru, head of economics at the British Chambers of Commerce
"The Bank of England's latest forecasts paint a much more optimistic picture of the UK's growth prospects compared to their previous post-EU referendum predictions. Although the central bank is slightly less concerned over price growth, inflation is still expected to breach the 2 per cent target for a prolonged period. This means that MPC's attempts to combat rising inflation and support growth is likely to remain a challenging balancing act through the forecast period.
"However, with the Bank of England still expecting below trend growth over the medium term and considerable uncertainty over the impact of Brexit, we predict that the MPC will continue to 'look through' the expected rises in inflation and opt for an extended period of monetary stability. As a consequence, we expect that interest rates will remain on hold through 2017.
"With the monetary policy tools at the MPC's disposal largely exhausted, it is vital that the government uses the upcoming Spring Budget to boost the UK's long-term growth prospects by doing more to support business investment, including action to tackle the escalating burden of upfront business costs."
Ben Brettell, senior economist at Hargreaves Lansdown
"The Bank of England faces a tough job in the coming months as it seeks to balance a surprisingly resilient economy, higher inflation and the difficult-to-quantify risks posed by Brexit.
"The economy has remained surprisingly robust in the aftermath of the vote to leave the EU, and today the Bank announced a big revision in its growth forecast for 2017. Growth of 2.0 per cent is now expected, up from 1.4 per cent in its November report.
"Inflation forecasts were little changed […]. Unsurprisingly interest rates were left on hold, but the minutes noted that some MPC members were getting a little closer to the limits of their tolerance for higher inflation. This could mean we see the first interest rate rise in more than a decade at some point this year, particularly if wage growth turns out stronger than expected.
"However I still feel this is improbable. The most likely scenario is that higher inflation and weaker pay growth will squeeze household budgets, meaning consumer spending is likely to slow in real terms. The Bank is unlikely to take the risk of raising borrowing costs in this environment. If it does happen, I would expect rates to remain at their previous low of 0.5 per cent for some significant time afterwards."
Ian Kernohan, economist at Royal London Asset Management
"Following the relatively robust GDP report for the fourth quarter of 2016, the Bank of England has raised its GDP growth forecast for this year by more than I expected, but made little change to their inflation projection.
"The MPC expect inflation to overshoot the 2 per cent target, however this rise is coming from very low levels and is driven by some temporary factors. Wage growth, a key indicator of underlying inflation, remains modest.
"With higher inflation set to squeeze household incomes this year, and the likely shape of the UK's trading arrangements post-Brexit still very unclear, we think the MPC will be reluctant to add to these pressures on the economy by raising interest rates in the near future."
Tom Stevenson, investment director for personal investing at Fidelity International
"Once again [the Bank of England] has unanimously chosen to keep interest rates at 0.25 per cent despite the Bank of England upgrading its forecasts for growth to 2 per cent for 2017 and slightly increasing its expectations for inflation which it now believes it will peak at 2.8 per cent in the first half of 2018.
"It believes continued stimulus is necessary because it forecasts growth to slow down to 1.6 per cent in 2018 and 1.7 per cent in 2019 as Britain negotiates its exit from the European Union. With the Old Lady of Threadneedle Street prepared to keep sitting on its hands when it comes to raising rates and with inflation expected to breach the central bank's 2 per cent target this year, anyone with savings still sitting in cash will struggle to generate real returns."
Join our new commenting forum
Join thought-provoking conversations, follow other Independent readers and see their replies