Banking shares fall over Greek euro fears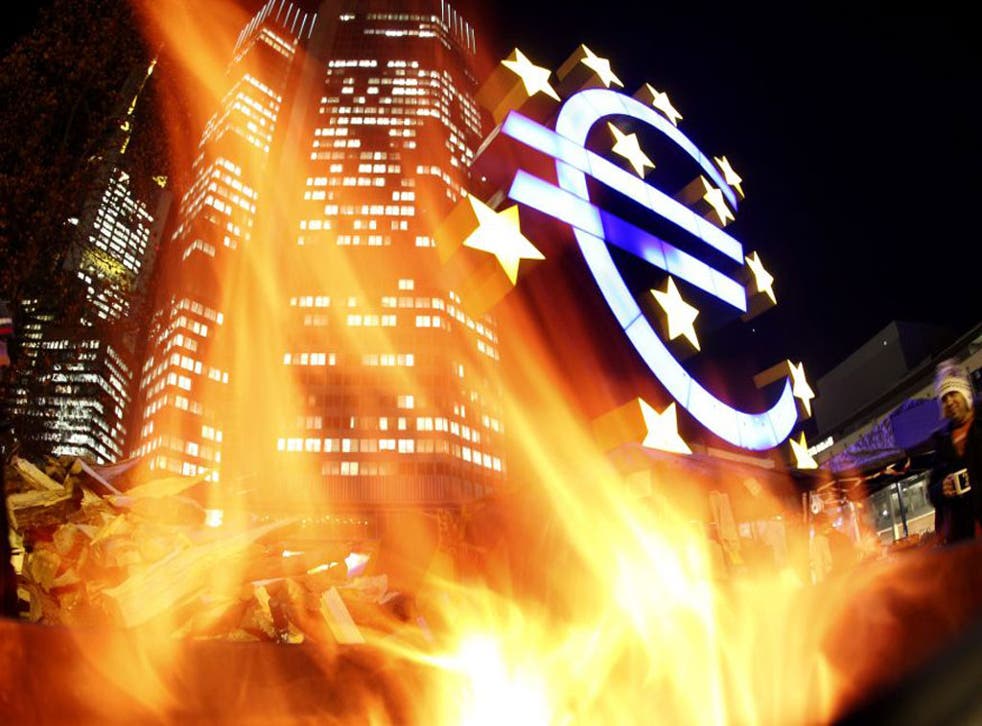 Nervous traders wiped £28.5 billion from the value of London's leading shares index today as fears intensified that Greece will crash out of the euro.
The FTSE 100 Index fell 2%, or 110 points to 5465.5 after Greek President Karolos Papoulias was unable broker a deal as the anti-bailout party Radical Left Coalition party refused to join a coalition government.
That left the country facing the prospect of another election next month, putting its future in the eurozone in increasing doubt.
The uncertainty, which analysts said could ultimately lead to Greece leaving the single currency, hit financial stocks as banks and insurers dragged London's leading shares index to a fresh low for 2012.
The FTSE 100 Index saw £28.5 billion wiped from its value, while the Dax in Germany and the Cac-40 in France were down about 2% and Wall Street's Dow Jones Industrial Average was 0.7% lower as the London market closed.
The pound rose on currency markets after being seen as a safe haven. It was up at 1.25 against the euro, which was hit by the fears over Greece, and up at 1.61 against the dollar.
Greek president Karolos Papoulias has failed to broker a deal, while the Radical Left Coalition party, known as Syriza, which came in a surprising second in the May 6 vote, has refused to join a coalition government that backs tough austerity measures.
A failure to enforce more austerity measures will likely see Greece, which is in its fifth year of recession, default on its debts and be ejected from the single currency.
Investors said that another election next month would effectively be a referendum on whether to stay in the euro and stomach more painful austerity measures.
Matthew Nelson, sales trader at Spreadex, said: "Pretty much all the market focus at present is on Greece's attempts to form a coalition government and investors and spread bettors alike seem to be pricing in an exit for the tormented sovereign."
The pound rose on currency markets today as it is seen as a safe haven, while the euro declined in value. The pound now buys 1.25 euros, which is good news for UK holiday makers heading to the currency bloc but bad news for businesses that rely on exports to Europe.
The UK's safe haven status saw its borrowing costs tumble to a record low at times today. Germany and the US benefited from the same trend, while Spain and Italy's cost rose because they were seen as increasingly risky.
Chris Beauchamp, market analyst at IG Index, said: "Uncertainty is driving markets at present, with the main fear being that Greece will leave the eurozone.
"It has been a day of relatively little news but that has not stopped a widespread rout on indices, as traders abandon markets for the safety of the US dollar and government bonds.
"It seems almost certain that the Greek problem will remain the centre of attention for the rest of the week, with all other news subsumed into the general morass of worry."
Barclays was the biggest faller, down 6% or 13p at 189.8p, while Royal Bank of Scotland dropped 1.1p to 21.9p, and Lloyds Banking Group shed 1.7p at 29.4p.
Investment firm Man Group continued to tumble, falling 6% or 4.9p to 83p. The company has seen its shares slide by about two-thirds in the last 12 months.
The mining sector suffered heavy losses as Greek fears were compounded by concerns over China's growth, after reports that the country had cut its reserve requirement ratio - the amount of cash banks are required to hold as reserves. Eurasian Natural Resources dropped 23.7p at 492.8p.
Severn Trent was near the top of a shortened risers board, boosted by its safe-haven investment status. Shares were 11p ahead at 1704p.
Outside the top flight, shares in Mecca Bingo owner Rank rose 6% after it unveiled a proposed £205 million deal with Gala Coral.
The proposed takeover of Gala's 23 casinos will give Rank's Grosvenor division 58 UK sites - taking it above Malaysian firm Genting, which has 45 locations including Crockfords casino in London's Mayfair. Shares were 6.8p ahead at 123.5p.
Thomas Cook's warning that it is in danger of collapse if shareholders fail to back two planned disposals wiped 11% from its share price.
Its warning came as one analyst said the recent poor performance of its shares, which have slumped 90% over the past 18 months, showed the City believes there is a one in three chance of it failing.
The tour operator posted documents to shareholders over the weekend in which it explained the financial importance of the planned sale and leaseback of part of its aircraft fleet and the disposal of five Spanish hotels. Shares fell 2.3p to 19p.
The biggest Footsie risers were Sage up 3.8p at 265.5p, Severn Trent ahead 11p at 1704p, Intertek up 6p at 2478p, and International Power ahead 0.4p at 419.4p.
The biggest Footsie fallers were Barclays down 13p at 189.8p, Aberdeen Asset Management off 14.7p at 246.3p, Man Group down 4.9p at 83p, and Lloyds Banking Group off 1.7p at 29.4p.
PA
Join our new commenting forum
Join thought-provoking conversations, follow other Independent readers and see their replies