Barclays shamed by £290m fine for market fixing
Bob Diamond to forgo bonus after finding of interest rate conspiracy
Stephen Foley
Thursday 28 June 2012 11:32 Comments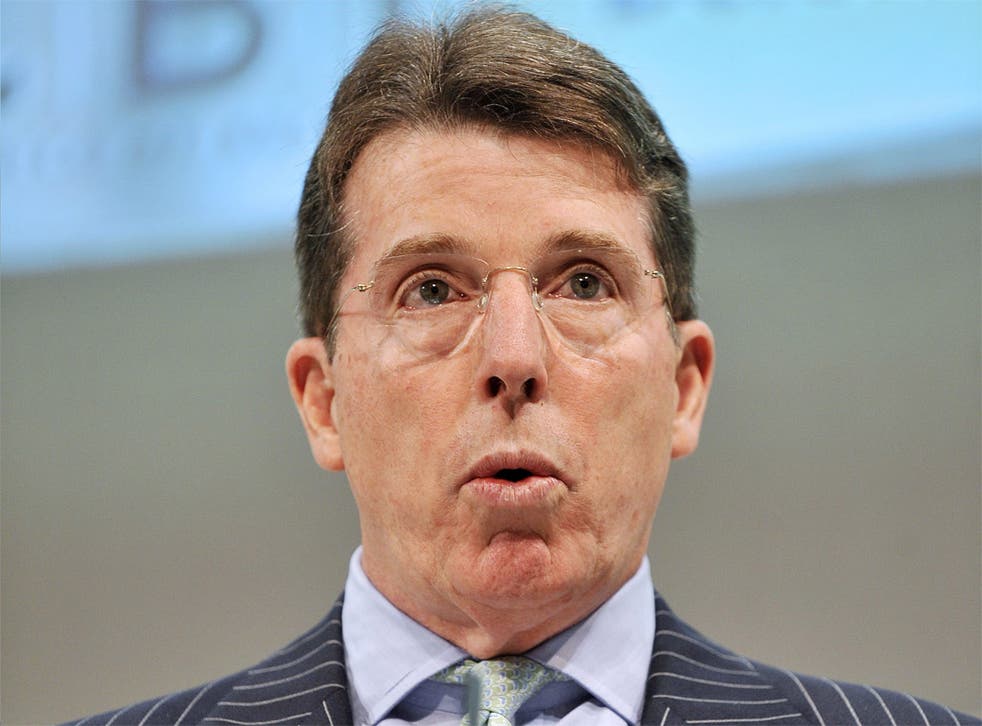 The Barclays boss Bob Diamond will not receive his multimillion-pound bonus this year after the bank was caught taking part in a conspiracy to manipulate key borrowing rates for years. The exposure yesterday of the scandal will cost Barclays £290m in fines.
Investigators from the US and the UK discovered that Barclays traders routinely manipulated one of the world's most important interest rates, affecting everything from mortgage rates to the value of complex financial derivatives, all in the hope of increasing their trading profits and their own yearly bonuses.
At one point, Barclays was lying "on an almost daily basis" in the information it published to the market, according to a US regulator.
Mr Diamond, whose £28.3m pay package last year caused a political and public outcry, said he and three lieutenants would take "collective responsibility" for the scandal and would not ask for a bonus for 2012.
The bank has fired some of the people involved, although it declined to give details last night. "Nothing is more important to me than having a strong culture at Barclays," Mr Diamond said. "I am sorry that some people acted in a manner not consistent with our culture and values." Jerry del Missier and Rich Ricci, who share the running of Barclays' investment banking division, and the company's chief financial officer, Chris Lucas, will also forgo bonuses. Last year, Mr del Missier and Mr Ricci each received packages worth more than £6m.
The British Financial Services Authority and the Commodities Futures Trading Commission (CFTC) and the Department of Justice (DoJ) in the US have been investigating Barclays and other banks since the credit crisis revealed suspicious practices around the setting of an important interest rate called Libor.
Libor – London interbank offered rate – is calculated based on what an élite panel of banks says it costs them to borrow money from each other for a short amount of time. That figure is a cornerstone of the credit markets, and everything from mortgage rates to small-business loans is affected by it.
Crucially, Libor also affects the price of trillions of dollars of financial derivatives of the kind traded at Barclays – giving the bank a financial incentive to manipulate the rate.
The investigation uncovered dozens of email exchanges in which traders persuaded their colleagues to submit an artificial rate, just to benefit their trading positions. "Done... for you big boy," one Barclays employee says, to a trader, after such a request.
The practice was so widely used that traders sometimes requested a fake Libor submission as a favour to a former colleague who called in for help to increase profits on trading positions at their new hedge fund or bank.
Barclays agreed to pay £59.5m to the FSA to settle the investigation, and the penalties in the US are even steeper. The CFTC levied a fine of $200m (£129m) and the DoJ will receive $160m from the bank.
The CFTC opened the investigation into the manipulation of Libor during the credit crisis, after suspecting banks were not playing by the rules. In 2008, when banks were finding it hard to borrow money from each other at any rate, Libor seemed to stay artificially low. Other banks are still under investigation.
The findings set out yesterday show the misconduct went back further than previously believed. In the wake of the collapse of Lehman Brothers, when financial markets entered a full-blown panic, the CFTC said, Barclays submitted artificially low rates "on an almost daily basis" at the instruction of an unnamed member of senior management. Barclays had been submitting figures that were higher than the other banks on the panel, but by admitting that it had to pay higher-than-average rates, Barclays attracted rumours that it was having financial difficulties. Senior employees ruled that the bank should instead lie about the rate.
The employee in charge of publishing the rate told his or her supervisor: "I will reluctantly and artificially get my Libors in line with the rest of the contributors as requested. I disagree with this approach... I will not be posting honest prices."
Libor: How it works
What is Libor and why is it so important?
It's a cornerstone of the debt markets: an average of the rates at which London's top banks borrow money from each other. The interest rates on other kinds of loans – everything from mortgages to credit card debt – move up and down in relation to Libor.
Why would you want to manipulate it?
Two reasons. By nudging Libor up or down, even by a tiny amount, you affect the price of trillions of dollars of credit derivatives, and that can make millions of pounds of difference to your portfolio if you are a bank trader. The second reason is that no bank wants the rest of the world to know if it is having to pay a high interest rate; that's a sign of financial trouble.
Is Barclays alone?
Almost certainly not. Other banks that contribute to the calculation of Libor are still under investigation in multiple countries, and it is unlikely that traders at other banks did not have the same brainwave about the benefits of manipulating the rate.
Stephen Foley
'I owe you big time!': What they said about it...
Trader "If not too late low one million and three million would be nice."
Submitter "Done … for you big boy".
Trader "Dude. I owe you big time! Come over one day after work and I'm opening a bottle of Bollinger".
Trader "When I retire and write a book... your name will be in golden letters."
Submitter "I would prefer this not be in any book!"
Supervisor If we submit that rate "it's going to cause a s*** storm".
Trader "He's like, I think this is where [the rate] should be. I'm like, dude, you're killing us."
Register for free to continue reading
Registration is a free and easy way to support our truly independent journalism
By registering, you will also enjoy limited access to Premium articles, exclusive newsletters, commenting, and virtual events with our leading journalists
Already have an account? sign in
Join our new commenting forum
Join thought-provoking conversations, follow other Independent readers and see their replies