Black Friday 2016: 7 ways to save the most amount of money
 One in 10 UK consumers fear they will spend more than they can afford on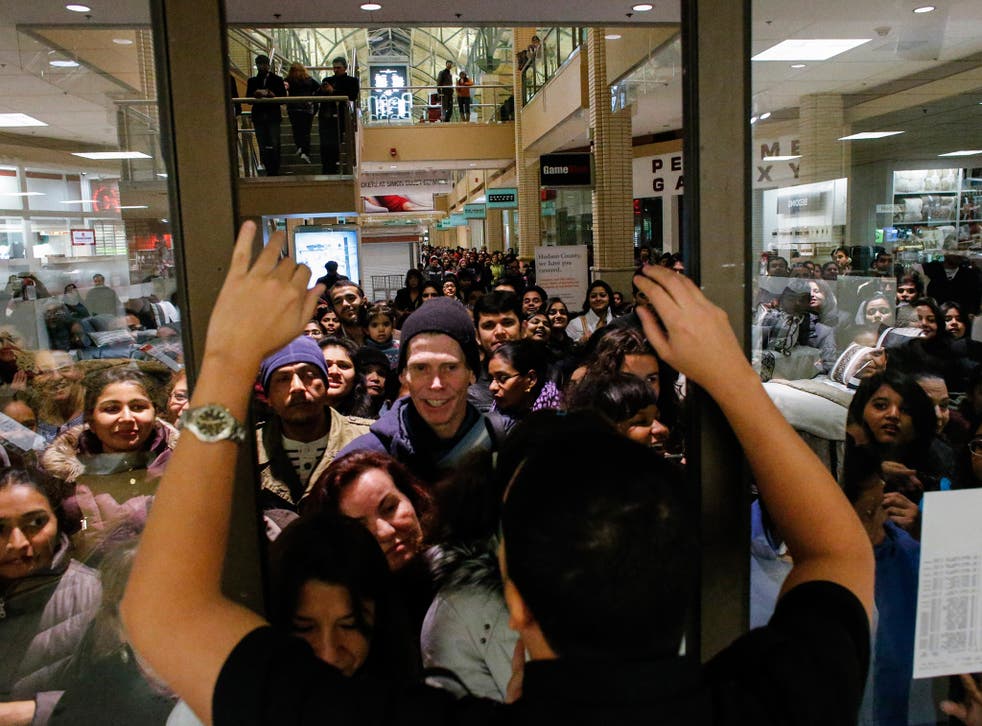 One in 10 UK consumers don't end up using what they buy in festive shopping frenzies, despite splashing out an average £133 on Black Friday and Cyber Weekend alone, a new survey has found.
Around £137m is being spent on items customers already own, rendering them immediately useless, according to a survey of 2,000 people by Gumtree.
Smartphone and tablets ranked first among the top wasteful bargains, followed by clothes and home entertainment devices such as TVs and speakers.
This comes in light of findings released by retail research agency Conlumino that found one in 10 UK consumers fear they will spend more than they can afford on one of the UK biggest shopping day of the year.
"The fact that nearly one in 10 consumers fears they will spend more than they can afford on Black Friday suggests the more serious side to this type of shopping event, with cut-price promotions still tempting to consumers that may be finding disposable incomes squeezed," said Greg Bronley, retail analyst at Conlumimo.
A report conducted by the Centre for Retail Research estimates 14 million customers will spend £1.96bn on Black Friday this year, which is a 19 per cent rise on 2015.
With the day almost upon us, Hannah Maundrell, editor in chief at finance comparison website money.co.uk shares tips to get through the day without suffering too much financial damage.
1. Write a list and stick to a budget
There is no big secret. You have to get organised before you start splashing the cash. Don't start spending until you can make the numbers add up.
"Take on Black Friday armed with a list of items you want and how much they cost full price. Decide how much you can afford to spend and do a deal with yourself not to spend a penny more. Don't buy goods not on your list just because they're on offer and always research to see if you can buy the item cheaper elsewhere before you part with your cash."
2. Use your smartphone to shop but don't get carried away
Smartphones mean bagging a bargain is easier than ever, allowing you to keep an eye on flash sales and offers throughout the day.
"Download your favourite retailer's apps ahead of time for a convenient shopping experience and potential special offers. Many retailers make it so easy to shop on the go, saving your payment details so you don't have to fish out your card – great if you're in a rush but be careful not to get carried away. Don't shop on an unsecured wi-fi network and make sure you aren't being watched if you choose to enter your card details on the train."
3. Check for price guarantees and warranties
Last year retailers tried beating off the competition by matching the prices of goods on offer.
If this is the case again this year, choose the store or website that offers the longest warranty and the cheapest delivery, or the one you have a loyalty card for, earning you points to use against your future purchases.
Christmas celebrations around the world

Show all 30
4. Be resourceful
If your budget doesn't allow it then it is time to make cuts. If you're looking for Christmas gifts on Black Friday and simply can't afford them, it's time to be creative. Speak with your friends sooner rather than later and get together instead of giving each other gifts.
5. Know your refund rights
Shopping online gives you the right to return goods within a certain time frame by law. Shopping in store doesn't give you the same rights, so it's always worth checking the store's policy if you aren't completely sure about an item.
Black Friday 2015 shopping madness kicks off early: In pictures

Show all 10
6. Go online for big brand goods
It's certainly worth keeping an eye out for sales on the high street and making this your go-to place for unique gifts. However, if you're looking for big brand goods then you're likely to get the biggest savings online for the simple reason that you get the opportunity to shop around, find voucher codes and cash in with cashback.
7. Black Friday is not necessarily the best shopping day
"Lots of retailers are cashing in on the Black Friday frenzy by running sales for the whole week. Others are shunning the sale day in favour of promotions that last the whole of December. This means ample other opportunities for saving money."
Register for free to continue reading
Registration is a free and easy way to support our truly independent journalism
By registering, you will also enjoy limited access to Premium articles, exclusive newsletters, commenting, and virtual events with our leading journalists
Already have an account? sign in
Register for free to continue reading
Registration is a free and easy way to support our truly independent journalism
By registering, you will also enjoy limited access to Premium articles, exclusive newsletters, commenting, and virtual events with our leading journalists
Already have an account? sign in
Join our new commenting forum
Join thought-provoking conversations, follow other Independent readers and see their replies