The Independent's journalism is supported by our readers. When you purchase through links on our site, we may earn commission.
Black Friday: Thousands join online protest against aggressive consumerism
Buy Nothing Day, a British campaign group running since 2000, champions the idea of having a shopping 'detox' day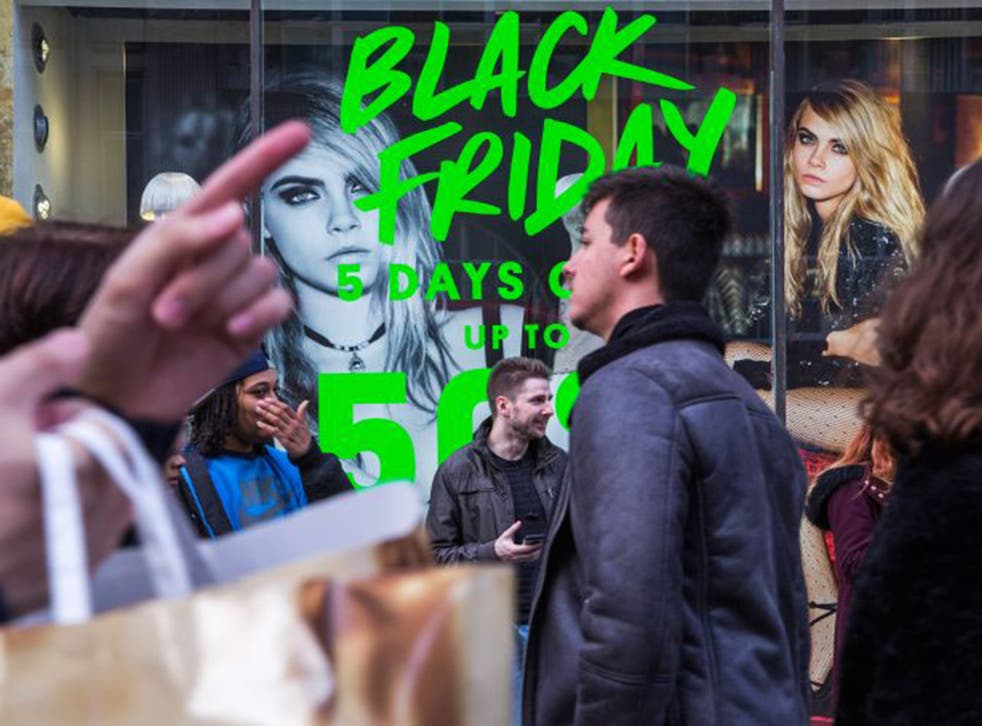 Tens of thousands of Britons have signalled their disapproval of Black Friday online in a protest against aggressive consumerism – while others prepare to embark on a frantic day of shopping.
"Buy Nothing Friday", a Facebook event set up by Sam Machin, from Edinburgh, currently has over 30,000 "attendees".
On the event's page, Machin wrote: "In reaction to the mindless consumption of Black Friday, join us in buying nothing all day.
"Instead of getting in a tug of war with the granny down the road over that 10 per cent-off TV, why not hug your friend, ring your parents, go for a walk and enjoy the crisp autumn breeze or get together and feel alright."
Mr Machin's campaign was inspired by other groups which protest against Black Friday. Buy Nothing Day, a British campaign group, has been running since 2000. It champions the idea of having a shopping "detox" day.
In an email statement, the group said: "We want people to shop less, live more. We ask people to have a bit of fun, use their imagination and simply escape consumerism for a day."
"The anarchy that ensues on Black Friday has now become an absurd dystopian phenomenon," its website says.
In pictures: Black Friday shopping madness kicks off early

Show all 10
Mr Machin's protest comes after Asda announced it was not taking part in Black Friday. The company, which helped import the sales bonanza to the UK from the US, said it didn't want shoppers to be "held hostage".
On last year's Black Friday British consumers spent £810m online, and some supermarkets and retailers required police assistance in store after shoppers fought over deals. A number of shops closed early as customers scrambled to grab bargains.
Consultants Experian and online retail group IMRG predict online purchases will top £1bn for the first time. Overall, analysts think Britons will spend almost £1.9bn on promotions.
Some deals have been available since midnight, and a number of department stores were set to open their doors early to account for the rush.
Both Tesco and John Lewis both installed queuing systems to deal with the large crowds, while Tesco, which in 2014 witnessed what some described as "chaos," has assured people that there will be adequate security and stock to prevent a repeat of last year's scuffles.
Police forces have been warning shops to ensure they have carefully thought-out security plans in place in the hope of avoiding a repeat of 2014 where mass groups grappled for cut-price products.
Last year, websites crashed because so many people took to the internet to buy. Delivery companies also struggled to cope with demand.
While shops brace themselves tonight, consumer advocates have warned that shoppers should exercise caution.
The founder of Money SavingExpert.com, Martin Lewis, said the majority of offers "aren't special" and advised people to check what they're buying.
"Above all, remember, if you don't want something, don't need it or can't afford it, then don't buy it," he said.
Which? editor Richard Headland added: "There will be a whole host of deals available on Black Friday but not all of them will be genuine."
Join our new commenting forum
Join thought-provoking conversations, follow other Independent readers and see their replies