UK team wins engineering award for wing that cuts aircraft CO2 emissions
Technology allows planes to fly further with less fuel, reducing carbon and nitrogen dioxide emissions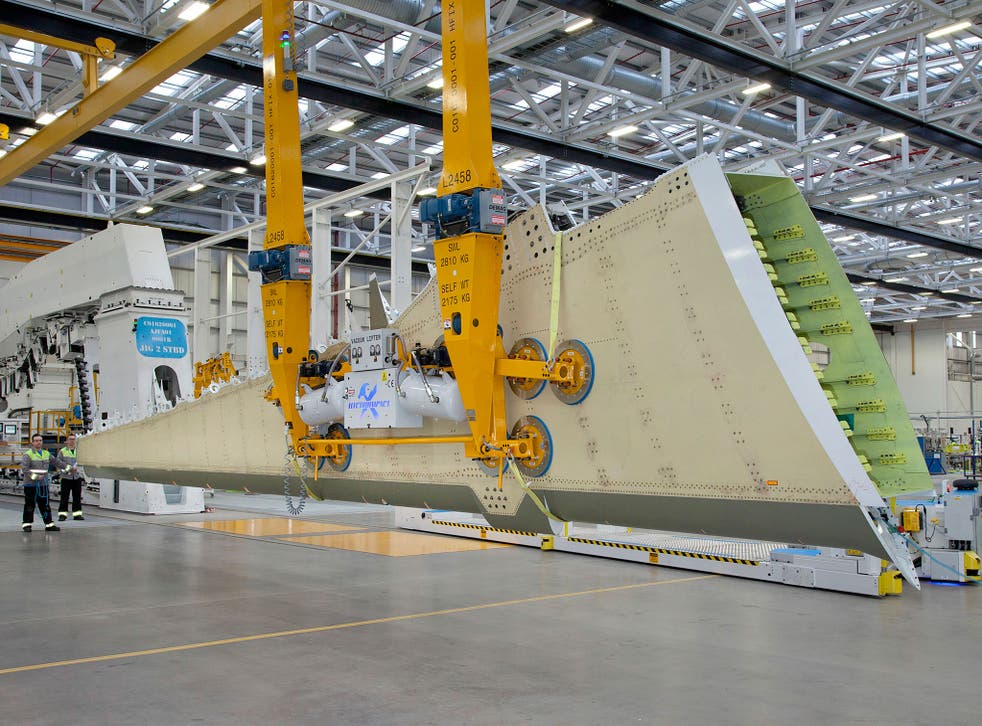 A Belfast-based team behind an innovative aircraft wing that cuts the emissions of commercial airliners has won a prestigious engineering award, in a much-needed boost for an industry wracked by uncertainty over Brexit and Donald Trump's tariffs.
The Northern Irish subsidiary of Canadian plane maker Bombardier faced closure in 2017 when the US president threatened to impose punitive 292 per cent tariffs on its C-series aircraft.
But on Thursday the company won the MacRobert Award for its carbon composite wing, which is 10 per cent lighter than metal alternatives.
Bombardier's composite wings were first used in 2013 and are made using a process called resin transfer infusion (RTI) which uses fewer materials and energy than other techniques for making carbon composite wings.
The technology also allows planes to fly further with less fuel, reducing carbon and nitrogen dioxide emissions. Commercial aviation is expanding rapidly and improvements in the fuel efficiency of passenger jets are seen as crucial in the battle against climate change.
Top ten airlines of 2019

Show all 10
The new technique is the result of a £520m investment in Bombardier's aircraft wing programme – the largest ever single inward investment in Northern Ireland.
The company says around 200 suppliers across the UK are directly involved with the programme alongside many others throughout the supply chain.
European aerospace giant Airbus, which uses the wings in its aircraft, has warned that its supply chains face huge disruption from Brexit.
Guillaume Faury, the firm's chief executive, said in May that Airbus "wants to remain in the UK" after the country leaves the trading bloc, but his predecessor Tom Enders warned in January that a disorderly Brexit could force the company to take "very harmful decisions".
Dr Dame Sue Ion, chair of the Royal Academy of Engineering's judging panel, praised Bombardier for its innovation.
"Bombardier's composite wing reflects how excellence in aeronautical engineering benefits both society and the environment," she said.
"At a time of uncertainty for Belfast's engineering community, we hope this award helps them achieve the worldwide recognition they deserve."
Register for free to continue reading
Registration is a free and easy way to support our truly independent journalism
By registering, you will also enjoy limited access to Premium articles, exclusive newsletters, commenting, and virtual events with our leading journalists
Already have an account? sign in
Register for free to continue reading
Registration is a free and easy way to support our truly independent journalism
By registering, you will also enjoy limited access to Premium articles, exclusive newsletters, commenting, and virtual events with our leading journalists
Already have an account? sign in
Join our new commenting forum
Join thought-provoking conversations, follow other Independent readers and see their replies