Brazil elections: Currency and stocks tumble after Dilma Rousseff is re-elected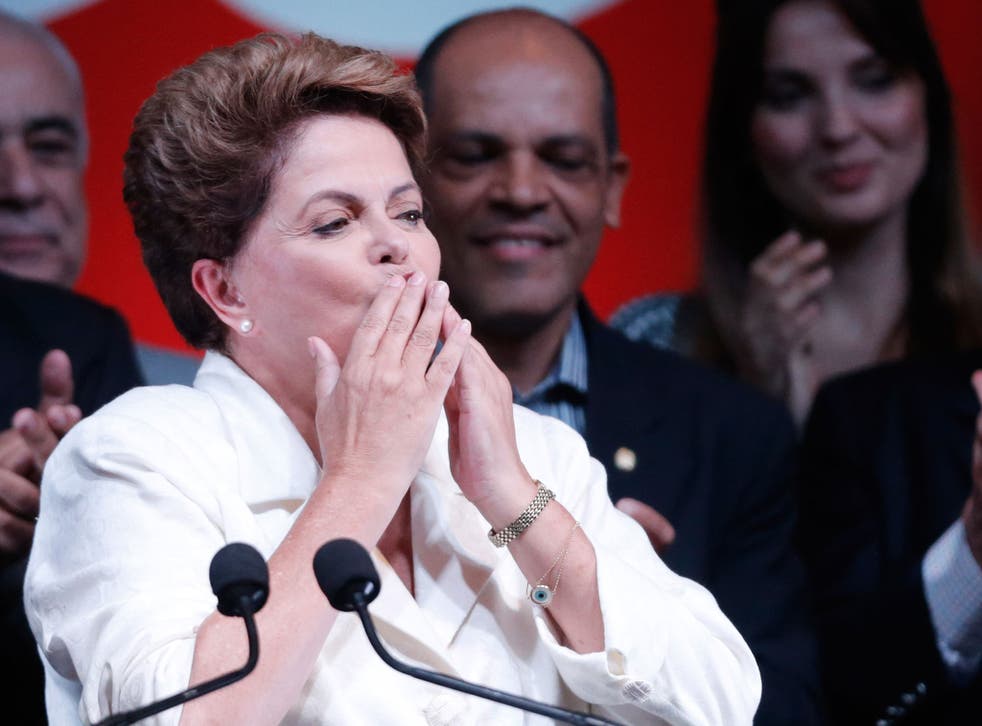 Brazilian stocks plunged on Monday as investors reacted to Dilma Rousseff's victory in the country's presidential election on Sunday.
Brazil's benchmark Bovespa stock index fell as much as five per cent with state-owned companies bearing the brunt of the losses.
Oil giant Petrobras fell as much as 13 per cent, wiping more than $20 billion from the company's value, while the state-run utility Eletrobras tumbled 11 per cent.
Banco do Brasil and Itau, the country's second largest lender by assets, fell 12 per cent and 6 per cent respectively as investors dumped Brazilian assets. Meanwhile, the Brazilian real plummeted to a new nine-and-a-half year low.
Rousseff, a former Marxist guerrilla fighter, narrowly beat centre-right candidate Aecio Neves with 51.4 per cent of the vote in the closest election in decades, leaving Brazil divided along social and geographic lines.
Neves, a senator and former governor of the state of Minas Gerais, had promised to speed up economic reforms, make the central bank more independent and encourage foreign investment against a backdrop of rising inflation, falling commodity prices and a slowdown in the economy.
"We anticipate that the re-election campaign will act as a wake-up call for Rousseff, helping to recognise the inadequacies of her past policies," said Kunal Ghosh, manager of the Allianz BRIC Stars Fund, which overseas £260 million.
"We will continue to maintain an underweight position in state-owned enterprises and banks in Brazil as policy changes will take time," he added.
On Sunday, Rousseff struck a conciliatory tone and vowed to tame inflation, which is running above six per cent, and "make improvements" when it comes to Brazil's public finances.
Rousseff had previously announced Guido Mantega, the country's finance minister, would be replaced, presumably by a more pro-business minister, if she won a second term.
Join our new commenting forum
Join thought-provoking conversations, follow other Independent readers and see their replies