Brexit to cost Britain more than 5% of GDP by 2030, say City economists
This is an estimate of the loss of GDP relative to where the economy would have been without Brexit and adds up to more than £100bn in today's money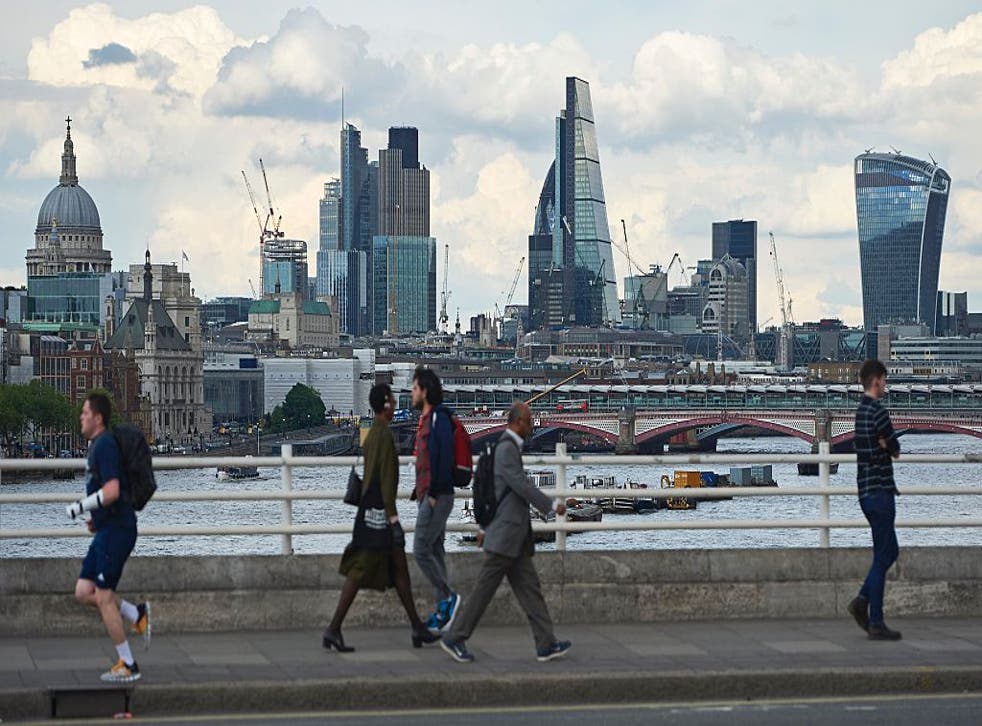 Analysts from three City of London financial institutions expect the cost of Theresa May's hard Brexit to add up to between 5 per cent and 10 per cent of GDP by 2030.
In today's money that's equivalent to between £100bn and £200bn.
This is an estimate of the loss of GDP relative to where the economy would have been without Brexit.
Theresa May: UK left the EU to embrace the world
Last week Theresa May revealed that the Government expects to pull the UK out of the single market and customs union and establish a free-trade deal with the rest of the European Union instead.
In a note to clients, Rob Wood, chief UK economist at the Bank of America, stressed that there was inherent uncertainty over the long-term impact of such a Brexit, but said that "evidence suggests" the costs will be "of the order of 5-10 per cent of GDP over perhaps 15 years".
That view is broadly echoed by Kallum Pickering, UK economist of Berenberg bank, who estimates that lower migration, trade and investment between the UK and Europe due to Britain leaving the EU single market could reduce the UK's potential growth rate from 1.8 per cent per year from its pre-referendum rate of 2.2 per cent.
That implies a GDP loss due to Brexit by 2030 of roughly 5.5 per cent.
Likewise, Simon French, chief economist of the broker Panmure Gordon, expects Brexit to reduce the UK's trend growth rate from 2.3 per cent to 1.9 per cent from 2020 onwards.
That also implies a hit to GDP of around 5 per cent.
"This mainly hinges on a reduction in long-term net migration to 105,000 a year and sustained trade diversion through non-tariff barrier differentiation and heightened administrative burdens from a loss of customs union," Mr French said.
The City economists' estimates are in line with those of the Treasury's pre-referendum forecast for the damage of a Brexit in which the UK manages to establish a basic Canada-style free-trade deal with the rest of the EU.
This predicted a 6.2 per cent hit to GDP by 2030.
Other independent forecasts from the likes of the National Institute of Economic and Social Research (Niesr), the accountancy firm PwC and the consultancy Oxford Economics of such a scenario were for a smaller-impact GDP, although they were all still negative.
Samuel Tombs UK economist of Pantheon Macroeconomics said he found the Treasury's original work on the long-term impact "plausible".
Despite the better-than-expected short-term performance of the economy since last June's referendum most economists have not altered their view that Brexit will ultimately be damaging for the UK economy.
Business news: In pictures

Show all 13
A Financial Times poll of 120 economists before the referendum vote found that three quarters thought Brexit would do long-term harm. A follow-up poll earlier this month found that half had not changed their view, while 40 per cent had become more pessimistic.
Just 13 per cent were now more optimistic than previously.
Some City economists say that even if Theresa May successfully concludes the free-trade agreement (FTA) she says she wants, the UK's freedom for manoeuvre on commerce will be much more restricted than it was before.
"The UK's ability to shape the regulatory framework in the areas covered by the FTA will be limited, and the UK will be working to product definitions and regulations set by the EU," said Allan Monks, an economist at JP Morgan.
Join our new commenting forum
Join thought-provoking conversations, follow other Independent readers and see their replies