Brexit; Credit Suisse; Heineken: Business news in brief, Tuesday 7 February
Middle-east buyers tempted into post-Brexit London property market; investment bank to move Dutch jobs to UK; brewer closes in on acquisition of 1,900 Punch pubs after increasing stake
Tuesday 07 February 2017 09:36 Comments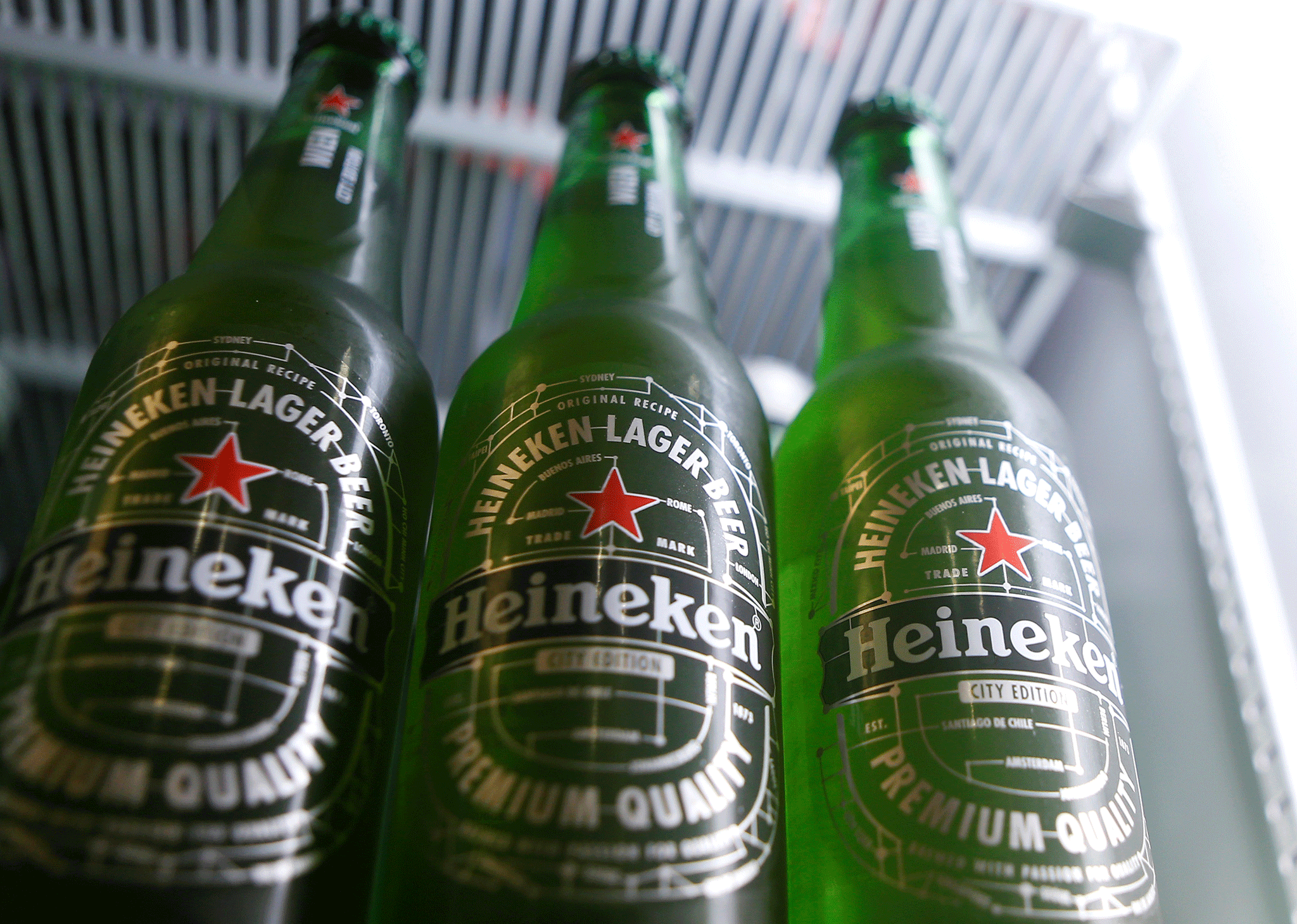 London property tempts Middle-East buyers on pound Brexit slump
Brexit has put the brakes on UK commercial property investment for most overseas buyers but for those from the Middle East, the subsequent slump in the pound and a rebound in commodities outweighs the risk to values.
Investors from the region accounted for 24 per cent of all overseas acquisitions in the fourth quarter compared with 10 per cent a year earlier, according to data compiled by fund manager Fidelity International. Buyers from every other region shrunk their spending, the data shows.
"We have seen a really significant increase from our Middle Eastern clients in their appetite for London," Stephen Clifton, head of central London at broker Knight Frank, said in an interview. "There are two key reasons for that: currency and stability."
Office values in the City of London financial district fell the most in seven years after the vote to leave the European Union and property funds were forced to freeze redemptions as investors, fearing further price drops, rushed to withdraw money. Values stabilised instead as sterling's weakness gave buyers from countries including the United Arab Emirates and Qatar a 15 per cent currency discount after the referendum.
"The pound has taken an absolute battering," Matthew Richardson, head of real estate research at Fidelity International, said in an interview. With the price of oil rising 62 per cent year-on-year, Middle Eastern investors who depend on petrodollars have been lured back to the UK, he said.
Bloomberg
Credit Suisse to move Dutch investment banking team to UK
Credit Suisse is relocating its Dutch investment banking team from Amsterdam to London as the Swiss bank seeks to improve efficiency and profitability, a source familiar with matter said.
The Dutch newspaper Financieele Dagblad, the first to report the news, said around six investment bankers would be impacted by the move.
The bankers will move to London to gain more experience across broader industry and business groups working on mergers and acquisitions (M&A) and equity capital market (ECM) transactions, the source told Reuters.
Maarten Swart, the head of investment banking for the Netherlands at Credit Suisse, will continue to work between both cities, the source said.
Chief executive Tidjane Thiam is restructuring Switzerland's second-biggest bank to focus more on wealth management and less on volatile investment banking, a push that has included several thousand job cuts in Switzerland, London and New York.
The Swiss bank will maintain its office in Amsterdam and continue to service clients in the region as well as its investment and wealth management business, the bank said.
"Credit Suisse is fully committed to its franchise in the Netherlands, where we have a long standing local presence that is a very important and profitable part of our IBCM business," Mark Echlin, co-head of EMEA Investment Banking and Capital Markets said in an emailed statement.
"We will continue to service our key clients in the Netherlands with a dedicated team both locally and in London supported by our industry and product bankers in the Investment Banking and Capital Markets Division."
Reuters
'Sensationally' strong industry orders set Germany up for buoyant 2017 start
Higher demand at home and abroad for goods needed in production drove the biggest monthly increase in German industrial orders in around two and a half years in December, suggesting the first quarter of 2017 may be getting off to a strong start.
The much stronger-than-expected data, released by the Economy Ministry in Berlin on Monday, gave some reassurance that Germany's economic upswing will carry into 2017 despite growing political uncertainties that include the potentially protectionist U.S. trade agenda.
"A sensationally strong quarter in the manufacturing sector," Sal. Oppenheim economist Ulrike Kastens said, adding that the figures were pointing to an overall economic recovery in the euro zone.
"Despite the political uncertainties, the German economy is showing a more than robust development," Kastens said, adding she now expected quarterly growth of around 0.6 per cent in the first quarter after 0.5 per cent in the final quarter of 2016.
In a sign that private consumption will continue to boost German growth, nominal wages rose 2.3 per cent in 2016, separate data from the Federal Statistics office showed on Monday.
With national inflation at 0.5 per cent last year, real wages increased by 1.8 per cent, the office said. This was less than the 2.4 per cent in 2015 and 1.9 per cent in 2014.
Reuters
Heineken closes in on Punch Taverns pub acquisition
Heineken is closing in on its acquisition of some 1,900 pubs in Britain after an investment vehicle linked to the Dutch brewer increased its stake in Punch Taverns.
The company, along with partner Patron Capital, agreed to buy and break up Punch at 180 pence per share for a total of £403m and have already won over Punch's board, and its three biggest shareholders representing 52.3 per cent of its shares.
Heineken said in a statement on Monday that Vine Acquisitions, the bid vehicle of Heineken and Patron, had built up a stake of about 28.5 per cent of Punch by 3 February.
Heineken is paying some £305m for its shares and assumed intercompany debt and will take on some 1,900 pubs. Real estate investor Patron will have more than 1,300 sites.
The joint bid appeared a near certainty last week after potential rival Emerald Investment Partners said it had decided not to make a takeover offer.
Punch shareholders will meet on 10 February to vote on the deal.
Reuters
Investors and politicians 'ready for fight' in 2017 over soaring executive pay
Highly-paid bosses should brace for more investor rebellions over pay as shareholders gear up for a scrap, a fund manager has warned.
Colin McLean, managing director of SVM Asset Management, said investor anger over hefty financial rewards will come to a head this year as nearly half of FTSE 100 firms face binding votes on pay.
Executive pay levels have trebled since the millennium despite evidence, which suggests that there is no strong link between company performance and large executive pay packets, Mr McLean added.
"2017 could finally be a year for change in executive pay, with both investors and politicians ready for a fight," he said.
"Some long-term incentives were put in place before the 2012 reforms, with binding shareholder votes only required every three years.
"This year almost half the FTSE 100 face binding votes on pay, and we will see changes bite. The shareholder revolt seems less likely to fizzle out this time."
PA
Toyota raises profit outlook, says it will keep producing at home
Toyota reported a drop in quarterly operating profit on Monday but still added 9.7 per cent to its full-year earnings forecast. The world's second-biggest vehicle manufacturer expects a bigger reprieve from a weakening yen.
The manufacturer also said it had "no immediate plans" to change its policy of producing an annual 3 million vehicles at home in Japan, many of which are shipped to the United States, even after criticism from President Trump for the number of cars it exports to the US.
The results come as Toyota braces for profit to tumble from last year's record 2.31 trillion yen. However, its outlook has improved as it anticipates the domestic currency to stabilise following volatility seen earlier in the financial year.
"We've revised our full-year yen forecast to 107 yen to the US dollar from 103 yen, which is the biggest contributing factor to our profit forecast revision," Tetsuya Otake, Toyota's managing officer, told reporters.
Toyota now expects net profit of 1.7 trillion yen (£12.2bn) for the year ending March, a decline of 26 per cent from a record set a year earlier. It also sees operating profit of 1.85 trillion yen, 8.8 per cent more than forecast in November.
Reuters
Apple said to revive efforts to sell used iPhones in India
Apple has put a request to sell used iPhones in India back on the table as it negotiates with the government for concessions to start production in the country, a person familiar with the matter said.
The company has asked to bring in used iPhones to be refurbished and sold in India, saying it will have the manufacturing infrastructure needed to make them compliant with quality standards, said the person, who asked not to be named as the matter is private. The request is included in a list of concessions submitted by Apple to a panel of government officials that includes a 15-year tax holiday, the person said.
Apple's last attempt at such a licence was met with resistance as industry executives and government ministries cited risks such a move would open the floodgates to used electronics and undermine the 'Make In India' programme to encourage local manufacturing. The world's most valuable company is exerting its brand influence at the negotiating table as pre-owned devices will be cheaper and target the price-sensitive market.
Bloomberg
UniCredit kicks of record €13bn cash call to rebuild capital
UniCredit began Italy's biggest corporate share sale on Monday in an attempt to raise €13bn (£11.2bn) to rebuild the bank's capital after a balance sheet clean up.
Banks in Italy have been struggling to deal with bad loans left behind by a deep recession, leading to a series of attempts at capital-raising and consolidation in the sector as Rome tries to steady confidence.
UniCredit said last week it will post an €11.8bn loss for 2016 due to one-off hits stemming mainly from loan write-downs as it prepares to offload €17.7bn in bad debts under a restructuring plan outlined in December.
This follows the hiring by Italy's biggest bank by assets of French investment banker Jean Pierre Mustier as its new chief executive in July, with a brief to address long-standing concerns about UniCredit's weak capital base.
As part of the wider restructuring, UniCredit said on Saturday it had agreed with unions 3,900 lay-offs in Italy as part of its plan to cut 14,000 staff by 2019.
Reuters
Toy-maker Hasbro beats forecasts
Hasbro reported fourth-quarter earnings of $192.7m. On a per-share basis, the Pawtucket, Rhode Island-based company said it had net income of $1.52. Earnings, adjusted for asset impairment costs, came to $1.64 per share.
The results surpassed Wall Street expectations. The average estimate of six analysts surveyed by Zacks Investment Research was for earnings of $1.28 per share. The toy maker posted revenue of $1.63bn in the period, which also beat Street forecasts.
For the year, the company reported profit of $551.4m, or $4.34 per share. Revenue was reported as $5.02bn.
AP
Register for free to continue reading
Registration is a free and easy way to support our truly independent journalism
By registering, you will also enjoy limited access to Premium articles, exclusive newsletters, commenting, and virtual events with our leading journalists
Already have an account? sign in
Join our new commenting forum
Join thought-provoking conversations, follow other Independent readers and see their replies