UK supermarkets lowering standards and dropping products ahead of Brexit, study finds
British shoppers have already begun to display 'several recessionary behaviours', survey shows
Supermarkets have begun removing product ranges and lowering their standards when it comes to fresh produce in preparation for Brexit, and British customers are already showing recessionary behaviours, according to new research from Kantar.
Retailers have begun simplifying imported product ranges, and even removed some items, ahead of 29 March, Kantar's report revealed. There are concerns that a hard Brexit could lead to long delays and disruption, with potential for prices to jump and shortages of certain foods.
"Consumers may see some changes in what is available every week through the year with more space for offers where retailers can respond quickly to opportunities and deliver surprise," researchers warned.
Meanwhile, while retailers have traditionally had very strong rules related to the size, shape and colour of fresh produce items many companies are now changing these rules.
"As Brexit draws near, retailers will be rejecting less than ever. Ultimately, this means many shoppers will need to spend extra time learning how to pick their own," Kantar said.
'Brexit is like...' The Top 20 Twitter analogies

Show all 20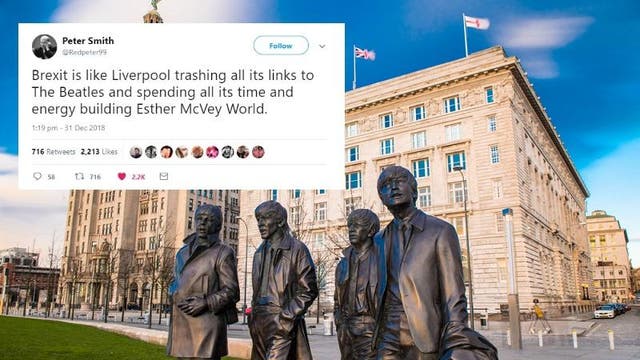 "Overall, this may help retailers accelerate the war on packaging and plastics, on food waste, and on obesity. The only downside is that shopping will take just a little bit longer than before."
Ray Gaul and Fraser McKevitt, who wrote the report, said: "The decision to leave the EU has affected consumers in different ways, but it's apparent that ongoing uncertainty is already having a definite impact on purchasing trends and behaviours. From a supplier's perspective, there is little doubt amongst retailers, producers and farmers that Brexit will result in a significant disruption to the UK's food supply, including unharvested produce and empty supermarket shelves."
British shoppers have also begun to display "several recessionary behaviours" in the run-up to Brexit, according to the research.
Consumers are beginning to follow buying patterns last observed during the post-financial crisis recession: the long-term trend of choosing foods for health reasons has "plateaued", while the number of lunch boxes taken to work by adults has risen. Overall out-of-home food and drink growth has also slowed, reversing the boom of recent years.
While it is difficult to make definitive forecasts about the grocery landscape due to the ongoing uncertainty around Brexit, Kantar said: "The sector faces medium-term challenges around sourcing adequate levels of staff, particularly in London and potentially also in Northern Ireland.
"This will disproportionately affect grocery retailers with large portions of their estate in London but may yet be relieved to some extent if UK immigration remains open to EU nationals and even expands to allow easier employment of overseas nationals hailing from beyond the EU."
Join our new commenting forum
Join thought-provoking conversations, follow other Independent readers and see their replies