Brexit: Five signs that leaving the EU is starting to hurt the UK economy
The UK economy expanded by 0.2 per cent in the first three months of 2017, a sharp slowdown from just under a year ago, when it was outpacing Germany, Japan and the US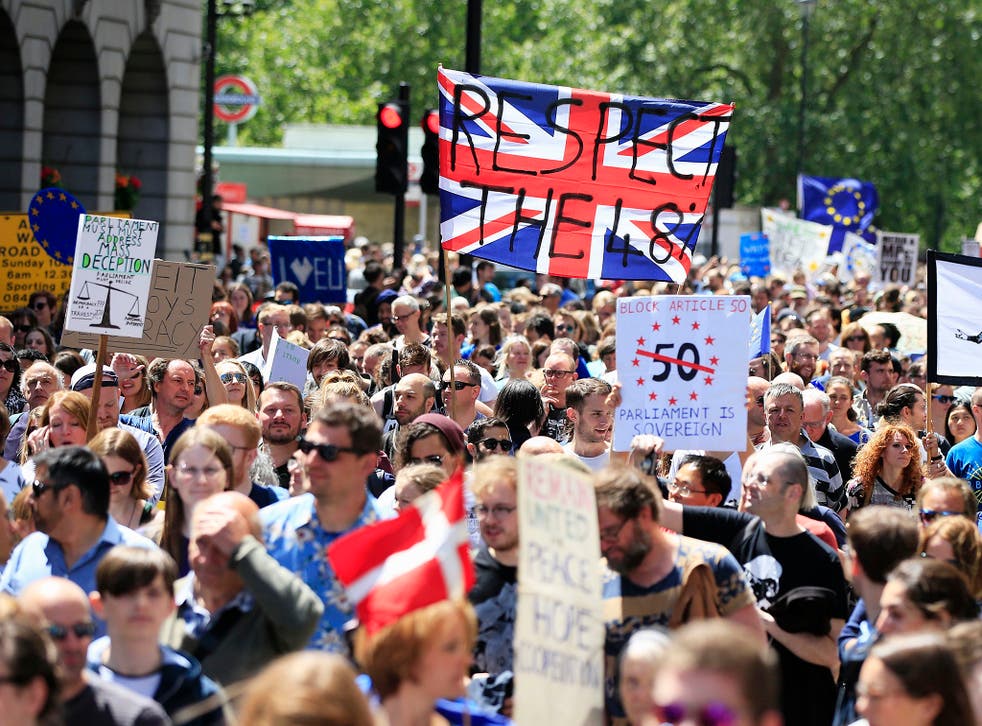 Canada this week became the last of the world's major advanced economies to report quarterly economic growth figures, confirming that the UK is indeed the worst-performing of its G7 peers so far this year.
The UK economy expanded by 0.2 per cent in the first three months of 2017, a sharp slowdown from just under a year ago, when it was outpacing Germany, Japan and the US.
Here's a roundup of the other facts and figures indicating that Brexit is starting to bite.
Inflation is jumping
According to the latest available figures, inflation jumped unexpectedly to 2.7 per cent in April, which marked its highest level since September 2013.
The rise was largely due to a slump in the pound since last June's Brexit vote starting to bite. A weaker currency means that prices have to be raised to compensate. The pound has fallen around 13 per cent against the dollar since the referendum.
In April, the Consumer Price Index was up from an annual growth rate of 2.3 per cent in March and higher than the 2.6 per cent expansion City of London analysts had pencilled in.
Core inflation, which strips out more volatile energy and food prices, jumped to 2.4 per cent, up from 1.8 per cent previously. That was the biggest annual increase since March 2013.
Real wages are falling
Nominal total average wages grew at an annual rate of 2.4 per cent in the three months to March according to the Office for National Statistic data published in May.
Taking the above mentioned inflation figure into account, this means that real wages are falling and are now likely to be negative in 2017 for the first time since 2014.
"The fact that wage growth is not keeping up with price inflation does not bode well for consumer spending - which has been a key factor contributing to UK economic growth in recent years," Andrew Sentance, senior economic adviser at PwC, said back in May.
Immigration is slowing
A shortage of EU migrant labour is starting to materialise in sectors ranging from nursing, to cleaning, to IT and accountancy.
The latest Markit/REC Report on Jobs, based on a comprehensive survey of recruiters, showed that the availability of permanent and temporary candidates fell at the fastest pace in 16 months in April.
Vacancies continued to rise "markedly" and recruiters flagged a shortage of suitable applicants for more than 60 different roles.
According to the survey of 400 recruitment and employment consultancies 38 per cent reported lower permanent candidate numbers available in the month against 8 per cent who saw an increase.
All regions saw drops in candidate availability. The most rapid was in the South of England.
House prices are slumping
Data from Nationwide showed this week that house prices fell 0.2 per cent in May, following a 0.4 per cent drop in April. A Reuters poll of economists had predicted a drop of 0.1 per cent.
Nationwide said that the weak pound could be to blame for falling house prices.
Mortgage lending is falling
Finally, also this week, data from the Bank of England showed that mortgage lending grew by £2.7bn in April, which was the lowest since April 2016.
Lenders approved 64,645 home loans in April, the lowest monthly figure since September, and well below average forecasts in a Reuters poll of economists.
Join our new commenting forum
Join thought-provoking conversations, follow other Independent readers and see their replies