Brexit legal challenge: Pound rises as High Court rules against Theresa May triggering Article 50 without Parliament
The pound jumped higher towards $1.25 after Bank of England dropped plans for another rate cut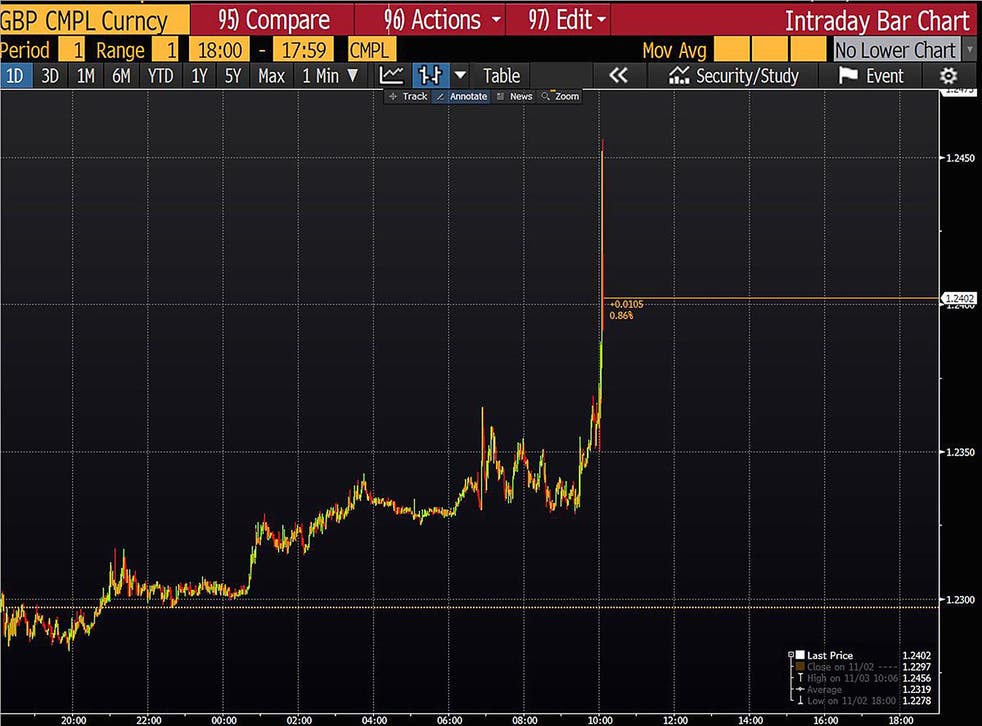 The pound has risen against all of its major peers on Thursday after the High Court ruled that the Government cannot trigger Article 50 without Parliament's approval and the Bank of England said it is no longer expecting to cut interest rates this year.
Get the latest updates from our live blog
On Thursday morning, campaigners have won their High Court battle against Theresa May to prevent her using executive powers under the royal prerogative to start the process of leaving the EU.
Sterling rose by 1 per cent against the dollar trading above $1.24 in the immediate aftermath of the ruling.
High court rules Brexit needs Parliamentary approval
It jumped higher again at midday after the Bank of England's monetary policy committee announced a unanimous vote to hold interest rates and its bond buying programme unchanged.
The decision took the pound to a high of $1.248, up 1.44 per cent on the day – its biggest advance since July.
The FTSE 250 – which is more domestically focused – also benefited from the High Court ruling on Thursday morning rising by more than 1 per cent.
Meanwhile, the UK's benchmark FTSE 100 fell 0.41 per cent, the only major European market in negative territory. The UK's major listed companies earn most of their revenue outside the UK, so a rise in the pound can be negative for the index. The FTSE 100 was down 0.80 per cent at 6,790 points by market closing time.
"It does shift the odds somewhat that the process is going to be delayed and given that Brexit is the issue that has weighed on the pound, it means there's a bit of a relief rally on that," said John Hardy, head of foreign-exchange strategy at Saxo Bank.
Brexit Concerns

Show all 26
Howevever, the Government has already been given the go-ahead to appeal the court ruling that MPs must vote before Britain can leave the EU and analysts are expecting more volatility.
Bank of England Governor Mark Carney said the high court ruling on Brexit was "one of the examples" of the uncertainty that are overshadowing the UK economy.
He added that Britain's relationship with the EU will be the biggest driver of its prosperity in the medium term, and that the fall in sterling appeared to reflect market expectations of a less open trading relationship with the EU.
Register for free to continue reading
Registration is a free and easy way to support our truly independent journalism
By registering, you will also enjoy limited access to Premium articles, exclusive newsletters, commenting, and virtual events with our leading journalists
Already have an account? sign in
Register for free to continue reading
Registration is a free and easy way to support our truly independent journalism
By registering, you will also enjoy limited access to Premium articles, exclusive newsletters, commenting, and virtual events with our leading journalists
Already have an account? sign in
Join our new commenting forum
Join thought-provoking conversations, follow other Independent readers and see their replies