Cambridge named best UK city to work in but London does not make the list, Glassdoor says
The list reveals which cities ranked highest for having the best hiring opportunities, cost of living and overall satisfaction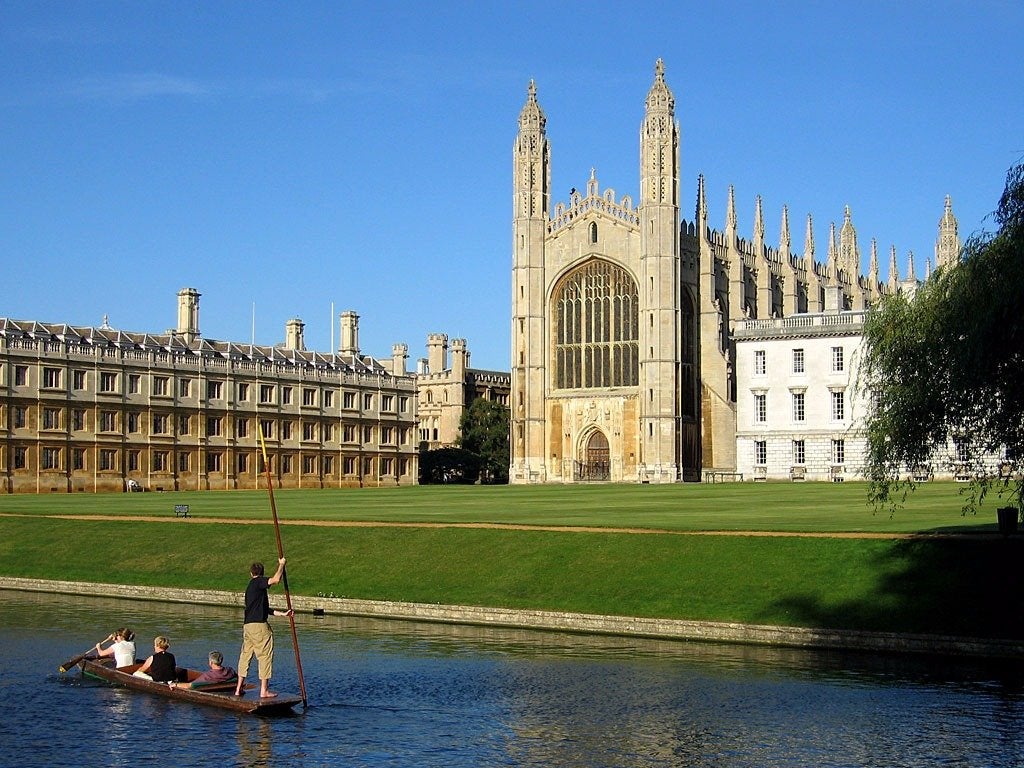 Cambridge has been crowned the best UK city to work in thanks to its booming tech business.
The list, compiled by job and recruiting website Glassdoor, reveals which cities ranked highest for having the best hiring opportunities, cost of living and overall satisfaction.
"Cambridge has long had a reputation for one of Britain's most loved cities, but now it's emerged as a prime spot for high-tech companies which is clearly having an impact on where people decide to live and work," Dr Andrew Chamberlain, Glassdoor chief economist, said.
Cambridge is home to more than 4,300 knowledge-based companies employing more than 58,000 people, many of them both from colleges and using their research, according to recent statistics by Savills, an estate agent.
As a result, the city also became a hot spot for software engineers. Workers can hope to make an average salary of £35,000.
Cambridge's overall employee satisfaction is 3.5 out of five, where five means "very satisfied".
Milton Keynes and Nottingham followed with median average salaries of £36,000 and £27,814, respectively.
London did not make the top 20 due to the high cost of living there and the competitive job market.
"These results are a reminder that although there are more jobs in London and employees are generally pretty satisfied, it is a competitive place to work and an expensive place to live," Chamberlain said.
Towns and cities such as Nottingham, Leeds and Reading, which ranked third, fourth and seventh on Glassdoor list, offer decent salaries and job prospects combined with a lower cost of living.
"This means your money will go further, you can save, and still and have a good quality of life," Chamberlain argued.
London has recently failed to make it into the top 30 cities in the world for the best quality of life.
The 10 most deprived cities in the UK
Show all 10
The 18th Mercer Quality of Life looked at access to healthcare, social and economic conditions, environmental factors, quality of education and housing to determine a city's ranking.
The report put the capital in 39th place and the only other British cities to make the list – Birmingham and Edinburgh – were placed 53rd and 46th on the list respectively.
These are the UK's 30 best towns and cities to work in:
1. Cambridge – Glassdoor Job Score: 4.1
• Population: 145,818
• Median base salary: £35,000
• Average home value: £436,932
• Job satisfaction rating: 3.5
• Hot Jobs: Software Engineer, Chef, Sales Rep
2. Milton Keynes – Glassdoor Job Score: 4.0
• Population: 171,750
• Median base salary: £36,000
• Average home value: £292,692
• Job satisfaction rating: 3.2
• Hot Jobs: Store Manager, Management Consultant, Business Development Manager
3. Nottingham – Glassdoor Job Score: 4.0
• Population: 289,301
• Median base salary: £27,814
• Average home value: £181,974
• Job satisfaction rating: 3.3
• Hot Jobs: Sales Manager, Business Analyst, Software Engineer
4. Leeds – Glassdoor Job Score: 3.8
• Population: 474,632
• Media base salary: £30,000
• Average home value: £195,370
• Job satisfaction rating: 3.2
• Hot Jobs: Recruitment Consultant, Chef, Project Manager
5. Peterborough – Glassdoor Job Score: 3.7
• Population: 161,707
• Median base salary: £34,755
• Average home value: £210,571
• Job satisfaction rating: 3.2
• Hot Jobs: Product Manager, Store Manager, Bartender,
6. Coventry – Glassdoor Job Score: 3.7
• Population: 325,949
• Median base salary: £35,000
• Average home value: £184,397
• Job satisfaction rating: 3.3
• Hot Jobs: Maintenance Engineer, Sales Manager, Customer Service Advisor
7. Reading – Glassdoor Job Score: 3.7
• Population: 218,705
• Median base salary: £43,000
• Average home value: £430,503
• Job satisfaction rating: 3.4
• Hot Jobs: Sales Associate, Sales Representative, Technical Support Engineer
8. Bradford – Glassdoor Job Score: 3.6
• Population: 349,561
• Median base salary: £28,350
• Average home value: £124,766
• Job satisfaction rating: 3.0
• Hot Jobs: Customer Services Advisor, Operations Manager, Technician
9. Northampton – Glassdoor Job Score: 3.6
• Population: 215,173
• Median base salary: £35,000
• Average home value: £226,661
• Job satisfaction rating: 3.5
• Hot Jobs: Finance Manager, Recruitment Consultant, Bus Driver
10. Swindon – Glassdoor Job Score: 3.6
• Population: 182,441
• Median base salary: £35,525
• Average home value: £235,507
• Job satisfaction rating: 3.2
• Hot Jobs: Sales Rep, Store Manager, Civil Engineer
11. Manchester – Glassdoor Job Score: 3.6
• Population: 510,746
• Median base salary: £28,000
• Average home value: £166,951
• Job satisfaction rating: 3.3
• Hot Jobs: Project Manager, Sales Manager, Business Development Manager
12. Aberdeen – Glassdoor Job Score: 3.5
• Population: 195,021
• Median base salary: £43,000
• Average home value: £222,323
• Job satisfaction rating: 3.2
• Hot Jobs: Tax Manager, Site Engineer, SAP Consultant
13. Warrington – Glassdoor Job Score: 3.5
• Population: 165,456
• Median base salary: £30,000
• Average home value: £201,077
• Job satisfaction rating: 3.0
• Hot Jobs: Buyer, Project Manager, HR Manager
14. Bristol – Glassdoor Job Score: 3.5
• Population: 535,907
• Median base salary: £32,000
• Average home value: £297,657
• Job satisfaction rating: 3.5
• Hot Jobs: Software Engineer, Project Manager, Product Manager
15. Glasgow – Glassdoor Job Score: 3.5
• Population: 590,507
• Median base salary: £26,500
• Average home value: £168,797
• Job satisfaction rating: 3.1
• Hot Jobs: Research Assistant, Sales Representative, Security Officer
16. Edinburgh – Glassdoor Job Score: 3.5
• Population: 459,366
• Median base salary: £30,000
• Average home value: £259,866
• Job satisfaction rating: 3.2
• Hot Jobs: Business Analyst, Sales Rep, Recruitment Consultant
17. Oxford – Glassdoor Job Score: 3.4
• Population: 159,994
• Median base salary: £32,000
• Average home value: £502,452
• Job satisfaction rating: 3.4
• Hot Jobs: Personal Banking Advisor, Project Manager, Research Scientist
18. Liverpool – Glassdoor Job Score: 3.4
• Population: 552,267
• Median base salary: £26,000
• Average home value: £159,121
• Job satisfaction rating: 3.2
• Hot Jobs: Recruitment Consultant, Audiologist, Sales Administrator
19. Birmingham – Glassdoor Job Score: 3.4
• Population: 1,085,810
• Median base salary: £30,000
• Average home value: £177,941
• Job satisfaction rating: 3.0
• Hot Jobs: Finance Manager, Sales Manager, Business Analyst
20. Derby – Glassdoor Job Score: 3.4
• Population: 255,394
• Median base salary: £33,727
• Average home value: £190,236
• Job satisfaction rating: 3.0
• Hot Jobs: Tax Manager, Registered Nurse, Accountant
Join our commenting forum
Join thought-provoking conversations, follow other Independent readers and see their replies