Cameron okays integration in return for new EU deal for UK
PM demands concessions as quid pro quo for closer eurozone monetary union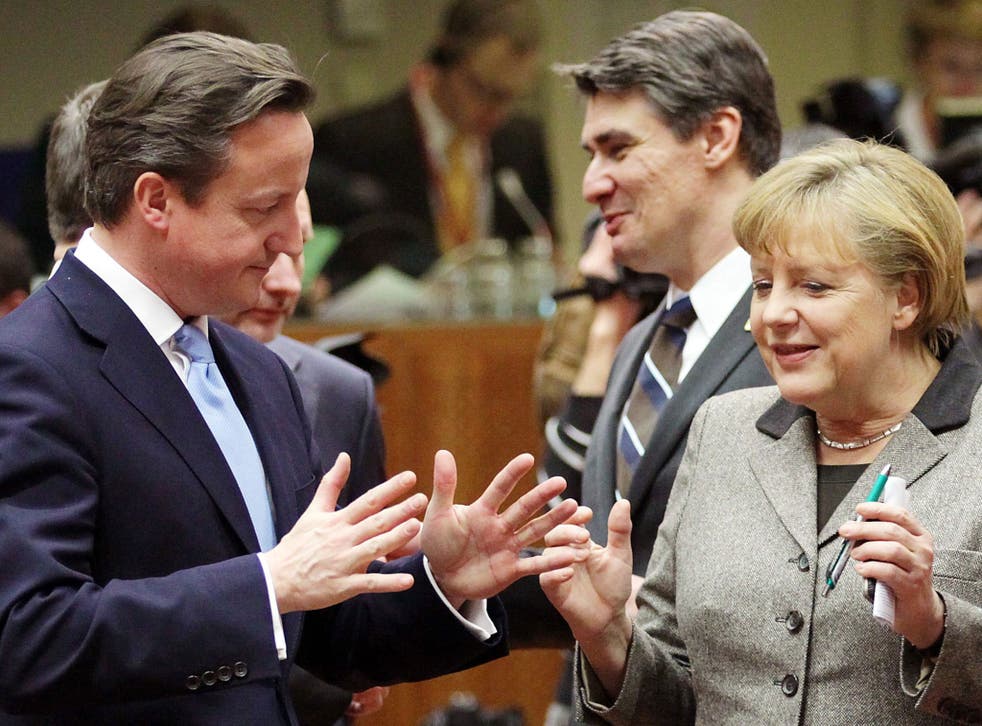 David Cameron has vowed to turn the eurozone's drive towards greater integration to his advantage by winning Britain a new EU deal in return for allowing a "two-speed Europe."
At a two-day summit in Brussels, Mr Cameron told his EU counterparts he would not stand in their way as the eurozone forged a much closer economic and monetary union to safeguard the crisis-hit single currency.
But he warned them he would demand concessions in return for Britain signing the new 27-nation EU-wide treaty that will eventually be needed to allow eurozone nations to mutualise debt, give Brussels a greater say over national governments' fiscal policies and create a "euro area" budget. The most likely British demands are a repatriation to the UK Government of powers on employment and fisheries policies.
However, some other EU nations are warning Britain not to "overplay its hand" and believe any concessions would be very limited.
In a landmark speech on Europe next month, the Prime Minister will promise a referendum on such a "new settlement" – but not until after the 2015 general election.
Mr Cameron said: "Britain's not in the euro, we're not going to join the euro, so we won't be part of that integration. But this change taking place does give us the opportunities to argue for the things that we want in Europe and get a better deal for Britain in Europe."
He added: "That's what I'm interested in discussing and pursuing for Britain. That won't be decided today but it's a start of some important conversations where I think Britain can actually do better."

The Prime Minister claimed the UK had won a significant victory by ensuring that the first step - a banking union - would not undermine the premier position of the City of London. The 27 EU leaders rubber-stamped a deal struck by their finance ministers at dawn yesterday after a marathon 14-hour negotiation.
The European Central Bank (ECB) will become the supervisory body for about 200 of the biggest banks in the eurozone, but will not discriminate against a country or currency.
Decisions by the European Banking Authority (EBA), which sets rules for banks across the EU, will require a majority of both the countries inside the banking union and those outside it, protecting Britain's position. UK ministers say this sets an important precedent – allowing countries in the EU's "outer tier" to influence decisions by those who opt for greater integration.
Britain will oppose European Parliament proposals to cap bankers' bonuses at twice their salary, warning that banks could get round it by raising basic salaries. But Mr Cameron faces criticism from Labour for being "soft" on bankers and may not be able to stop the move when it is discussed by EU leaders next year.
At the summit, doubts about the pace of integration surfaced as Germany and the Netherlands sought to water down a firm timetable proposed by Herman Van Rompuy, President of the European Council - the 27 leaders.
The way ahead: EU's possible course
January 2013: David Cameron's speech to promise referendum on UK's "new settlement" with EU
February 2013: EU leaders resume talks on budget for 2014-20
Early 2014: European Central Bank begins direct supervision of 200 eurozone banks
Later in 2014: European Stability Mechanism, the eurozone's bailout fund, might inject money directly into ailing banks
June 2014: European Parliament elections. Ukip could top UK poll
November 2014: New European Commission takes over
December 2014: New European Council President will succeed Herman Van Rompuy
May 2015: British general election
2016: UK demands repatriation of powers during negotiations on new EU treaty
2017? British referendum on whether to accept new membership terms offered in the negotiations
Join our new commenting forum
Join thought-provoking conversations, follow other Independent readers and see their replies