Carillion made £500m in revenue from selling PFI projects and netted annual returns of up to 39%, research finds
Several firms that bought the projects from Carillion are based offshore meaning they pay no UK corporation tax on the profits they derive from public money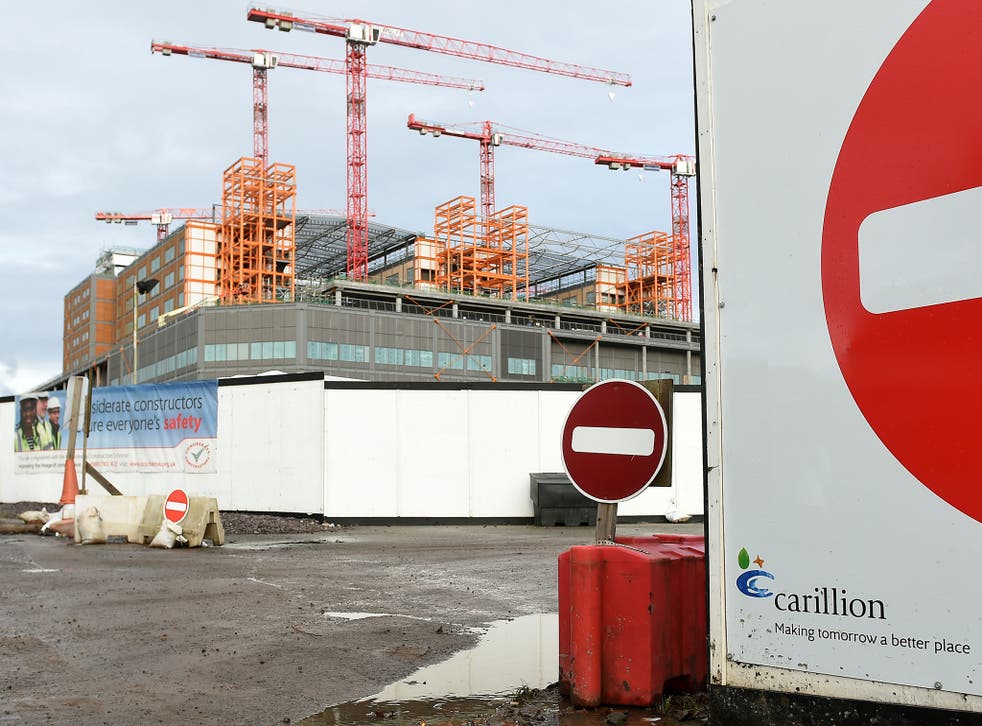 Carillion made £500m in revenue from selling off Private Finance Initiative (PFI) projects between 2003 and 2011, with many deals handing the construction firm returns of more than 15 per cent per year.
The most lucrative sale was of three NHS hospital buildings in Staffordshire, Swindon and Glasgow in 2007 which netted Carillion a 38.7 per cent annual return, according to analysis by the European Services Strategy Unit (ESSU). Around £200m of the sales came after 2010, the figures show.
Several of the purchasers are based offshore meaning they pay no UK corporation tax on the profits they derive from the schemes, which are ultimately paid for by taxpayers, the ESSU research found.
Several projects were bought by Secondary Market Infrastructure Fund and Land Securities Trillium, both of which are earlier names for what is now Semperian, a company based in Jersey and part-owned by the Daily Mail Senior Executives Pension Fund.
Equitix, which also bought PFI projects from Carillion, was previously based in the UK but has now been sold to offshore funds.
Shadow Chancellor John McDonnell said: "This is just another example of how private companies have made obscene profits from the public purse.
"Not only do we now know that PFI represents a bad deal for the taxpayer but the public purse loses out again when shares are sold offshore to companies who pay no UK corporation tax.
"Only Labour would end the PFI racket and bring contracts in-house to stop the draining of public sector resources into the pockets of shareholders, including those based offshore."
The news comes after a damning National Audit Office report earlier this month concluded that Britain had incurred billions of pounds in extra costs for no obvious benefit from PFI infrastructure projects.
The NAO looked at PFI and so-called PF2 projects. PF2 was introduced in 2013 and heralded as a new approach for funding public-private partnerships that would ensure an end to the huge costs incurred by taxpayers on older projects. Critics have pointed out that funding obtained by the private sector is still significantly more expensive than government borrowing.
There are currently 735 operational PFI and PF2 deals, with a capital value of around £60bn. Annual charges for these deals amounted to £10.3bn in 2016-17, the NAO found. Even if no new deals are entered into, future charges which continue until the 2040s will amount to £199bn.
Earlier research by the ESSU found that nine offshore funds own between 50 per cent and 100 per cent of the equity in 335 PFI projects across the UK. The funds own 45 per cent of all current projects, ESSU said.
In a PFI deal, a private finance company borrows money to construct a new asset such as a school, hospital or road. The taxpayer then makes payments over the contract term which is often 25 or 30 years. These cover debt repayment, financing costs, maintenance and any other services provided.
PFI has been in the spotlight once again after Carillion collapsed into liquidation this month. Carillion was a significant holder of PFI contracts. The firm's most recent annual report shows that it received around £253m in 2016 from various UK public private partnerships, mainly made up of PFIs.
These range from upgrading a road in Aberdeen, to building a new hospital in Liverpool, to maintaining a host of school buildings in Leeds and Durham.
Join our new commenting forum
Join thought-provoking conversations, follow other Independent readers and see their replies