Carpetright swings to £71m loss as it shuts stores in bid to stay afloat
Retailer planning to close 92 shops, putting 300 UK jobs at risk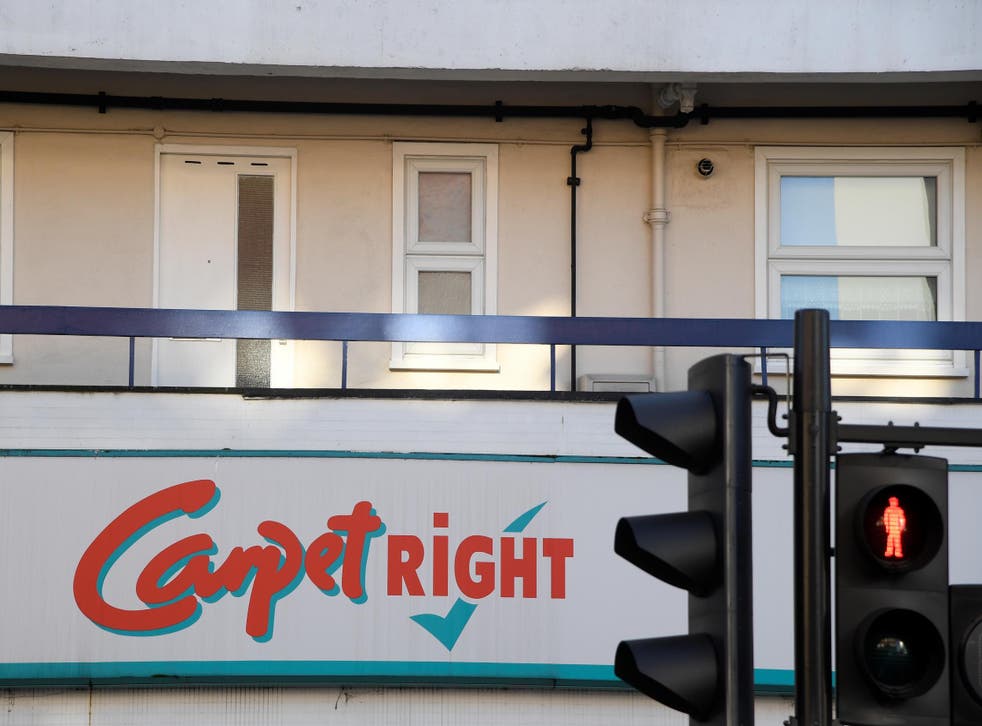 Carpetright swung to a loss of £70.5m for the year ending 28 April, according to figures released Tuesday.
The flooring company is struggling to stay afloat as UK high-street retail remains in the throes of crisis.
A Company Voluntary Arrangement reached with its creditors will result in the closure of 92 stores, putting 300 UK jobs at risk, while raising £60m to fund a restructuring.
The turnaround attempt has led to a sharp increase in borrowing at the firm, which ended the year 2017/18 with net debt of £53m, compared with £9.8m in the year before.
Revenue fell by 3 per cent last year, dropping to £444m from £458m in 2017, which pulled earnings down to £6.4m from £28.6m.
According to the group, trading was affected by higher product costs in the UK due to a combination of continued weakness in sterling against the euro, promotional measures taken in a bid to address competition, and "the inevitable disruption to trade resulting from the adverse publicity surrounding the restructuring".
Carpetright said: "There is no doubt that the publicity surrounding the restructuring process over recent months has had an impact on trade. For customers we are planning an extensive brand relaunch in autumn 2018 which will emphasise that as clear market leader, we are here to stay."
Chief executive Wilf Walsh said: "After a difficult trading year impacted by reduced consumer spend, increased competition and the legacy of an unsustainable, over rented store portfolio – the CVA and recapitalisation offers us the chance to rebuild Carpetright which remains the clear market-leader in floor coverings with outstanding consumer brand awareness. This will be a transitional year for the group as we work through our recovery plan."
Shares in the group dropped more than 3 per cent in early trading on Tuesday.
"Carpetright has had a difficult few months. Things have gone from bad to worse in 2018, as the company had more than its fair share of profit warnings, which has taken its toll on the share price. The company has major restructuring to do," said David Madden, market analyst at CMC Markets.
"The good news is that the CVA has given the company some much needed breathing space. Earlier this month, the firm raised £60m in capital via a share issue, and it had a 92.1 percent takeup rate, which indicates how optimistic shareholders are.
"Now that the balance sheet has been beefed up, investors will be keeping an eye on the progress of the company's turnaround. Carpetright has a long recovery ahead of it, and given the support it has from stakeholders, the changes of a rebound are good."
Register for free to continue reading
Registration is a free and easy way to support our truly independent journalism
By registering, you will also enjoy limited access to Premium articles, exclusive newsletters, commenting, and virtual events with our leading journalists
Already have an account? sign in
Register for free to continue reading
Registration is a free and easy way to support our truly independent journalism
By registering, you will also enjoy limited access to Premium articles, exclusive newsletters, commenting, and virtual events with our leading journalists
Already have an account? sign in
Join our new commenting forum
Join thought-provoking conversations, follow other Independent readers and see their replies