Catalonia banks prepare to move amid fears of customer exodus
Banco Sabadell confirmed late on Thursday it will move its headquarters to the Spanish city of Alicante, while CaixaBank's board will meet on Friday to consider transferring its registered office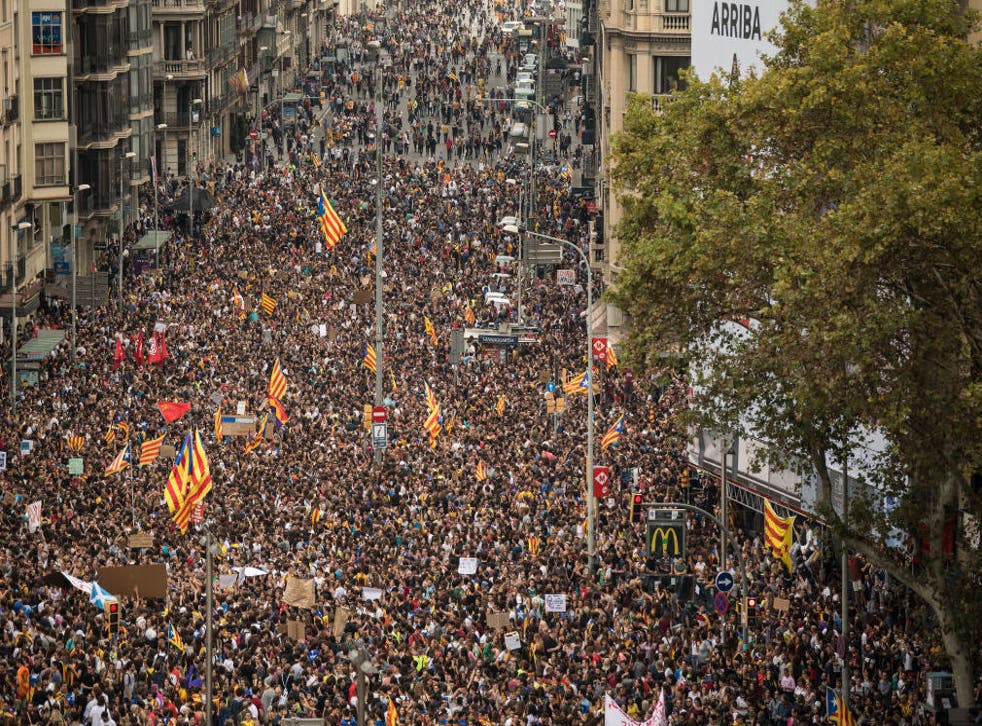 Catalonia's biggest banks are getting closer to leaving the politically volatile region as customers signalled that a declaration of independence would prompt them to pull their deposits.
Banco Sabadell confirmed late on Thursday it will move its headquarters to the Spanish city of Alicante, while CaixaBank's board will meet on Friday to consider transferring its registered office to the Balearic Islands, said a person familiar with the matter, who asked not to be identified. No one at CaixaBank was immediately available to comment on the meeting when contacted by Bloomberg News.
The two lenders have spent years seeking to reduce the political risks of being located in Catalonia through expansion, but are once again being pulled into the region's upheavals following an attempted independence vote on Sunday that resulted in a police crackdown. Some of the heat was taken out of the situation on Thursday as separatist leaders sought to avoid an immediate declaration of independence from Spain as officials in Madrid and business leaders in Barcelona ratcheted up pressure on the nationalist camp.
"The political situation is a pain in the neck for these banks," said Cesar Molinas, founder of Multa Paucis, an investment consultancy firm. "They don't want clients in Madrid to see them as Catalan banks, nor clients in Barcelona to see them as Spanish banks. They're treading on thin ice."
Leaders Divided
With the separatist movement's leaders divided, some on the Catalan side want to create more time for a negotiated settlement, two people familiar with their plans said.
Shares of the banks recovered some of this week's losses following reports of the separatist leaders' more conciliatory stance. After tumbling on Wednesday by the most in more than a year, Sabadell climbed more than 6 per cent while CaixaBank rallied almost 5 per cent. Spain's IBEX 35 index jumped 2.5 per cent, almost wiping out the previous day's declines.
"Markets were looking for a rational solution, and it now looks like we'll get one," said Alberto Espelosin, a fund manager at Abante AsesoresGestion. "It's good to see both sides willing to have some kind of dialogue."
Some of the Catalan banks' wealthy clients have already started moving money to lenders outside the region or inquired about doing so, according to an executive at a firm that received calls from prospective customers. Managers at CaixaBank private banking in Madrid have been calling customers to dispel their concerns, according to one client, who asked not to be identified discussing the matter.
'Business as Usual'
On the potential for a customer exodus, CaixaBank said it "has not been affected by any unusual movements in customer deposits," and that it's "business as usual." Sabadell described customer flows as "absolutely normal," and said "there is no significant movement of deposits" in an emailed statement.
"I can assure you that the management teams of these banks are fully committed to the interests" of clients, depositors and shareholders, Spanish Economy Minister Luis de Guindos said in an interview with Francine Lacqua on Bloomberg Television. "These institutions are quite solvent, are very strong."
One concern with Catalan independence is whether the region would be able to join the European Union, either straightaway or sometime later. In Strasbourg on Wednesday, Manfred Weber, leader of the biggest group at the European Parliament, warned Catalans that "who leaves Spain, leaves the European Union," including the euro zone and the single market.
CaixaBank, founded in 1904, has often worn its origins with pride, conducting business in Catalan and under a blue star emblem designed by Barcelona-born painter Joan Miro. The Caixa group is the main shareholder in Barcelona-based Abertis Infraestructuras SA and holds 24 percent of Gas Natural SDG, also based in the city.
Business news: In pictures

Show all 13
Banks' Expansion
But the lender has also grown away from its home region by buying Banca Civica SA, a group of struggling savings banks, during Spain's banking crisis, and earlier this year took control of Banco BPI in Portugal. Sabadell expanded in the crisis by buying Caja de Ahorros del Mediterraneo and in 2015 acquired the U.K.'s TSB Banking Group.
"These banks have changed their image to become significant national lenders," said Ricardo Wehrhahn, Madrid-based managing partner at Intral Strategy Execution. "Outside Catalonia, people don't normally necessarily think of them as Catalan banks but when a crisis like this emerges, it emphasizes their Catalan heritage."
Bloomberg
Join our new commenting forum
Join thought-provoking conversations, follow other Independent readers and see their replies