Centrica's gas deal may scupper Boris Johnson's plans for Thames Estuary airport
British Gas owner's £4.4bn LNG contract makes Mayor's plans 'unworkable'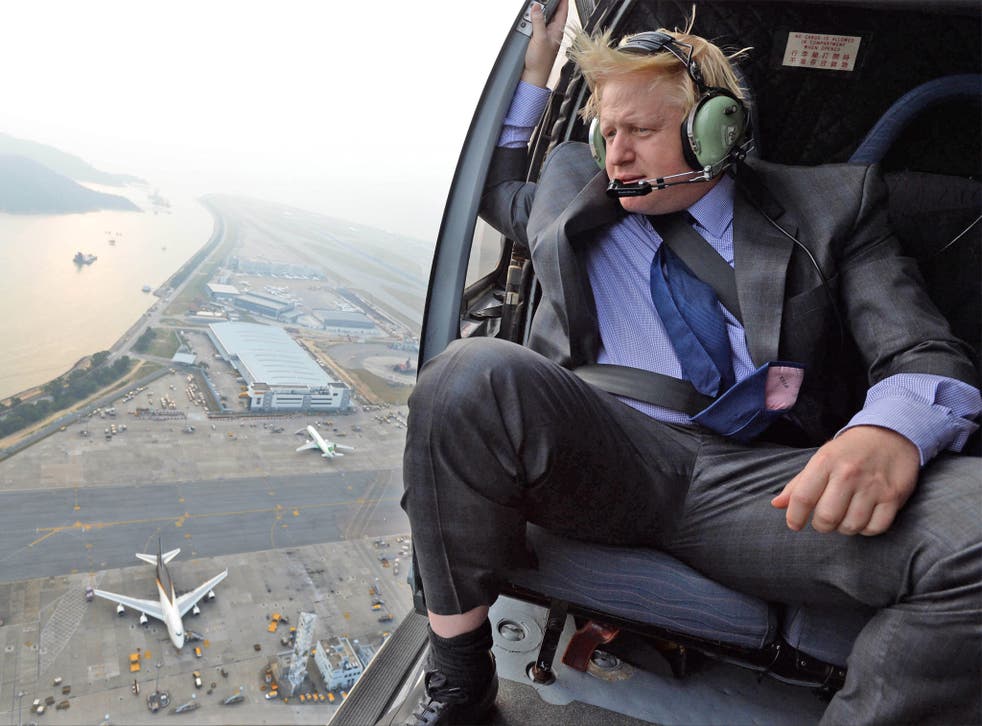 A £4.4bn gas deal has signalled "another nail in the coffin" for London mayor Boris Johnson's ambitions to build an airport in the Thames Estuary, according to union leaders.
British Gas-owner Centrica announced a four-and-a-half-year agreement yesterday to buy up to 3 million tonnes of liquefied natural gas from Qatargas. This builds on an earlier deal with the Gulf state-backed gas producer and could secure the energy needs of up 13 per cent, or 3 million, British households.
However, the gas will be taken to National Grid's LNG importation terminal on the Isle of Grain – the biggest by capacity in Europe – which Mr Johnson needs to demolish to make way for his four-runway airport.
The Isle of Grain site is the mayor's preferred of his three options for a new hub in the South-east, which also include the nearby "Boris Island" and expansion of Stansted, arguing that it would provide 4,200 long-haul flights a week to 205 destinations.
In a submission to the Government-appointed Airports Commission, chaired by Sir Howard Davies, Transport for London said that the LNG facility was "too tall and too close to the proposed airport site and would need to be relocated" to make way for the hub.
However, critics have poured scorn on such upheaval at a time when demand to use the terminal is so great – around 60 per cent of gas will be imported by 2020 – and yesterday's commitment of a vast amount of additional LNG has only made a relocation even less likely.
Mick Rix, the GMB national officer for the transport sector, told The Independent that the deal was "further proof" that Mr Johnson's plans were "ill thought out".
He added: "This is yet another nail in the coffin for Boris's idea – and nobody supports him. Aviation has to be the most secure industry given previous activities by armed groups [the 9/11 terrorist attacks], so I cannot see how the authorities would allow a hub airport to be built over an LNG facility." A second union source said the agreement showed that the Thames Estuary plan, which Mr Johnson has vociferously promoted over the construction of a third runway at Heathrow, was "ridiculous".
The Isle of Grain facility has grown substantially with an increase in imports of LNG over the past decade, while it is thought that National Grid could seek up to £3bn in compensation to move the terminal.
Centrica finance director Nick Luff said that the group would "absolutely not" have been able to agree the deal had the Isle of Grain not existed. The facility stores gas that has been chilled to minus 170 degrees and can be supplied as energy demands increase during the winter.
Mr Luff also said that the deal would help ease pressure on rising gas prices, which have been central to cost of living clashes between the major political parties ahead of the general election in 18 months.
Centrica chief executive Sam Laidlaw said earlier this week that he would waive his bonus this year after British Gas raised the average bill for 8.2 million customers by 9.2 per cent to £1,444 per household.
Mr Luff added: "The deal is a positive in that should prices be running away then this will stop them running away too much. If the prices are low, this will help keep the bills low."
Register for free to continue reading
Registration is a free and easy way to support our truly independent journalism
By registering, you will also enjoy limited access to Premium articles, exclusive newsletters, commenting, and virtual events with our leading journalists
Already have an account? sign in
Register for free to continue reading
Registration is a free and easy way to support our truly independent journalism
By registering, you will also enjoy limited access to Premium articles, exclusive newsletters, commenting, and virtual events with our leading journalists
Already have an account? sign in
Join our new commenting forum
Join thought-provoking conversations, follow other Independent readers and see their replies