Chancellor 'is being soft' on banks' ring-fencing
Labour on the attack, claiming George Osborne has failed to deliver radical reform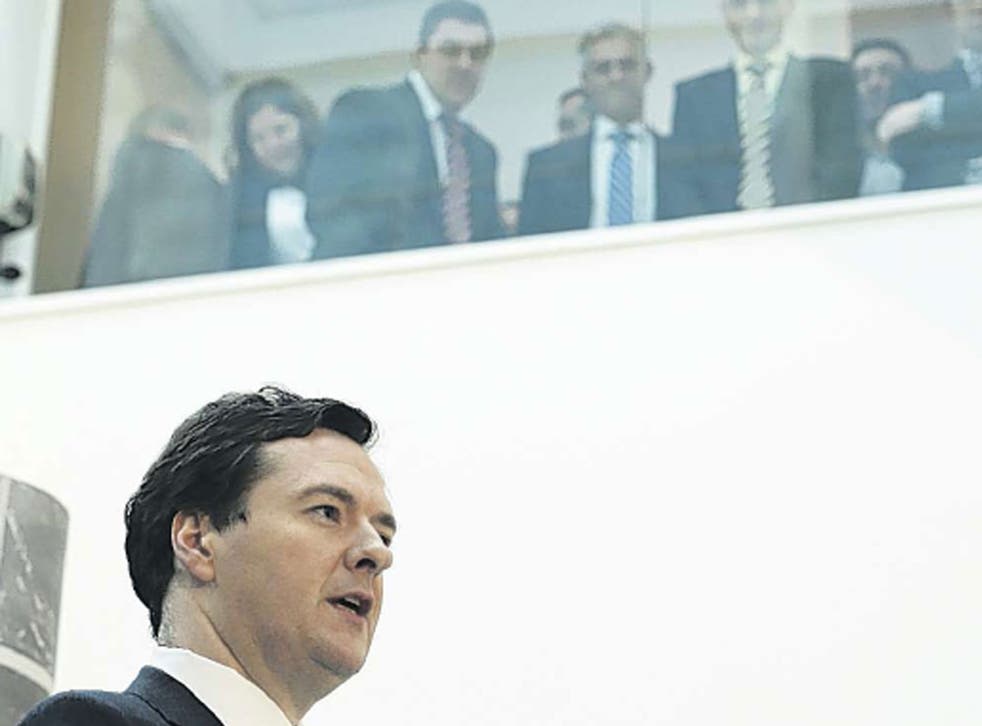 The Chancellor, George Osborne, was accused by Labour of going soft on the banks today, as he unveiled plans to "electrify" the ring-fence around retail banks.
While regulators will be given power to break up banks which try to break the ring-fence, other recommendations of the Parliamentary Commission on Banking Standards were ignored. They included a demand that British banks further reduce leverage.
Ed Balls, the shadow Chancellor, said: "For all the rhetoric and the partial climbdown he has been forced into, George Osborne is still failing to deliver the radical banking reform we need."
Mr Balls also attacked Mr Osborne's refusal to legislate for a "backstop power" to allow for across-the-board separation of the banks, as something the commission also suggested.
Andrew Tyrie, the chairman of the commission, however, described the plans as "a step in the right direction" although he regretted the lack of the reserve power.
The banking industry is split on the plans, with Lloyds saying it supported electrified ring-fencing at a hearing of the commission yesterday. That puts Lloyds in conflict with its own trade association, the British Bankers' Association, which has warned that the move will damage confidence and could hit lending.
In general the City reacted with dismay, warning that the plans will make it harder for the Government to sell off the taxpayer's huge stake in the banking industry following the bailouts of Lloyds and Royal Bank of Scotland.
The taxpayer holds an 83 per cent stake in RBS and 41 per cent of Lloyds. The taxpayer's £65bn investment has only very briefly shown a profit, at the end of 2010 and the start of 2011.
Alexandria Carr, a financial legal specialist at the international law firm Mayer Brown, warned: "The Government could be creating a layer of uncertainty as to the future of banks, which may make it difficult for banks to raise capital, something which would in turn reduce lending, stifle the economy and increase cost to the consumer."
David Buik of Cantor Index pointed out that ring-fencing would not have prevented either the UK bailouts or the Lehman Brothers collapse in 2008. He said banking collapses in Britain were down to shoddy lending decisions.
International regulators questioned the need for ring-fencing as opposed to strengthened balance sheets: "Higher capital and liquidity requirements are more important for stabilising banks than the separation of proprietary trading and deposit-taking business," Jaime Caruana of the Bank for International Settlements said.
At the hearing Sir Win Bischoff, chairman of Lloyds, was involved in some angry exchanges with Lord McFall after the latter accused the industry of "bullying" by taking regulators to a judicial review over regulators' plans to compensate victims of payment protection insurance mis-selling. Sir Win said the review was designed to bring "clarity", adding the bank regretted the mis-selling and was keen to compensate customers.
He also admitted that bonuses offered to former executives at the time were misguided.
Join our new commenting forum
Join thought-provoking conversations, follow other Independent readers and see their replies