China economic growth slows to 25-year low of 6.9 per cent
Full-year 2015 growth was the lowest since sanctions imposed on Beijing following its crackdown on the Tiananmen Square pro-democracy movement caused growth to plummet to 3.8 per cent in 1990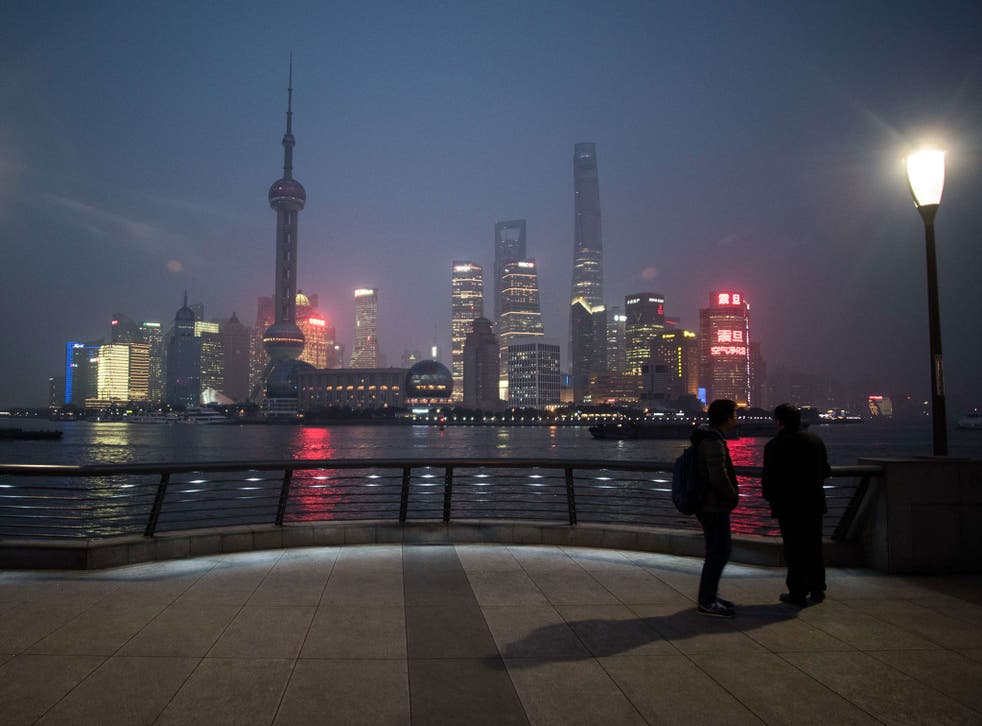 China's economic growth slowed to a 25-year low of 6.9 per cent in 2015, causing major concern for investors around the world.
In the final quarter of last year, growth slowed to a six-year low as trade and consumer spending weakened, deepening a downturn that has fueled anxiety abroad over its impact on an uncertain global outlook.
The world's second-largest economy grew by 6.8 per cent in the October-December quarter, down from the previous quarter's 6.9 per cent, data showed Tuesday. That dragged full-year growth to a 25-year low of 6.9 per cent.
Growth has fallen steadily over the past five years as the ruling Communist Party tries to steer away from a worn-out model based on investment and trade toward self-sustaining growth driven by domestic consumption and services. But the unexpectedly sharp decline over the past two years prompted fears of a politically dangerous spike in job losses. In 2014, growth was 7.3 per cent.
The Chinese slowdown and a plunge in Shanghai stock prices have prompted concern about loss of support from an economy once seen as an engine of global growth. That has depressed international financial markets even as the United States and Europe show signs of improvement.
"Official data do not point to a hard landing in the fourth quarter of 2015, but they provide little reason to stop worrying about China's drag on the global economy, either," said economist Bill Adams of PNC Financial Services Group in a report.
Growth was in line with private sector forecasts and the ruling Communist Party's official target of about 7 per cent for the year.
Beijing responded to ebbing growth by cutting interest rates six times since November, 2014, and launched measures to help exporters and other industries. But economists note China still relies on state-led construction spending and other investment.
Full-year 2015 growth was the lowest since sanctions imposed on Beijing following its crackdown on the Tiananmen Square pro-democracy movement caused growth to plummet to 3.8 per cent in 1990.
The October-December growth figure was the slowest quarterly expansion since the global financial crisis, when growth slumped to 6.1 per cent in the first quarter of 2009.
Compared with the previous quarter, the measurement other major countries use, China's growth slowed to 1.6 per cent in the October-December period from the previous quarter's 1.8 per cent.
"The international situation remains complex," said Wang Bao'an, commissioner of the National Bureau of Statistics, as a news conference. "Restructuring and upgrading is in an uphill stage. Comprehensively deepening reform is a daunting task."
Growth in investment in factories, housing and other fixed assets, a key economic driver, weakened to 12 per cent in 2015, down 2.9 percentage points from the previous year. Retail sales growth cooled to 10.6 per cent from 2014's 12 per cent.
December exports shrank 1.4 per cent from a year earlier, well below the ruling party's target of 6 per cent trade growth. For the full year, exports were down 7.6 per cent, a blow to industries that employ millions of Chinese workers.
World news in pictures

Show all 50
Forecasters see indications retail sales and other activity accelerated toward the end of 2015, suggesting Beijing's efforts to put a floor under the downturn are gaining traction.
"The growth picture remains two-sided. The real estate construction slump and weak exports continued to weigh on activity," said Louis Kuijs of Oxford Economics in a report.
"Meanwhile, though, consumption continued to expand robustly, supported by solid wage growth," said Kuijs. "The robust growth in the consumption and services nexus is key for policymakers. They need it to avoid labor market stress."
Global financial markets were rattled by a plunge in Chinese stock prices in June. Chinese stock markets have little to do with the rest of its state-dominated economy, but investors abroad took the decline as a sign the economy as weaker than thought.
A growing number of private sector analysts question the reliability of China's data, suggesting economic growth is much weaker than reported.
Julian Evans-Pritchard of Capital Economics said other measures of activity suggested economic growth in the latest quarter was 4.5 per cent, though that still would be among the world's strongest.
Spending on online commerce grew by 33.3 per cent over 2014, an encouraging sign for official efforts to nurture a consumer economy. Wang said the share of total economic activity accounted for by consumption rose to 56.4 percent. That was up 5 percentage points from 2014.
Forecasters expect economic growth to decline further this year, with the International Monetary Fund targeting a 6.3 per cent expansion.
"We still think concerns about China's outlook are overdone and that the recent market volatility has been driven more by sentiment than by economic fundamentals," said Evans-Pritchard in a report. "The short-run outlook is improving."
AP
Register for free to continue reading
Registration is a free and easy way to support our truly independent journalism
By registering, you will also enjoy limited access to Premium articles, exclusive newsletters, commenting, and virtual events with our leading journalists
Already have an account? sign in
Register for free to continue reading
Registration is a free and easy way to support our truly independent journalism
By registering, you will also enjoy limited access to Premium articles, exclusive newsletters, commenting, and virtual events with our leading journalists
Already have an account? sign in
Join our new commenting forum
Join thought-provoking conversations, follow other Independent readers and see their replies