'Buy Christmas dinner now and freeze it' shoppers told, amid warning it's too late to avoid empty shelves
Army of temporary workers from overseas is unlikely to solve UK supply chain chaos because visas can't be processed in time, say immigration lawyers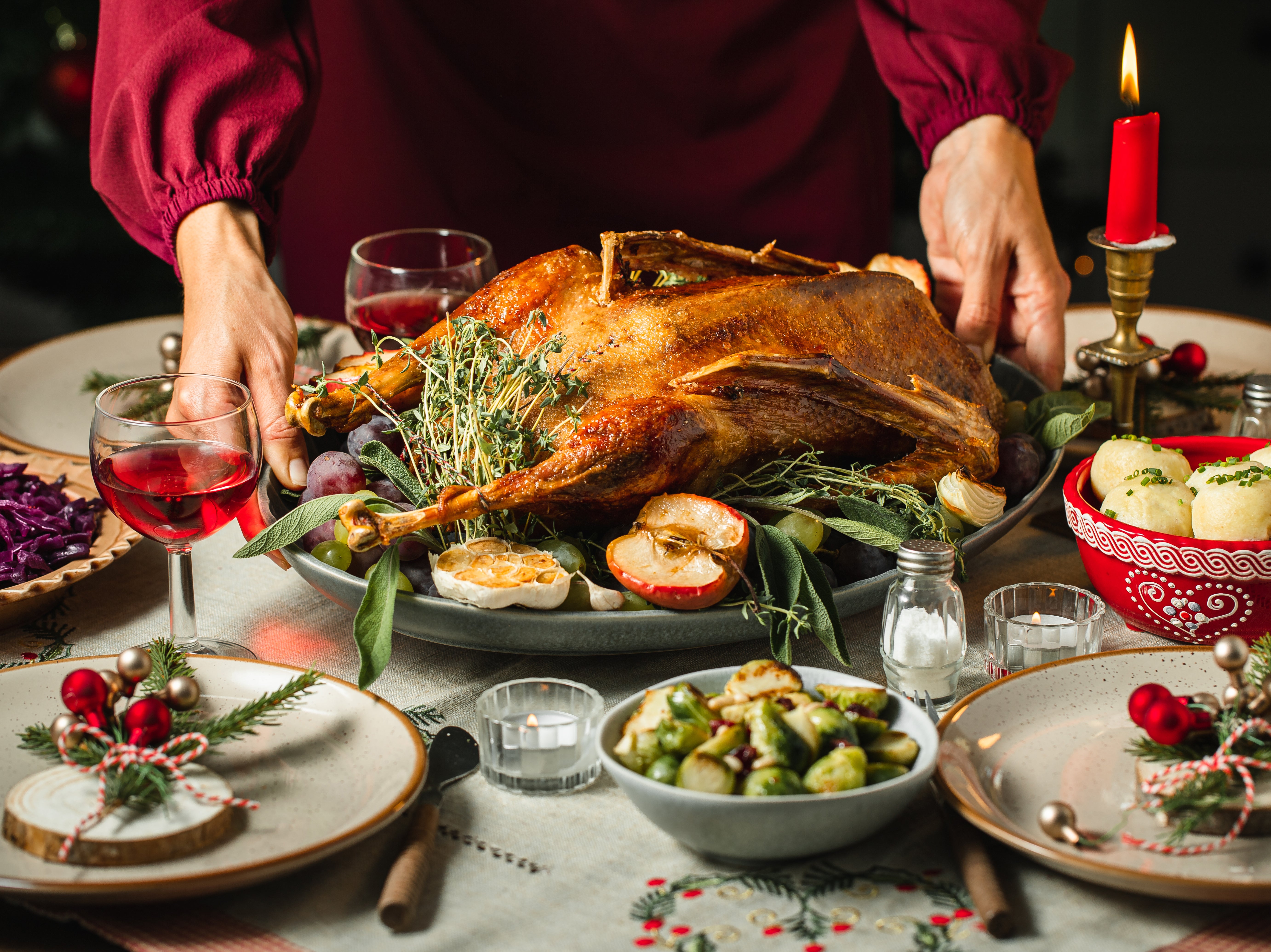 Shoppers should buy Christmas dinner in advance and put it in the freezer if they want to avoid disappointment, experts have said.
They also warned that Boris Johnson's plan to bring an end to supply chain chaos had little hope of working.
In response to growing pressure, the government softened its hard line on immigration last weekend, announcing plans to allow 5,500 poultry workers and 5,000 lorry drivers to enter the UK on three-month work visas that are due to expire on 24 December.
The government hopes that the army of workers brought in from overseas will "save Christmas" but food and haulage industry leaders were quick to pour cold water on the plans.
"Ultimately, now I think we have just run out of time," said James Withers, of Scotland Food & Drink. "I don't think there is anything that can be done now to get the Christmas trade where it should be."
"That's despite warnings being sounded since the summer of the scale of the potential labour shortage we might face."
Mr Withers recommended that people should "plan ahead" and think early about food that could be frozen to avoid disappointment later on.
The British Retail Consortium warned 5,000 lorry driver visas would not be enough to prevent Christmas disruption. One haulage industry boss said retailers should now start prioritising deliveries of essential goods over Christmas presents because there will not be enough lorry drivers to cope with demand.
A retail industry insider said they believed that the government had now accepted that there would be continued disruption to supplies but ministers think it "is a price worth paying for Brexit".
Immigration lawyers told The Independent they don't believe applications can be processed in time to ensure shelves remain stocked.
Retailers warned last week that they needed workers within 10 days to ensure normal levels of stock at Christmas, while poultry companies have said turkey could be in short supply due to a lack of production line workers. And meat industry leaders have also now warned about a shortage of pigs in blankets, due to a lack of butchers.
Yet solicitors pointed out that temporary work visas typically take "at least" three weeks to process and can take around seven weeks for non-EU applicants. The Home Office hopes the scheme will be up and running in mid-October, with applications processed in 15 working days.
The first applicants are therefore not likely to be working until the second week of November, meaning drivers would be expected to relocate to the UK for just six weeks' work before being told to leave on Christmas Eve.
Immigration experts also sounded the alarm over a lack of capacity to deal with an influx of applications.
The Home Office approved 19,761 temporary work visas last year. If the full 10,500 quota for Christmas workers is filled, civil servants would need to wade through an additional 50 per cent of their previous annual total in just a few weeks.
No details have yet been confirmed about how the new scheme will operate, leaving employers guessing. The Independent understands that the new arrangements will be based on seasonal work visas – known as tier 5 – typically used for agricultural workers.
EU lorry drivers have said they find the prospect of just a few weeks' work in the UK unattractive. The tight timescales for visas cast further doubt on the effectiveness of a key plank of the government response to a labour shortage that has left petrol pumps and supermarket shelves empty.
Jemima Johnstone, head of corporate immigration at Gherson Solicitors, questioned whether the Home Office had the resources needed to process thousands of extra visas.
Government guidance has been "vague" and some three-month visas may only arrive shortly before Christmas Eve, Ms Johnstone said.
"We're not sure whether visas are supposed to end on 24 December or whether that's the deadline for applications.
"Certainly for poultry workers this is a pre-Christmas issue so there is no point applying that late. It has got to get started soon to have any chance of delivering anything that we need."
Non-EU applicants face a further barrier because they have to attend an interview with officials in their home country, often waiting weeks to get an appointment.
The Home Office plans to extend the use of an app that speeds up the process but it is not yet available for temporary workers.
It is also feared that the £244 visa fee may discourage some potential applications. When added to the costs of relocating to the UK, it would represent a significant proportion of the likely pay of a poultry production line worker between now and Christmas Eve.
Ms Johnstone warned of further problems if other industries push for their own temporary visa quotas.
"If each industry gets its own special visa, but only when it can persuade the government that it's hitting crisis point, then what we're planning for is not a long-term solution for labour shortages.
"It's a series of crises – and very public ones, as whoever calls the biggest crisis gets the biggest visa allocation."
Rob Hollyman, director of Young's Transportation, described the visa scheme as "pathetic". He warned that it would make "very little difference" to Christmas stock levels because, at best, it can only replace a quarter of the 20,000 drivers who have left the UK and not returned.
"Somebody up the supply chain needs to make the decision that we either have luxury goods and Christmas presents, or essentials.
"We need to get essentials like washing powder, toilet roll on shelves before we have cuddly toys and jigsaw puzzles."
Increasingly desperate calls from food industry figures for action to prevent worker shortages in the wake of Brexit had been ignored by the government for at least a year, Mr Withers said.
"We're seeing gaps on supermarket shelves already. I don't think those gaps are going to improve. They could get worse."
Fears of supplies running low were not "in any way allayed" by the government's announcement on temporary visas, he added.
"We need an immigration policy that is smart, it's not about rhetoric and it's certainly not about being hostile to the very people we need to attract to this country."
A government spokesperson said: "This is a global problem and we have been working closely with industry for months to understand how we can boost recruitment.
"However we also want to see long-term solutions delivered by employers through improved testing and hiring, with better pay and working."
Join our commenting forum
Join thought-provoking conversations, follow other Independent readers and see their replies