City Link goes into administration: Christmas Day announcement branded a 'disgrace'
Operations have been suspended at all its depots until Monday, when customers and recipients will be able to collect their parcels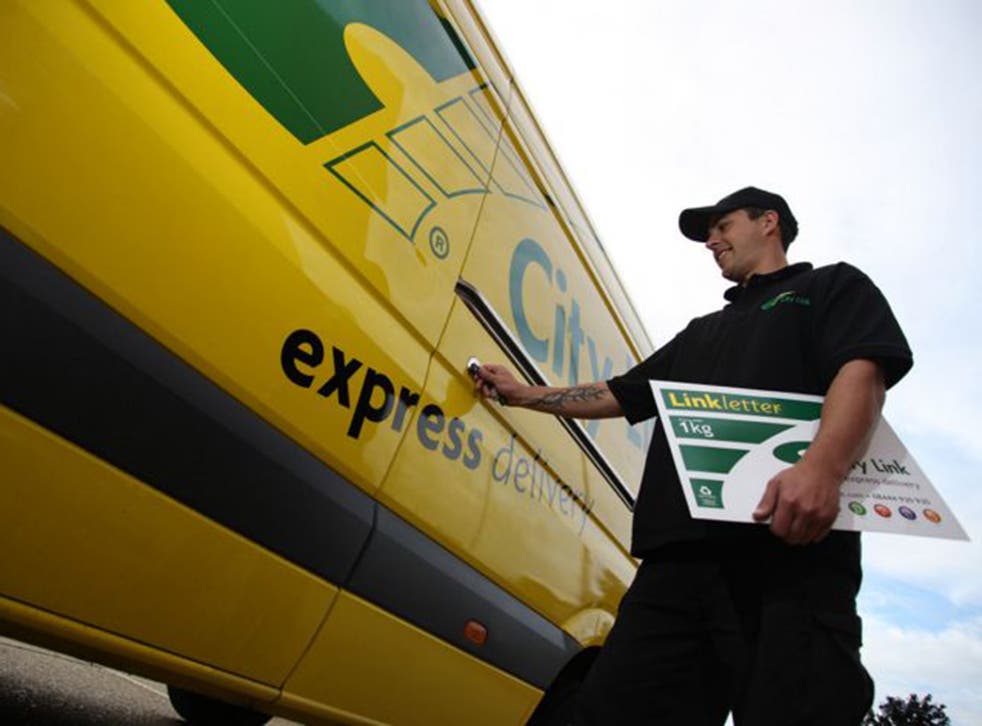 The announcement on Christmas Day that parcel delivery company City Link, which employs 2,727 workers, has gone into administration has been condemned as an "absolute disgrace" by union bosses.
Mick Cash, the general secretary of the RMT union, said it was "shocking" that the company delivered "the bitterest blow any group of workers could receive" on Christmas Day.
The Coventry-based company, which is owned by investment firm Better Capital, called in administrators from professional services firm EY on Christmas Eve after years of "substantial losses".
EY said it expected "substantial redundancies" over the coming days because no buyer had been found to save the troubled company.
Operations have been suspended at all its depots until Monday, when customers and recipients will be able to collect their parcels.
Mr Cash said: "It is absolutely shocking that the company have sprung this announcement once all the Christmas deliveries have been completed.
"RMT will do everything within its power to mobilise a political and industrial fight to save the thousands of jobs that have been put at risk as a result of this shock announcement."
One City Link worker, who says was only made aware of the situation after seeing it on the news, told the BBC he was "furious".
He said: "I have no idea what I'll do. I have no money since it's Christmas so I don't know where next month's rent will be coming from, where will I live? How will I eat?"
Another employee who works as a sub-contractor with the company added: "I have a delivery van and no work.
"They've got rid of most employed drivers at my depot, and presumably nationwide. I just have to hope I can find some work elsewhere, after getting my van made white."
Hunter Kelly, joint administrator to City Link, said the losses incurred by the company are a reflection of "a combination of intense competition in the sector, changing customer and parcel recipient preferences, and difficulties for the company in reducing its cost base".
She said: "The strain of these losses became too great and all but used up Better Capital's £40 million investment, which was made in 2013 and intended to help to turn around the company.
"Despite the best efforts to save City Link Limited, including marketing the company for sale, it could not continue to operate as a going concern and administrators were appointed.
"We have temporarily suspended operations at all transport hubs and depots until Monday December 29 2014, when we intend to reopen depots to the public to enable customers and intended recipients to collect their parcels.
"We will also provide support to employees relating to potential redundancies. We are now beginning the process of realising the company's assets."
A number of staff will be retained to help return parcels to customers and help with winding down the company, EY said.
Customers who had placed parcels with the company on Christmas Eve and intended recipients who have been notified of a failed or pending delivery can collect their parcels on Monday - and are being urged to retrieve parcels as soon as possible.
They can do so at the company's 53 depots throughout the UK, which will remain open for a short period of time to enable people to collect their parcels.
The firm's online parcel tracking system remains live and a help phone will be open on Saturday 27 December and 29 December.
The RMT told its members yesterday that it understood that wages owed up to New years Eve would be paid, but any further payments are not guaranteed.
It described the news in a circular as a "massive body blow to all our members at City Link who have made great efforts and sacrifices to their pay and terms and conditions in order to make the company a success since its current owners took control in 2013".
Additional reporting by PA
Join our new commenting forum
Join thought-provoking conversations, follow other Independent readers and see their replies