Six dead in Italian jail amid nationwide prison riots over coronavirus measures
Coronavirus 'pushing Europe into recession', say economists
Eurozone economy to shrink in first half of 2020, banks forecast as virus spreads
Coronavirus is pushing Europe into recession as the rapidly spreading outbreak takes a heavy toll on businesses and consumer confidence, economists have warned.
Investment banks Morgan Stanley and Berenberg both expect the Eurozone's economy to shrink in the first half of 2020. They issued new forecasts on Monday amid the worst meltdown in global markets since the 2008 financial crash.
Berenberg projected the Eurozone's GDP to fall by 0.4 per cent in the first three months of the year and 0.5 per cent in the second quarter.
Analysts said the sweeping month-long lockdown imposed by Italy, the zone's third largest economy, on 16 million people "goes beyond the disruptions we had anticipated".
"The Italian measures — and the possibility that other parts of Europe may move in the same direction in coming weeks — are likely to weigh significantly further on confidence in the near term," said Holger Schmieding, chief economist at the German bank.
Airports empty as Coronavirus affects aviation industry

Show all 11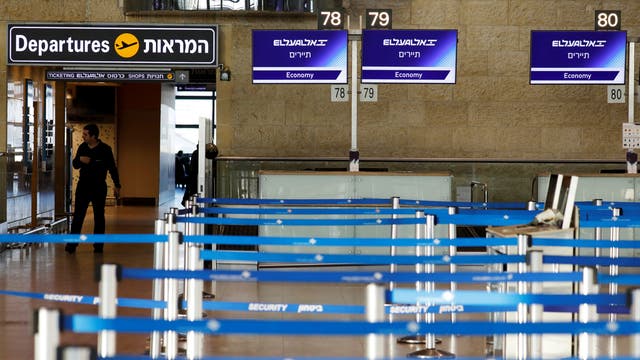 The bank predicted Italy's economy would contract by 1.2 per cent by the end of the 2020, and said its forecasts for the next few months would be "shaped much more by the coronavirus epidemic than by economic fundamentals or shifts in monetary or fiscal policy".
France's central bank said it expected the country's economy to barely grow in the first quarter of the year, cutting its GDP forecast from 0.3 per cent 0.1 per cent.
The country's finance minister, Bruno Le Maire, said Europe needed a "call to arms" to defend the already weakened economy from an outbreak that has disrupted companies' supply chains, forced airlines to cut capacity and prompted shoppers in some countries to stockpile food.
The downbeat assessments made for a grim start to the week for European Central Bank (ECB) policymakers, who will meet in Frankfurt this week and may be forced to lower interest rates and step up bond purchases. The US Federal Reserve has already acted, with an unexpected easing last week.
The ECB told most of its 3,500-plus staff to work from home on Monday to test how it could cope with a coronavirus shutdown. It has cancelled most of its public events over the next month but said its rate-setting Governing Council meeting would go ahead as scheduled on Thursday.
The turmoil in global markets on Monday was deepened by an all-out oil price war between Saudi Arabia and Russia, which has led to stocks and oil prices tanking around the world.
Join our new commenting forum
Join thought-provoking conversations, follow other Independent readers and see their replies