Coronavirus: New insolvency law to help businesses survive in face of 'aggressive debt recovery' during pandemic
Pubs and bars hail rules that will protect them from landlords demanding rent when they are closed down and have no income
Ben Chapman
Wednesday 20 May 2020 23:14 Comments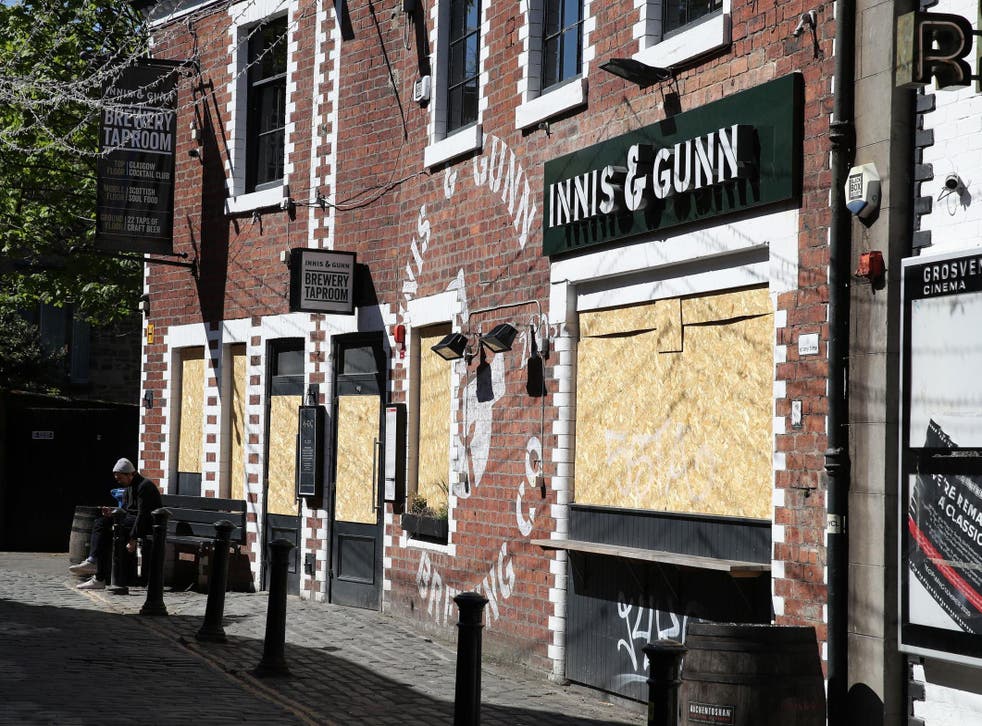 Businesses struggling to stay afloat through the Covid-19 crisis could be saved by new rules designed to protect them from "aggressive debt recovery" and stop them going bust.
The government introduced new insolvency legislation on Wednesday, giving companies time to restructure, refinance and keep trading when they might otherwise go out of business because of debts caused by the coronavirus pandemic.
Under the rules, wrongful trading provisions will be temporarily suspended, meaning directors could continue trading through the pandemic without the threat of personal liability.
Wrongful trading makes it an offence for a company to continue trading when they know a business will not be able to avoid going into liquidation.
It is designed to protect creditors of a business, such as its suppliers, from falling prey to unscrupulous directors who plunder cash from doomed companies to enrich themselves personally.
But the pandemic means that thousands of businesses have found themselves in a position where they must trade when they are technically insolvent and would, under normal circumstances, have to shut up shop.
The measure will suspend the use of written demands from creditors to pay a debt, known as statutory demands, where the debt has been caused by the coronavirus crisis.
Winding-up petitions, which allow creditors to demand that a company in default of its debt payments is closed down, will also be suspended until at least the end of June.
Kate Nicholls, chief executive of UKHospitality, the trade body for bars, restaurants and hotels, hailed the Corporate Insolvency and Governance Bill as a "very important" piece of legislation.
"The Bill should provide businesses with some very welcome respite from aggressive landlords and suppliers, and valuable breathing space to restructure their businesses," Ms Nicholls said.
"It is very encouraging to see the Government listening to the concerns of tenants and landlords, and acting decisively on what is a complex issue.
"It should give some impetus for bringing landlords to the table to understand the pressures that tenants are facing. The majority of landlords have been cooperative but a minority have aggressively pursued hospitality businesses that are moth-balled, have no revenue and cannot hope to pay."
Ministers said the move could provide a lifeline to companies struggling during the current period of instability, giving them flexibility to adapt as they grapple with reduced resources or restrictions.
Directors still have legal responsibilities under wider company law and these duties would remain in place, as would measures in insolvency law to penalise directors who abuse their position.
The Bill would temporarily ease regulatory requirements for companies and other bodies, such as charitable incorporated organisations and mutual societies, concerning general meetings and filings, allowing greater flexibility around when and how annual general meetings are held.
Colin Haig, president of insolvency and restructuring trade body R3, said the Bill represented the biggest change to the UK's insolvency and restructuring framework for almost 20 years, adding: "The measures contained in the Bill will support the profession's efforts to help businesses navigate the enormous economic damage caused by the pandemic. This legislation comes not a minute too soon."
Business Secretary Alok Sharma said: "This is a particularly challenging time for businesses right across the UK, and we are doing all we can to support them through this period.
"Our proposals have been widely welcomed by business groups. The Bill will help companies that were trading successfully before the Covid-19 emergency to protect jobs and put them in the best possible position to bounce back."
Additional reporting by PA news agency
Register for free to continue reading
Registration is a free and easy way to support our truly independent journalism
By registering, you will also enjoy limited access to Premium articles, exclusive newsletters, commenting, and virtual events with our leading journalists
Already have an account? sign in
Join our new commenting forum
Join thought-provoking conversations, follow other Independent readers and see their replies