Coronavirus: Emergency VAT cut should be considered as UK emerges from pandemic, former chancellor says
Alistair Darling says economy 'reels from an even more profound shock' than 2008 financial crisis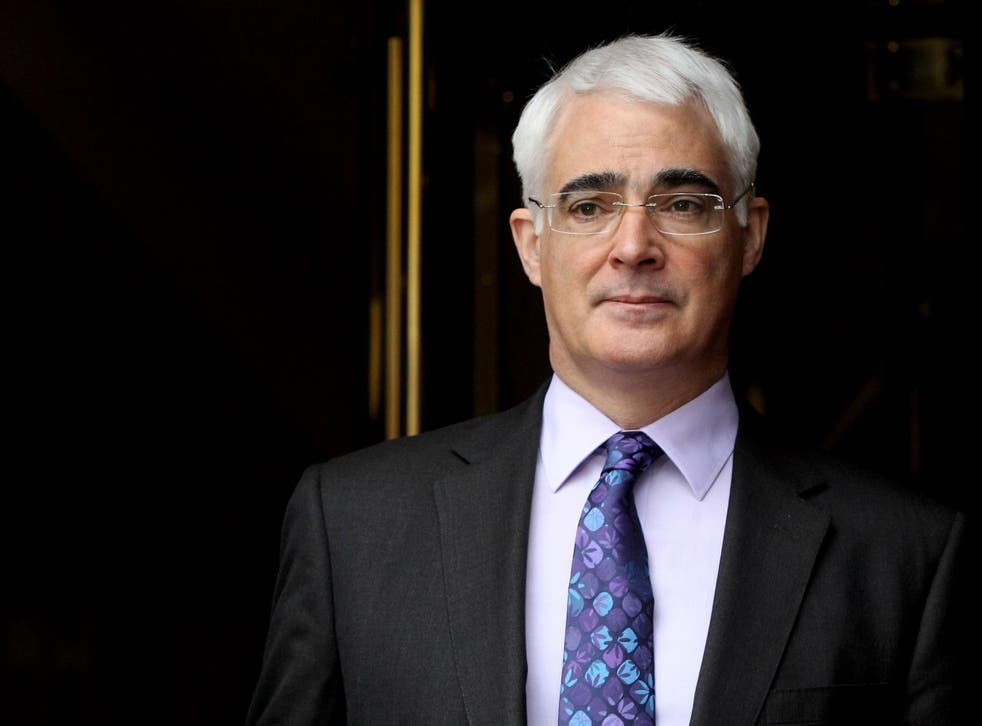 The government should consider an emergency VAT cut rather than increasing taxes as the UK emerges from the coronavirus pandemic, the chancellor during the 2008 financial crisis has said.
Alistair Darling said "increasing taxes will not be the answer here" and urged ministers to utilise favourable conditions for borrowing and invest in capital spending.
Lord Darling, a Labour peer, made the comments in a report by the Policy Exchange think tank that calls for the prime minister to fund new infrastructure projects, even if doing so means breaking or changing the fiscal rules.
The report, co-authored by Gerard Lyons, a former economic adviser to Boris Johnson, advises ministers to focus on projects including electric vehicle charging infrastructure, gigabit-capable broadband and health-related infrastructure such as green walking and cycling routes.
In the foreword, Lord Darling warns the economy "reels from an even more profound shock" during the Covid-19 crisis than in his time as chancellor.
"After the Covid-19 crisis subsides, we will enter a new period of recovery," he wrote.
"Increasing taxes will not be the answer here, even as the budget deficit and government debt rises.
"If anything, emergency tax cuts – slashing VAT to 15 per cent for instance, as I did in November 2008 – should be considered to boost consumer spending."
The report also recommends that all infrastructure projects of less than £500m are devolved to metro and local authorities.
In addition to investment in electric vehicle charging infrastructure and gigabit-capable broadband, it calls for investment in R&D, focusing on hydrogen, to help the UK hit its carbon targets.
Rishi Sunak is reportedly considering slashing VAT to mitigate the economic fallout from the crisis.
According to The Sunday Times, the chancellor has ordered Treasury and HMRC officials to prepare options for reducing the sales tax, which has been set at 20 per cent since January 2011.
The options include a cut in the headline rate and zero rating more products for a fixed period. Currently, a temporary zero rate applies to personal protective equipment (PPE) until 31 July.
On Sunday, the health secretary, Matt Hancock, did not rule out such a measure being taken, instead saying it was a matter for Mr Sunak.
"Well that is absolutely a matter for a Budget and you would not expect me to comment either way on any speculation on what's in a Budget. It's very much a matter for the chancellor," he told Sky's Sophy Ridge.
Register for free to continue reading
Registration is a free and easy way to support our truly independent journalism
By registering, you will also enjoy limited access to Premium articles, exclusive newsletters, commenting, and virtual events with our leading journalists
Already have an account? sign in
Register for free to continue reading
Registration is a free and easy way to support our truly independent journalism
By registering, you will also enjoy limited access to Premium articles, exclusive newsletters, commenting, and virtual events with our leading journalists
Already have an account? sign in
Join our new commenting forum
Join thought-provoking conversations, follow other Independent readers and see their replies