Cyprus Airways shuts down after order to repay state aid leaves it bankrupt
Cyprus government says it will make alternative arrangements for all passengers
Simon Calder
Friday 09 January 2015 20:35 Comments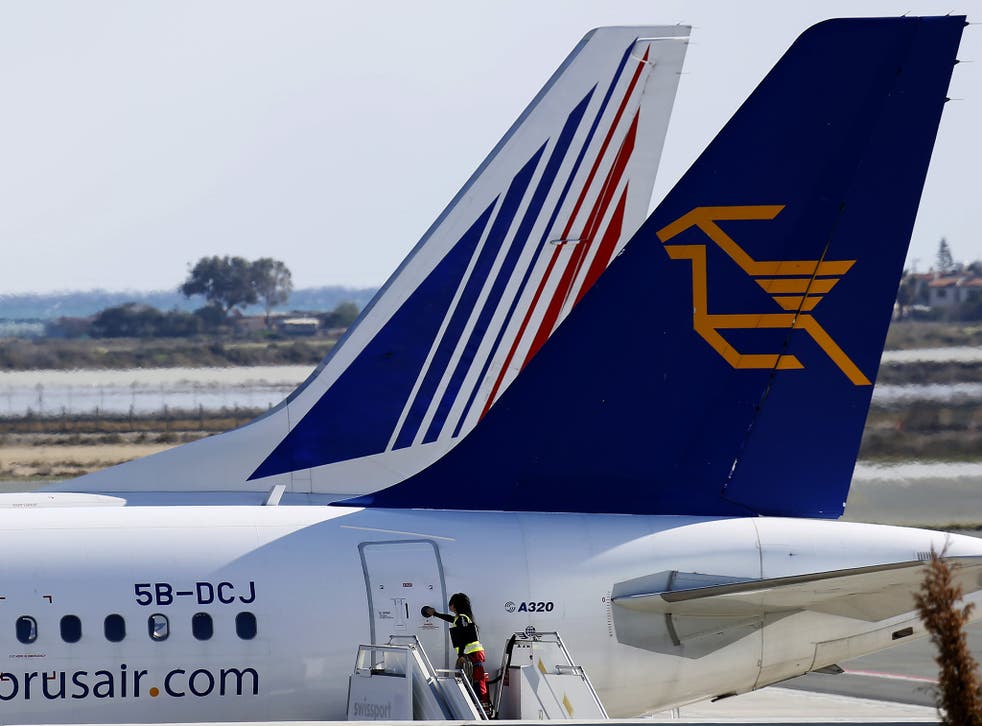 At 9pm local time on Friday, Cyprus Airways flight 337 from Athens touched down at Larnaca airport - the final landing for an airline established 68 years ago.
As Ryanair predicted a month ago, Cyprus Airways has shut down. But unlike most "flag carrier" collapses, the island's government says it will look after passengers left with worthless tickets.
The national airline of Cyprus had been ordered to repay €65m in state aid by the European Commission. It was deemed to have received an illegal subsidy that broke competition rules. The decision rendered the financially troubled airline bankrupt.
The government owns 93 per cent of the carrier. The Cypriot finance minister, Harris Georgiades, said: "The company has ceased being a viable entity, and cannot continue to operate."
Some hours after the collapse, the airline's website was still taking bookings. But late on Friday evening, a statement finally appeared: "The Board of Directors of Cyprus Airways has decided to initiate the procedure for voluntary liquidation."
It added: "All operations of the company will be suspended as of the close of business today."
Larnaca airport, the base of the airline's operations, announced: "People expecting passengers that were due to arrive on Cyprus Airways flights are advised to contact them directly in order to be informed of their revised travel plans."
Passengers who buy their tickets direct from a scheduled airline which then collapses usually have few rights. They are unsecured creditors, at risk of losing all their money. They are also obliged to pay for new flights, often at high fares.
But in an unusual move the Cyprus government announced it would make alternative arrangements for all passengers, saying: "The Republic will undertake fully the cost of the alternative flights and therefore the passengers will not be burdened in any way."
The government has appointed a local travel agent, Top Kinisis Travel, to handle the fall-out. The firm has chartered flights for the weekend to operate an approximation to the planned Cyprus Airways schedule, and is re-booking some passengers on other airlines.
When it collapsed, the airline had 500 staff and a fleet of six Airbus A320 jets. Cyprus Airways was established in 1947, but in recent years had proved unable to compete with growing competition from the low-cost European giants, Ryanair and easyJet. It carried only 1.3m passengers annually - about the same number as easyJet flies in a week.
In September, the airline moved its London flights from Heathrow to Stansted after selling the valuable slots at Europe's leading airport to American Airlines.
The Cypriot government had been seeking to sell the airline as a going concern for some months. Ryanair had bid for the carrier in order to establish an Eastern Mediterranean foothold, but its approaches were rebuffed.
Last month Ryanair's chief executive accused the Cypriot government of "stumbling along from crisis to crisis". Michael O'Leary told The Independent: "It looks now that they're going to let the airline go bust rather than sell it to somebody competent like Ryanair."
"If they don't want us to come to the rescue of their national airline that's fine, we understand. But Cyprus is an area where we would grow. It's an area where there is a large demand for Ryanair's low fares and it's an island that is heavily dependent on tourism, but that's being held back by Cyprus Airways high prices. But that's fine, if that's their decision that's their decision."
Nevertheless Ryanair has launched "rescue fares" for passengers left stranded. They can fly between Stansted and the island for €70 - though the services serve Paphos rather than Larnaca. The offer may appeal to people with an urgent need to travel who prefer not to wait for the Cypriot government's arrangements.
One million British tourists visit Cyprus each year, with the resorts of Ayia Napa and Paphos particularly popular. Since the Republic joined the EU in 2004, many more airlines have started flying to the island under Europe's "open skies" rules.
The Cyprus Airways statement concluded: "We are extremely honoured to have made a valuable contribution, over the last 68 years, to the development of the economy of Cyprus and its tourism industry in particular. We have flown the flag of our country worldwide with pride. Thank you."
Passengers booked on Cyprus Airways should contact www.topkinisis.com
Register for free to continue reading
Registration is a free and easy way to support our truly independent journalism
By registering, you will also enjoy limited access to Premium articles, exclusive newsletters, commenting, and virtual events with our leading journalists
Already have an account? sign in
Join our new commenting forum
Join thought-provoking conversations, follow other Independent readers and see their replies