Dave & Buster's apologises for 'racist' Taco Tuesday tweet
Yet another social media campaign gone wrong as restaurant is forced to apologise following Twitter backlash over 'racist' tweet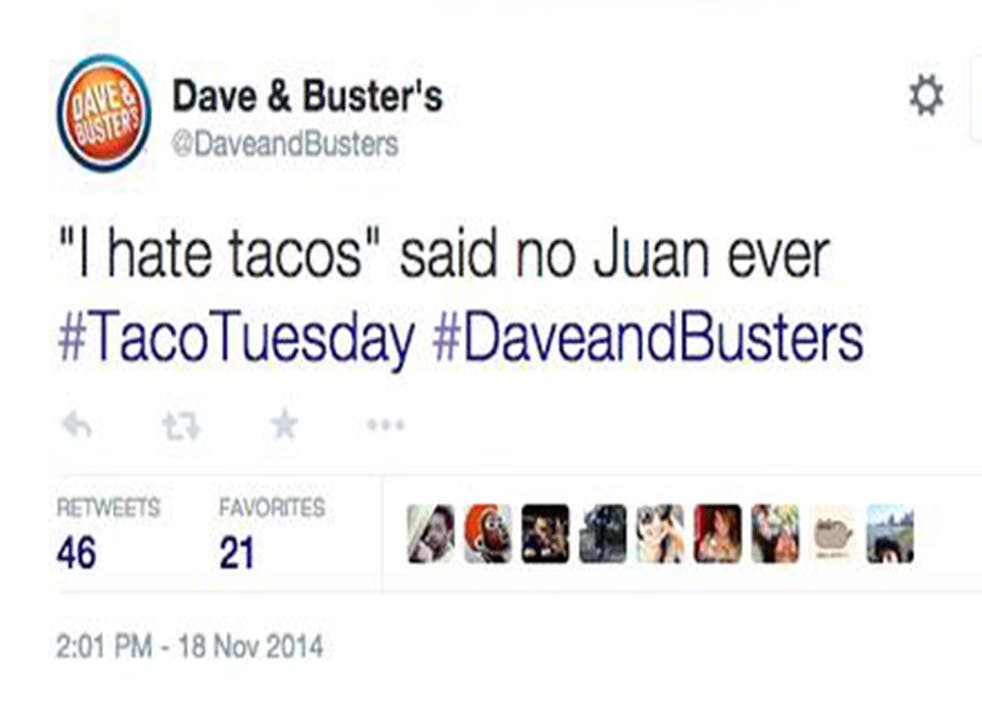 Dave & Buster's, the American restaurant and entertainment chain, has apologised after a tweet promoting its "Taco Tuesday" was deemed racist and offensive.
The Texas-based company was accused of perpetuating racial stereotypes against the Hispanic community after it made a pun in Spanish on its Twitter account: "I hate tacos' said no Juan ever #TacoTuesday #DaveandBusters."
But the tweet didn't go down well with users who described it as "not funny" and "racism" disguised as humour. The restaurant chain ended up deleting the tweet and apologising in yet another social media campaign gone wrong.
Earlier this year, Dutch airline KLM was forced to apologise after it sent out a tweet featuring a photograph of an airport departure sign under the heading 'Adios Amigos' following the Netherlands' victory over Mexico in the World Cup.
The tweet went viral after Mexican actor Gael Garcia shared the photograph to his more than two million followers and vowed not to fly KLM. The airline deleted the tweet and apologised.
Join our new commenting forum
Join thought-provoking conversations, follow other Independent readers and see their replies