Deliveroo agrees to pay workers £7 an hour after wage protests
The firm is implementing a pilot scheme in which workers earn £3.75 per delivery rather than an hourly wage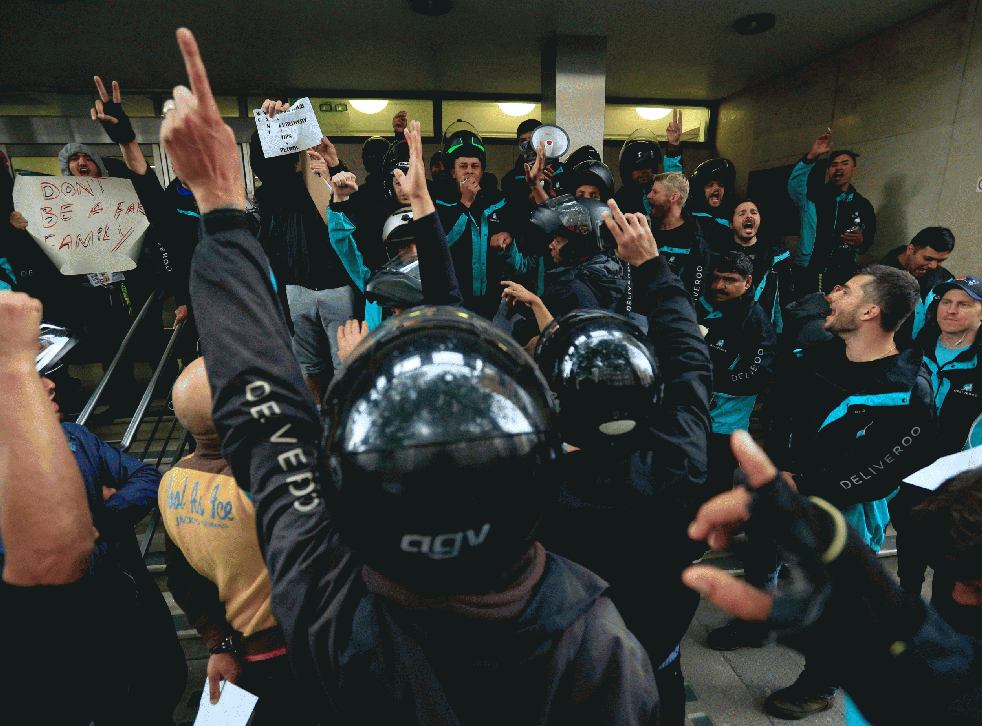 Deliveroo has offered concessions in its pay dispute with workers after the Government got involved and Labour accused the food delivery company of overseeing a return to "Victorian Britain".
The firm will now give workers the chance to opt out of what it claimed was a pilot scheme that pays £3.75 per delivery rather than the current terms of £7 an hour and £1 per delivery. It will also guarantee at least £7.50 an hour and petrol for those who continue to participate, following protests by hundreds of delivery riders in London.
While couriers reportedly claimed the new pay structure would be imposed on them from next week, the firm insisted it was only ever going to be a 90-day trial, and that it will now be voluntary. Any final decision on pay will be taken after the pilot, which is being tested by 280 London riders, out of more than 3,000 in the capital, according to Deliveroo.
The concessions come after the Government insisted that the firm must pay its workers the minimum wage unless it reaches agreement in the courts to treat them as self-employed.
Deliveroo UK and Ireland managing director Dan Warne said: "We're committed to having an open conversation with riders about this trial. We've reached out to every rider involved to gather feedback. We've listened to their concerns and offered every rider the choice to withdraw from the trial.
"For those that choose to take part in the trial we'll also be guaranteeing fees at peak times for riders will be at least £7.50 per hour plus tips and petrol costs."
The Department for Business, Energy and Industrial Strategy insisted employees must be paid the National Living Wage" (NLW) of £7.20 an hour unless a court or HM Revenue and Customs defines them as self-employed.
A spokesman said: "The Government is determined to build an economy that works for all – that includes ensuring everyone gets a decent wage.
"An individual's employment status is determined by the reality of the working relationship and not the type of contract they have signed.
"Individuals cannot opt out of the rights they are owed, nor can an employer decide not to afford individuals those rights. Employers cannot simply opt out of the NLW by defining their staff as self-employed."
The company delivers food from thousands of restaurants which do not have their own delivery service and counts the likes of Pizza Express, Byron burgers and Gourmet Burger Kitchen among its clients. It charges customers £2.50 per delivery for its service.
The firm faced criticism on Friday from shadow Business Secretary Jon Trickett, who described the new pay scheme as "a return to a Victorian system which has no place in modern Britain".
The Labour frontbencher added: "Flexible working may suit some workers who have domestic or other commitments, but it should not be used as an excuse by employers to cut costs and increase employees' insecurity. "After all, rent, fuel bills and food costs don't vary week to week so nor should incomes purely to suit the employer."
Deliveroo said in a blog post that pilots of the pay-per-delivery system have led to a doubling of average hourly fees for riders during the busiest times.
PA
Join our new commenting forum
Join thought-provoking conversations, follow other Independent readers and see their replies