Deutsche Bank chief executive tells employees to prepare for a hard Brexit
'There's an awful lot of detail to be ironed out and agreed; depending on what the rules and regulations turn out to be, we will try to minimise disruption for our clients and for our own people,' John Cryan said
William Canny
Thursday 20 July 2017 17:52 Comments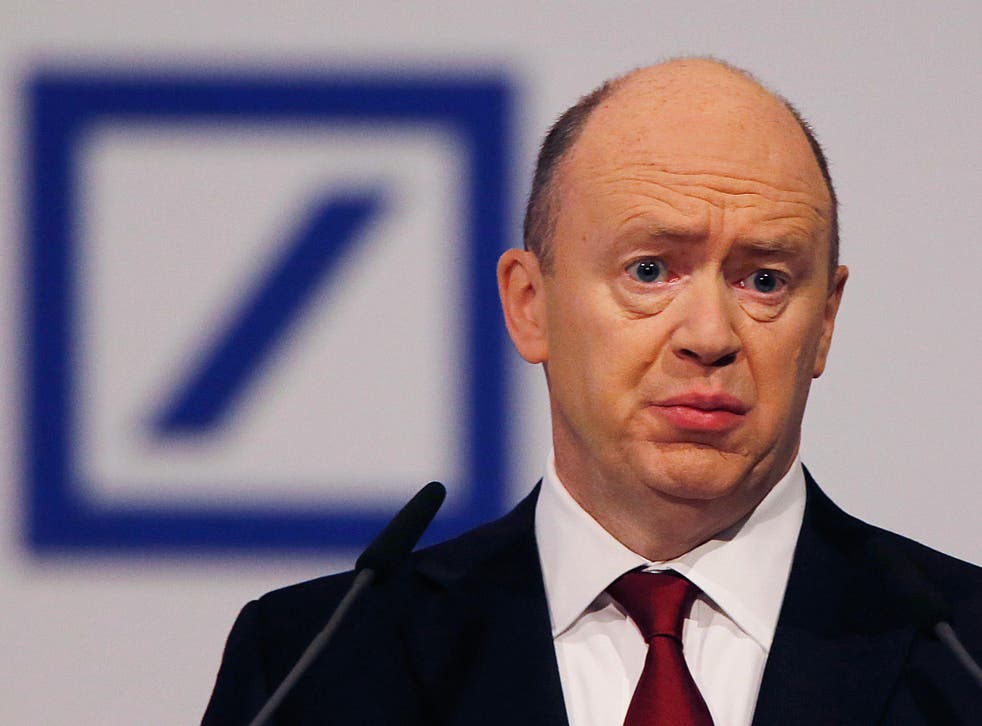 Deutsche Bank is preparing for a hard Brexit and will probably book the "vast majority" of its assets in Frankfurt, chief executive John Cryan has told employees in a videotaped message.
"There's an awful lot of detail to be ironed out and agreed; depending on what the rules and regulations turn out to be, we will try to minimise disruption for our clients and for our own people," Mr Cryan said in the video. "But inevitably roles will need to be either moved or at least added in Frankfurt."
A year after Britons voted to pull out of the European Union, the world's biggest banks are eyeing other potential locations for some London operations. The turmoil around Brexit dovetails with Mr Cryan's desire to concentrate more business at its base in Frankfurt, Germany's financial hub.
Mr Cryan said that the bank can't afford to postpone decisions on Brexit pending the outcome of negotiations on Britain's future relationship with the EU. Although Deutsche Bank will not need to set up a new subsidiary on the continent – unlike some non-EU rivals – it is likely Brexit "will impact us significantly", he added.
Those familiar with the film said it was recently posted on the bank's intranet and shows Mr Cryan being interviewed by the chief of communications, Jörg Eigendorf. They declined, however, to be identified discussing internal communications. A spokeswoman for the bank, Monika Schaller, declined to comment.
Deutsche Bank plans to move chunks of trading and investment-banking assets currently booked in London to Frankfurt, other people told Bloomberg this month. The jobs of several hundred traders and as many as 20,000 client accounts will likely be shifted, another person said.
Frankfurt has emerged as a winner of the Brexit vote, with Standard Chartered, Nomura Holdings, Sumitomo Mitsui Financial Group and Daiwa Securities Group all picking the city as their EU hub in recent weeks. Morgan Stanley also has settled on Frankfurt for its European trading headquarters, those briefed on the decision have said, and Citigroup is weighing a similar move.
Business news: In pictures

Show all 13
Banks have struggled to quantify Brexit risks to their business because so many unknowns surround Britain's future relationship with the EU. At stake is the right of companies based in Britain, home to Europe's biggest financial centre, to sell products and services in the rest of the EU, the loss of which has come to be known as a hard Brexit.
"We will assume a reasonable worst outcome," Mr Cryan said. "The worst is always likely to be worse than people can imagine."
Bloomberg
Register for free to continue reading
Registration is a free and easy way to support our truly independent journalism
By registering, you will also enjoy limited access to Premium articles, exclusive newsletters, commenting, and virtual events with our leading journalists
Already have an account? sign in
Join our new commenting forum
Join thought-provoking conversations, follow other Independent readers and see their replies