Donald Trump's conflicts of interest continue as sons attend policy meetings while running his businesses
President-elect says he has 'clear wall' between web of companies and his public role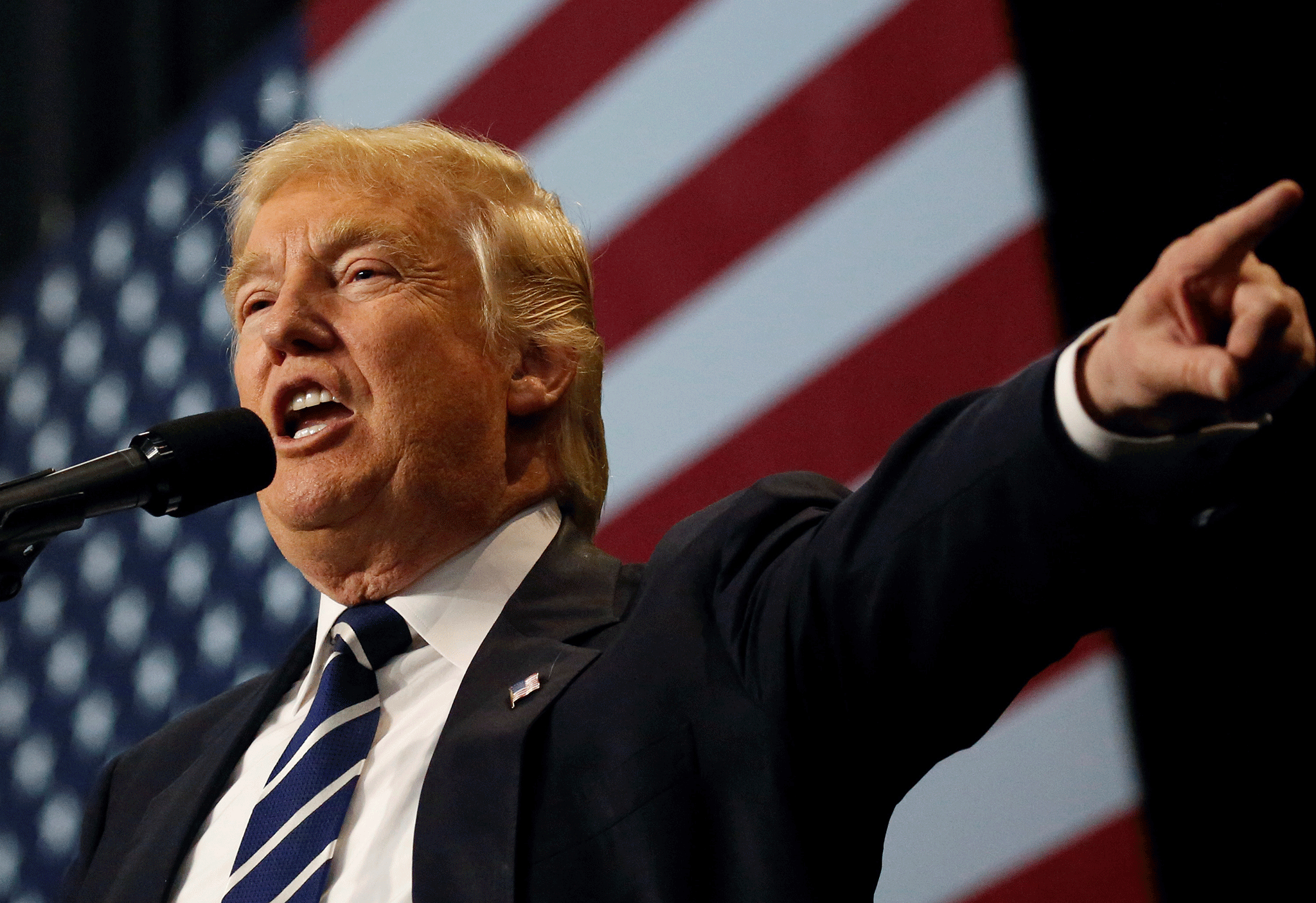 On the day President-elect Donald Trump had pledged to clarify how his companies would run during his term in the White House, his strategy to avoid conflicts of interest looks more confusing than ever.
On Tuesday, Trump said his sons would run his company, building what he says is a clear wall between his private business and public power. On Wednesday, his children had seats at the table of one of his biggest policy meetings yet, attended by the country's top tech-industry elites and Trump Cabinet nominees. Also around the table: bottles of Trump Natural Spring Water, the president-elect's water brand.
The episode bolstered a growing confusion over how Trump would separate his complex web of business interests from his job in the Oval Office, a central focus for many who have worried that Trump's entanglements could steer his policy and presidency.
Top Democrats say they intend to target this vulnerability for Trump in the march to his inauguration and beyond.
Democratic senators including Senator Elizabeth Warren said on Thursday morning that they would introduce a bill next month requiring the president to "disclose and divest" financial holdings that post conflicts of interest, mimicking a law that already binds most public officials.
"This is bigger than our president-elect. This is bigger than this moment," said Democtratic Congressman Elijah E. Cummings, the ranking member of the House Oversight Committee, during a forum at the Capitol on Wednesday afternoon. "This is about our democracy and the laws that go with it."
Trump tweeted two weeks ago that he would hold a "major news conference" in New York on 15 December to give more details on his plans. But this week, his representatives said that conference, and any ensuing clarity, would have to wait until an undetermined date next month. Trump has offered no other details in the days since, save for a few vague tweets.
Trump spokesman Jason Miller told reporters Thursday morning that the president-elect "obviously has a great number of businesses, a great number of properties and developments that he has put together, and quite frankly that takes time as he transitions away from being the leader of this very successful company."
"The priority here is to make sure we get it right," Miller added. "If that takes a little more time, I think the American people understand that."
Trump, meanwhile, said the transition wouldn't be that difficult. He tweeted on Thursday morning, "The media tries so hard to make my move to the White House, as it pertains to my business, so complex — when actually it isn't!"
Kellyanne Conway says Donald Trump's team found 'an exception' in anti-nepotism law
Government officials and Trump's antagonists have offered sometimes conflicting views on whether Trump has overstepped the boundaries allowed for a president-elect who also holds a lucrative financial stake in a luxury hotel owned by the federal government.
Congressional Democrats said on Wednesday that officials with the General Services Administration had determined Trump must surrender his stake in Washington's Trump International Hotel before entering office. But that agency said later that it would wait "until the full circumstances surrounding the President-elect's business arrangements have been finalized" before making a determination.
In the vacuum of solid details from Trump, many have scrambled to divine exactly how the president-elect intends to separate from his private fortune, if at all. In an interview on "Fox News Sunday," Trump said he would turn down "billions of dollars of deals" during his presidency to dodge potential conflicts.
Trump added that he had already turned down "seven deals with one big player." He said he turned down those lucrative arrangements out of personal desire, not because of legal requirements. "I'm not going to be doing deals at all," he said. "I have the right to do it. I just don't want to do it."
There are no conflict-of-interest laws that would force the president to sell off his business interests. But the president must still abide by laws against bribery, fraud and corruption, as well as a constitutional ban against accepting payments from a foreign power, upheld by threat of impeachment.
Harvard law professor says '30' GOP electors ready to block Trump win
Trump tweeted late last month that it was "visually important" that the president show no business conflicts. In a series of late-night tweets Monday, Trump said he would leave his businesses before the 20 January inauguration to be managed by executives and his two adult sons, Donald Jr. and Eric. "No new deals," he added, would be done during his time in office.
But those stipulations may not solve the core problem. If Trump gives his children corporate management responsibilities but still partially owns the businesses, he will have a financial stake that could influence his presidential decision-making, former White House ethics advisers said.
Business experts also wonder how Trump could promise "no new deals" for a business that has depended on routine dealmaking — both in large measure, such as signing new real estate partnerships or sealing branding agreements, as well as everyday deals, including hiring employees and refinancing debts.
Some government officials weighed in. Office of Government Ethics Director Walter Shaub, whose agency advises public officials on how to avoid conflicts, wrote in a letter Tuesday to Senator Thomas Carper that "a President should conduct himself 'as if' he were bound by" financial conflict-of-interest laws. "Transferring operational control of a company to one's children would not constitute the establishment of a qualified blind trust, nor would it eliminate conflicts of interest," Shaub wrote.
President Donald Trump life in pictures

Show all 16
As advisers debated possible ethical issues, a potential Trump conflict played out in real time this week 5,000 miles south of Washington. Trump Hotels said on Tuesday that it would remove its brand name and stop operating a luxury hotel in Rio de Janeiro, where Brazilian prosecutors have opened a criminal investigation into the property's investments.
The Trump Hotel Rio de Janeiro is owned by a Brazilian development firm whose former chief executive is the grandson of the last president under the country's 1964-1985 military dictatorship. The Trump company, which has no financial stake in the project, said it was not involved in the investigation. The firm said it was backing out because of construction delays and differences with the developers' "vision."
Trump's company also terminated a licensing deal with the developers of a stalled hotel project in Azerbaijan, said Trump Organization executive vice president Alan Garten on Thursday. The project, he said, had missed "various development milestones," though Garten would not elaborate. Trump invested no money in the project but has made millions of dollars through selling his name to the project in recent years.
Construction on the Trump International Hotel & Tower in the oil-rich nation's capital of Baku froze last year following an economic crash. Trump's partner in that project was a billionaire tied to a repressive regime accused of corruption, human-rights abuse and attacks on free speech, according to the State Department and human-rights groups.
When a Washington Post reporter earlier this year told Garten about criticism of Trump's partner, Anar Mammadov, including how he made his fortune, Garten said then, "These are things that are going to have to be discussed." Requests for comment from Mammadov were not immediately returned.
Garten said on Thursday that the Baku deal was terminated as "part of a housecleaning" because "it seems like the right time." What didn't affect the termination, he added, was Trump's upcoming presidency or growing calls for Trump to divest his business interests overseas. The company, Garten said, had also recently cancelled a third foreign licensing deal for a potential hotel complex in Rio de Janeiro.
The Trump Organization's biggest decisions have historically been guided by Trump himself. But Garten said the president-elect did not weigh in on the deals.
"Mr. Trump is focused on building his Cabinet. He's focusing on the affairs of the country and improving things for all Americans," Garten said. "He's not involved in these decisions. It was not his determination."
Many of the entanglements are playing out much closer to home. On Wednesday, Trump invited some of the giants of American tech — Amazon chief executive and Washington Post owner Jeff Bezos, Apple's Tim Cook, Facebook's Sheryl Sandberg — to the 25th floor of Trump Tower, where he told them, "We're going to be there for you."
They listened a few chairs down from three of Trump's children, Eric, Ivanka and Don Jr., the latter of whom tweeted afterward: "Honored to have sat in on this meeting. The most impressive group of minds I've seen assembled all looking to fight for America and US jobs."
Shortly afterward, congressional Democrats said Thursday morning they would take up a presidential-conflicts bill when the Senate reconvenes next month. The bill would also force presidential appointees to avoid matters touched by the president's financial conflicts that could come before their agencies.
Congressional Republicans have been far more muted on the issue, spelling potential doom for the bill in the Senate they control. Rep. Jason Chaffetz (Utah), chairman of the House Oversight Committee who said last month that Trump "needs to instill the confidence that he's more than arm's length away," has not yet responded to Democrats' urging to investigate Trump's potential conflicts.
"President-elect Trump's financial entanglements are unprecedented in American history, and the American people are still waiting to hear what steps he will take before January 20th to guard against conflicts of interest and corruption in his Administration," Senator Richard Durbin said in a statement Thursday.
"Just this week, the President-elect cancelled a scheduled announcement about severing his business ties, taking time instead to meet with Kanye West," Durbin added. "The American people deserve to know that their President is putting the United States' interests before his own, his family's, or that of any foreign government."
Washington Post
Register for free to continue reading
Registration is a free and easy way to support our truly independent journalism
By registering, you will also enjoy limited access to Premium articles, exclusive newsletters, commenting, and virtual events with our leading journalists
Already have an account? sign in
Register for free to continue reading
Registration is a free and easy way to support our truly independent journalism
By registering, you will also enjoy limited access to Premium articles, exclusive newsletters, commenting, and virtual events with our leading journalists
Already have an account? sign in
Join our new commenting forum
Join thought-provoking conversations, follow other Independent readers and see their replies